That's likely because the markers for Marfan's include a tall, thin frame, long arms, legs, and fingers (like those of exceptionally tall athletes), and a curved spine and flexible joints.
Connective tissue is the biggest issue, which is significant since it plays a vital role in the body's ability to function properly.
But one of the most life-threatening aspects of Marfan syndrome can easily go undetected: an enlarged aorta, the large blood vessel that carries blood away from the heart to the rest of the body.
Cody Kincer has all of these features, but his form of the condition is especially rare and the most severe currently known, which means it comes with a whole host of other challenges.
Doctors knew pretty immediately that he had Marfan's. While he was born early, at just 32 weeks gestation, Cody had exceptionally long fingers. That feature alone tipped them off and led to his diagnosis, though his mom, Lori, was more skeptical.
"I was in denial at first because he was born early," she told us. "And because his form is more severe, the initial symptoms didn't really align."
Eventually, there was no denying the truth of it, and Cody was given a life expectancy of one year. One year.
Before his first birthday, Cody underwent heart surgery after doctors realized a valve was leaking, sending him into heart failure. He had his second heart surgery at age 5 and experienced a minor stroke that impacted his coordination and movement. His third operation came during kindergarten.
But perhaps the most life-threatening of them all happened just two years ago.
Cody suffered an aortic dissection and then an aneurysm. An aortic aneurysm is a balloon-like bulge in the aorta. They can dissect or rupture with the force of blood pumping, causing the layers of the artery wall to split.
Cody's aneurysm led to a small tear in the aorta's wall, and blood squeezed between the inner and outer layers. It weakened the vessel's structure, which could have been fatal. About 40% of patients die immediately from complete rupture and bleeding out from the aorta. Of those lucky enough to make it to the hospital first, 15-30% will die even after surgery.
Thanks to fast-acting doctors and renowned cardiologists at the Cleveland Clinic, Cody beat the odds and survived both. They performed a TEVAR (thoracic endovascular aortic repair), implanting a stent graft device to reinforce the aneurysm and prevent it from bursting.
"The cardiologist at the Cleveland Clinic said it was one of his top 10 hardest aneurysms and surgeries," Lori said.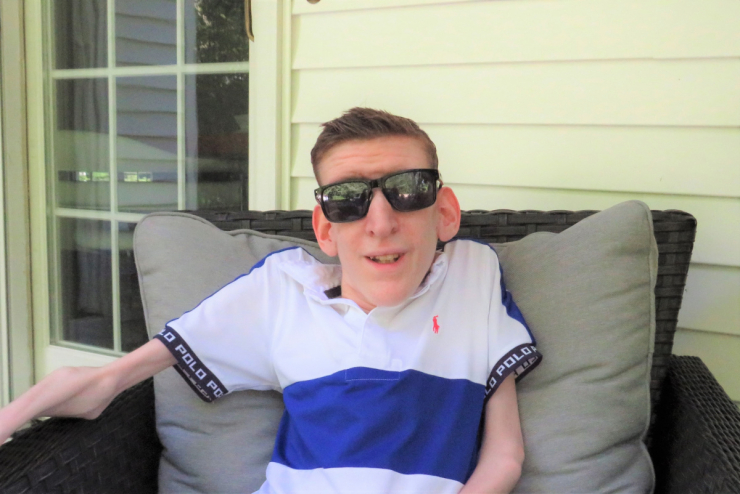 Last January, Cody had a follow-up surgery that should have been relatively simple. Unfortunately, he suffered unforeseen complications, and his breathing couldn't recover on its own. Because of that, he's now fully dependent on a ventilator.
"Honestly, the ventilator itself hasn't been that bad on its own," Cody told us. "But being in the hospital for weeks made the vent worse. Suctioning is awful. And then I couldn't get up and walk around, so I developed bedsores. Overall, I felt weak.
"I also couldn't talk, so I wasn't able to ask questions about my care, and no one explained things to me. The cardiologists at the Cleveland Clinic are some of the best in the world, so I'm glad I had my surgery there. But once I was transferred to Nationwide Children's in Columbus, it was much better."
If you haven't picked up on this already, Cody is the most resilient person. He continually finds a way to keep moving forward.
"I don't think of myself as disabled," he said. "Obviously, I have many disabilities, but I just consider myself a person with struggles. I figure out a way to get over them, and that helps me get through them."
That resiliency has been put to the test over this last year, and not just with his own personal health. Cody's mom, Lori, was diagnosed with breast cancer and underwent a life-saving double mastectomy. Then, on July 7, her mom and Cody's beloved grandmother Barbie died from ovarian cancer.
"She was the best," they told us. "She was a big part of Cody's care and always there for us, so it was a profound loss for our family."
To help get through it all, Cody continued to turn to his lifelong friends and doing "normal 20-year-old stuff" like playing video games, watching documentaries, and bingeing Star Trek.
"His friends are amazing," Lori shared. "Most have been with him since first grade, which says a lot about who he is and the people he attracts."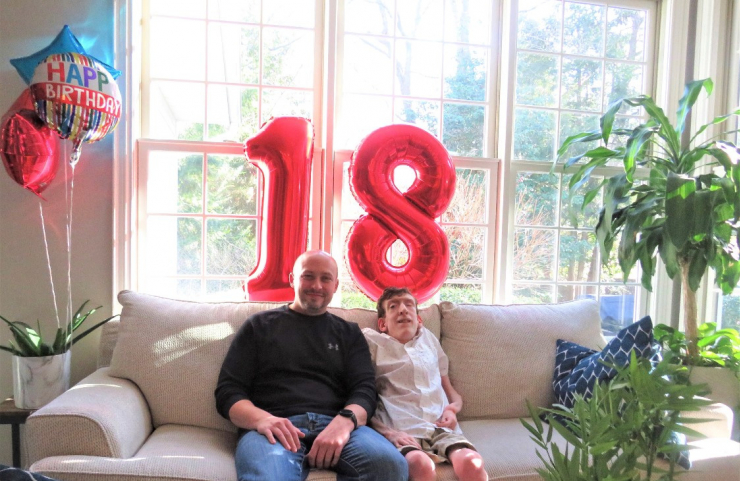 The ventilator doesn't seem to phase them either – they might just have to talk a little louder around him now. The new equipment has highlighted one major challenge, though. Cody's family often loses power to their home, and not only during storms.
They realized they would need an in-home generator to provide backup power, but after a year of massive medical setbacks and bills, funding the full cost seemed out of the question. Thankfully, their social worker at Nationwide Children's found Chive Charities and realized helping families like Cody's is exactly what we do.
Our monthly subscribers made it possible for us to cover the purchase of a new generator for a total impact of $5,039.
Plus, our friends and partners at DuroMax generously donated a portable generator to provide even more peace of mind and open up more possibilities for Cody to safely travel outside of the home – without worrying about his life-saving equipment having enough battery power.
There's no doubt Cody is resilient and would have found a way to keep moving forward, but this is one thing he shouldn't have to tackle on his own. Thanks to donors like you, he didn't have to. Peace of mind is a huge thing, and you just brought them all some more of it.
So, if you ever feel like your donations couldn't possibly make a big difference, let Cody's story prove you wrong. Not every grant item is big and flashy, and neither is every donation. But this generator has the power to save his life (literally), and every dollar donated helped make it happen.
It matters. Cody matters. You matter. Even the most resilient of us need a hand sometimes. Let's partner to change more lives together. DONATE HERE.