His breathing was heavy and labored. A sharp inhale made him wince in pain followed by a deep sigh that escaped from his lips. His eyes fluttered open to see blurry images of denim stained with blood, a shoe with untied laces. Then, pain so great, so severe, there was only darkness.
Just minutes before, Michael was riding in the backseat of a small car, windows down with a soft breeze blowing through. He had only three days left on his military contract, the end of a second tour in the United States Army that took him to Germany as a wheeled vehicle mechanic.
He thought of his future and what was next for him, and as a small smile spread across his face, the car quietly crossed the center line and directly into the path of an oncoming vehicle.
The collision was so forceful that both drivers and the passenger in Michael's car were instantly killed. Of the 10 people on the road that day, four of them died.
Doctors later told Michael that they lost his pulse three times on the operating table. "I just remember being in the most peaceful place I've ever been in my life," he said. "All I felt was love and I wanted to stay."
The reality of waking up post-surgery was much different. All he wanted was to leave.
Michael's back was broken in five places, he had a broken left hip, and sustained a compound injury to his lower left leg. He was transferred to Landstuhl, Germany for seven months before receiving care at Walter Reed Medical Center in Washington, D.C., for another four months.
In an attempt to repair his left hip, Michael underwent more than 17 surgeries, including three hip fusions that required him to be in a body cast for six months at a time. ("Great fun," he joked.) But still, he was alive. Broken, but alive.
Then, in 2000, Michael went to the doctor and watched as they pulled up his most recent leg scans. He could see the infection spread all over and knew then that he would lose the whole leg.
"I was mad at God for a lot of that time," Michael told us. "I kept asking, 'Why are you doing this to me?'"
"So one day, I'm in the hallway of the hospital and I see this 16- or 17-year-old girl weakly walking down the hall toward me. I tell her my 'poor me' story and she said, 'I hate to hear that you're losing your leg.' And I asked, 'Well, what's going on with you? She paused for a moment and replied, 'I have Lupus and I'm going to die.'"
It crushed Michael and brought him to the realization that he was strong enough to handle the challenges being thrown his way. It was the loss of his leg - and while that was devastating and difficult to fathom, it wasn't the loss of his life.
He could do this.
Since his leg amputation, Michael has walked with forearm crutches, which has put an enormous amount of pressure and stress on his shoulders and wrists. As a result, he spends the vast majority of his time in a wheelchair, and it's really challenged his independence and freedom.
"I realized pretty quickly that I could use a service dog," he explained.
That's where Retrieving Freedom comes in. In 2011, the founders saw a need for service dog support for individuals in the veteran and autism communities, and they opened locations in Waverly, Iowa and Sedalia, Missouri.
Two years later, they began placing dogs with individuals in need - and since then, they've grown into an incredible non-profit with national recognition and hometown roots.
"We really try to be the bridge between the isolation that autistic and veteran populations can feel and the communities they live in," explained Kyle Cory-Yaeggi, Director of Operations for Retrieving Freedom.
"We don't train them as seeing eye dogs, or for seizure alerts, protection, or detection. But we do train them to help with post-traumatic stress, mobility assistance, and other tasks like pushing buttons, picking up items, and more."
Retrieving Freedom has an in-house breeding program and works primarily with labradors, golden retrievers, and a cross between the two. "Those breeds are a good size for the physical side of the work they'll be doing," Kyle told us. Last year, they placed 25 dogs with individuals and are working towards 30 each year.
The great thing is that even if a dog is born into the program but doesn't meet their requirements to be a service animal, sometimes they have other skills that could be a good fit for another job. Retrieving Freedom's service dog success rate is above industry average, but if a dog isn't a good candidate, they can place them in other roles like search and rescue.
And while they pride themselves on being active members of their local communities, Retrieving Freedom also serves individuals across the country. They opened residential facilities on their campuses that provide a free place for recipients to stay as they meet and train with their service dogs.
And speaking of free, Retrieving Freedom places service dogs at no cost to the individuals who need them - like Michael. They rely primarily on financial support from outside organizations - like Chive Charities.
So, when Michael realized he could benefit from a service dog, he reached out to Retrieving Freedom. We've worked with them several times to provide service dogs for our recipients, and they've been an incredible referral partner.
The first time Michael met a sweet yellow lab named Dusty, he told his wife, "That's my dog." And that's what he became. Already, Dusty has shown an ability to brace Michael to keep him from falling, pick things up for him, open doors, turn the lights on and off, and even pull his wheelchair.


(By the way, we asked Kyle from Retrieving Freedom how the dogs get their names, and he said that individuals can sponsor dogs and name them, which many do in remembrance of someone. Maybe "Chiver" could end up on the list?)
It's pretty incredible that Chive Charities donors make things like this possible. Michael needed a mobility dog and Retrieving Freedom needed some help to fund it. Because of your one-time and monthly donations, we were able to have an impact to the tune of $10,000 that covered program support for Retrieving Freedom.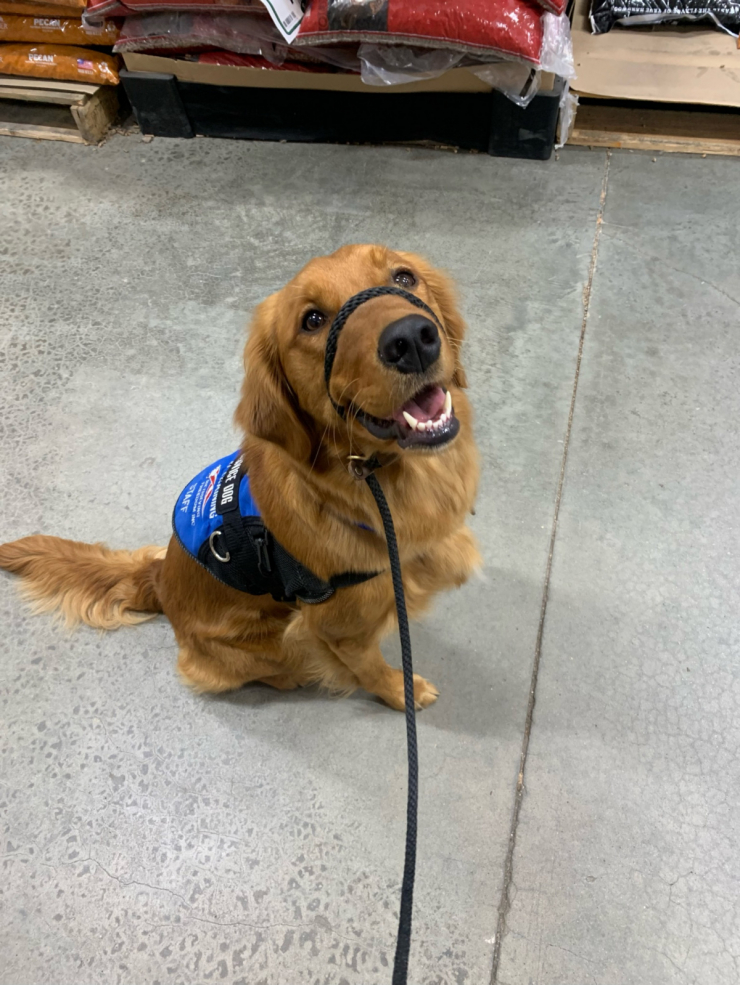 "I used to spend a lot of time playing the 'what if' game," Michael said. "What if things had turned out differently? But I quickly realized that was a dead end. My focus now is on how to overcome what has happened in order to better myself, to rise above my situation and to be the best me I can be. I can use this opportunity to share my experience and hopefully give hope to the next person who may be in a similar or even worse situation to mine."
"There is always a ray of hope at the end of the tunnel. Just don't give up."
What if the accident had never happened? What if Michael had died that day? What if his leg was never amputated? It's easy to fall into that line of thinking, especially when you're facing as much adversity as Michael has. But think of all the good that might not have happened, too.

What if Michael never met that girl in the hallway of the hospital? What if Retrieving Freedom never stopped serving the veteran and autism communities? What if Chive Charities donors did all they could to support recipients like Michael and Retrieving Freedom? Not just one life would be changed. It would be enough to impact hundreds of lives…and counting.
What if you stepped in to make the world 10% happier, too? There's no telling what we could do. Like Michael said, "There is always a ray of hope at the end of the tunnel." That light is donors like you. Become one of them today and DONATE HERE.