Sometimes not all punches can be dodged completely, though. What makes a fighter truly world-class is their ability to take an offensive onslaught in a way that softens the impact and allows them to remain on their feet. Cushioning the impact in such a way sets them up for a counter-attack equal to or greater than the original offensive.
Last week, I was fortunate enough to meet a couple of world-class fighters in the ring of life. For the past 8 years, Kegan and Latanza have certainly taken their fair share of haymakers. They're still standing, though, and it's clear that they have no intentions of backing down.
Rolling with the punches
Latanza was in her senior year at Indiana-Purdue University of Fort Wayne when she found out she was pregnant with Kegan. With Kegan coming, there was no reason to think her long-term career plans in communications and video production would change. "I was up to the challenge. I was willing to be an amazing mother and accomplish my professional goals as long as Kegan was willing to fight through it with me."
When Kegan came during Latanza's last college semester, there wasn't anything to make her believe anything was off. He hit early milestones and was generally a happy baby. That was until New Years Eve 2014 when Kegan started staring blankly at his mother. "It just wasn't him," Latanza recounted. The blank stares quickly turned into violent seizures and Latanza rushed Kegan to the emergency room, where an MRI led to a diagnosis of Lissencephaly.
Lissencephaly, or smooth brain, is a rare genetic mutation where the brain appears perfectly smooth rather than the typical ridges and folds you'd expect to see. For some, the diagnosis can come with significant developmental delays. Others can go on to live a near-normal life. In Kegan's case, his lissencephaly appeared around his entire brain, causing it to misfire constantly and triggering 3-5 seizures a day. Doctors told Latanza that Kegan wouldn't live to see his 2nd birthday.
Uppercut landed.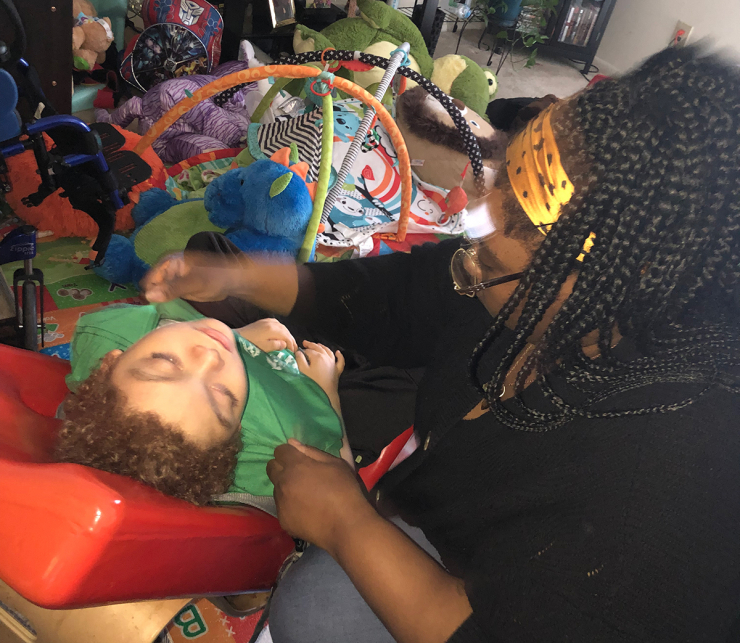 Unfortunately, things would get worse. On one occasion, Latanza had to call an ambulance and rush to the ER during a seizure episode that turned Kegan's face blue. On the way to the hospital, Latanza called Kegan's neurologist and pleaded for her to meet them at the hospital. The neurologist's reply? "I'm sorry. This is going to happen and I can't meet you every time he goes to the hospital."
Latanza had had enough and was willing to fight for Kegan. She packed him up and drove him 125 miles to Riley Children's Hospital in Indianapolis, where he's been receiving the best neurological care ever since.
The Counterpunch
Last week, I sat across from Kegan setting up my camera when I noticed him cross his legs and stare curiously at me. When I remarked how sophisticated he looked, Latanza told me he's been like that since birth. "Gentleman Kegan" is what his nurses and friends at school call him. He's a little guy that will always tell you what he wants and let you know when he's not happy. Well beyond his initial 2-years, his new doctors say they'll never give him a prognosis since Kegan is now 7 and thriving. Where they once thought the white matter in his brain would never grow, they've seen his grow significantly over the years.
Like any other kid, Kegan enjoys his playtime and going to the park. If he could, he'd go to his favorite spot every day, a peaceful lake at Shoaff Park. He loves to sit by the water, watch the wildlife, and interact with anyone who walks by on the trail.
Going on the offensive
It's not all sunshine, rainbows, and lakes nowadays, though. While I was interviewing Latanza, Kegan began struggling to breathe as his body became visibly rigid. Latanza moved over him, comforting him through the episode. "Sometimes I have to put a blanket under him in case the seizure causes him to vomit."
Latanza continues to fight for Kegan as he continues to fight for himself. But she's hit a literal roadblock. Between his different weekly therapies (speech, physical, and occupational), his local doctors' appointments, and his 250-mile trips to Riley Children's hospital each month, transportation is becoming nearly impossible.
Any trip outside the house involves Latanza squatting low and lifting Kegan into their van.
Kegan is a growing boy, whose weight fluctuates between 62-70 pounds nowadays.
And then there is the 78-pound wheelchair.
Repeat this process at least twice each time Kegan and Latanza leave the house. It's back-breaking stuff. It's amazing that Latanza has only pulled a few muscles so far. But as her own physical therapy needs rise due to injuries sustained while lifting Kegan, a greater need started to surface.
Latanza can be relentless when it comes to giving Kegan every fighting chance to succeed. "I reached out to a Medicaid coordinator about a vehicle modification waiver for our van but we just couldn't meet the criteria," Latanza told me. "Either Kegan wasn't old enough or he had to fill out the paperwork himself, which he can't do. It was just one thing after another until our coordinator gave us a list of charities that could help as a last option." On that list was a charity that will always fight alongside those that slip through the cracks and have nowhere else to turn. Where all others said no, Chive Charities was happy to say YES.
The $30,000 grant brought to you by the Chive Charities monthly donors will cover a complete wheelchair-accessible conversion to their van, including an automatic fold-out ramp and the safety tie-downs so Kegan can remain in the comfort of his own wheelchair.
"We've been rolling with the punches for so long on our own. I just don't know what to say to everyone. You didn't have to give but you gave out of the generosity of your heart. Just… Thank you for blessing us because this is going to change our lives significantly!"
Toward the end of my visit, Kegan lay peacefully in his wheelchair breathing steadily, partly exhausted from his seizure earlier. I have no doubt that part of that calm also came from knowing he's no longer fighting this fight alone. He's got the most generous and supportive community in his corner.
You, too, can sign up to fight the good fight for the weekly recipients whose lives we change around here. Learn about becoming a Green Ribbon Donor HERE.
Editor's note:
Kegan's van started out as a $15,000 ask. In the months since saying "Yes" to Kegan, the cost of the modification doubled to $30,000. This has become a theme this year with rising grant costs and scarcity of parts becoming a big issue. A HUGE thank you to the monthly donors who have upgraded their donations lately and to our new donors, who make it possible to cover the difference! Another huge Thank You to Dallas at AMS vans, who gives us every discount within his power and covered the 8 weeks and $5,000 worth of van rental during the conversion out of his own pocket!