John Lorek managed to secure a generous $10,000 grant from sMiles 4 Sammy, but was falling drastically short of the $250,000 it would take to build his Field of Dreams. He called Chive Charities to ask if we could donate some shirts for a fundraiser he was throwing. The timing couldn't have been better. At a board meeting the day before, John and Leo Resig had discussed wanting to build a baseball field for kids. After speaking to Lorek and learning about the project, we decided not to donate any shirts for his fundraiser. Instead, we would foot the whole bill and get his field built. Lorek had exhausted all his energy and resources to reach this point. He broke down when we told him the news. Chive Charities donated a $200,000 grant, our largest donation ever, to kickstart the project.
On September 20, 2014, we unveiled KCCO Ability Field to the world. We began the day by gathering on the basketball court where, as soon as the speeches ended and we broke down the chairs, kids with special needs in central TX will be able to safely play all-inclusive sports.
Brian Mercedes, Executive Director of Chive Charities, emceed the event.
Hundreds of Chivers from around the nation came out to show their support for this Field of Dreams.
"If you think about this, it's more of a recipe for a joke. A guy with a dream... a community of misfits... a professional baseball player... and a pastor... walk into a bar. And they build themselves a baseball field."
Everyone erupted into laughter and applause.
The Man. The Myth. The Legend. This is John Lorek, the founder of CTX Ability Sports. He's a jovial guy with the relentless energy of a much younger man. He has a reputation of talking. A lot. When he approached the podium, you could see the lump in his throat and mist in his eyes. He'd been working towards this moment for 4 years. He took a breath, trying to hide the quivering in his lip. The man of a thousand words stood before us, but only spoke one sentence:
"Kids, you have a home."

KCCO Ability Field is a state-of-the-art, synthetic-turf, adaptive use field specifically designed for all children with disabilities to enjoy. The Cal Ripken, Sr. Foundation works with contractors who specialize in constructing fields using the highest quality materials. The field is proportionally smaller than standard baseball fields, making the game easier to play for children with special needs. The synthetic-turf allows for children in wheelchairs to participate and is soft in case a child falls. The field is designed so that all sports can be played, not just baseball.
Everyone knows that no ball game can commence until the National Anthem has been sung. We wanted these kids to feel like real ball players.
The Boss Street Brass Band played "The Star-Spangled Banner," it was an emotional moment.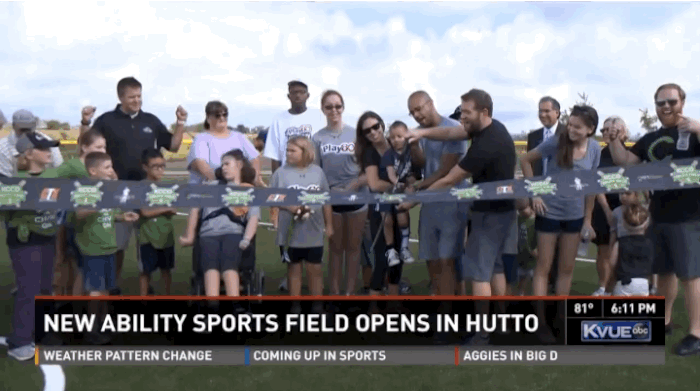 Five months ago, DJ told us that what he wanted more than anything in the world was to play baseball. Now, his dream has come true.
No man is an island. John Lorek had a very specific vision. For 4 years, he committed all of himself to his dream of a field where his son and other kids with special needs can safely play sports, but he needed some help to make it happen. When he reached out to Chive Charities, he was at the end of his rope. He had exhausted all of his resources and was running on fumes. We knew that our community of misfits wouldn't hesitate to join in Lorek's vision. You all came out in droves and raised $150,000 in one day. It's something we have seen time and time again from you, but we never take it for granted. What you all do is still incredible and deserves recognition. This gallery of smiling kids is because of you.
On a cloudy day in September, in the small town of Hutto, TX, we got to be a part of something magical. There was no competition, just camaraderie. Nobody kept score, but balls were kicked and bases were run. To be surrounded by that much infectious joy is something I will never forget. Everyone was smiling and laughing all day. The families made memories that will last a lifetime. But more importantly, the families have a place where they can continue to make even more memories for years to come. It was a beautiful day to watch a group of kids play ball.