Other studies have found that animals can reduce loneliness, increase feelings of social support, and boost your mood.
It makes sense, then, that therapy dogs would come with some serious benefits, too – and not just for those experiencing physical challenges. The emotional benefits of therapy dogs have also been proven to aid those who experience behavioral and mental health issues.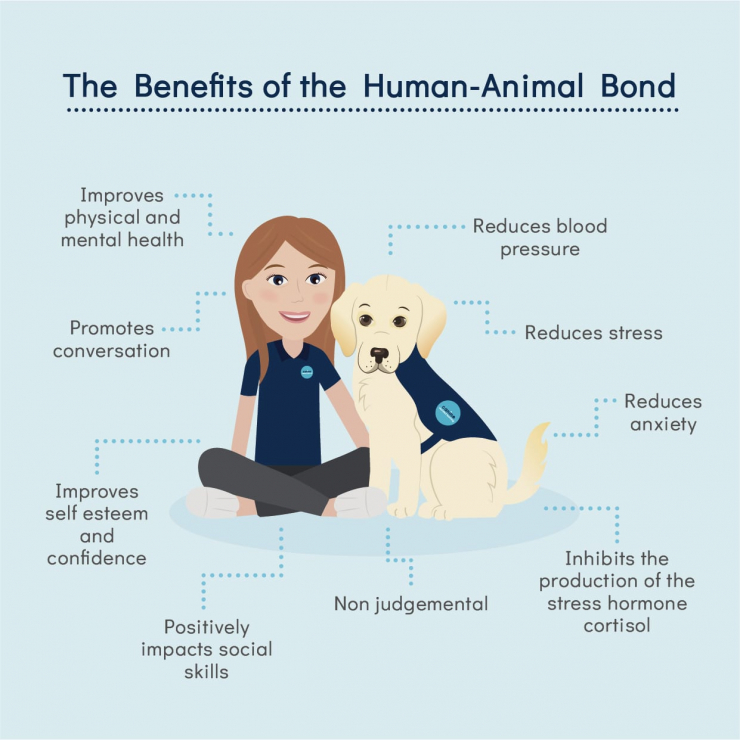 Take the first responder community, for example.
First responders face a higher incidence of post-traumatic stress disorder (PTSD), depression, and anxiety issues due to the incidents and tragedies they respond to on a daily basis. And how could they not? They're often first to the scene and experience extreme situations on a regular basis. Sometimes, it's a matter of life or death; often, the outcome can depend on their responsiveness or skill.
Recent research has begun to reveal the devastating impact these types of issues can have on first responders over the course of time.
In 2016, the International Association of Firefighters released a report stating that firefighters experience post-traumatic stress disorder at rates similar to what is seen among combat Veterans.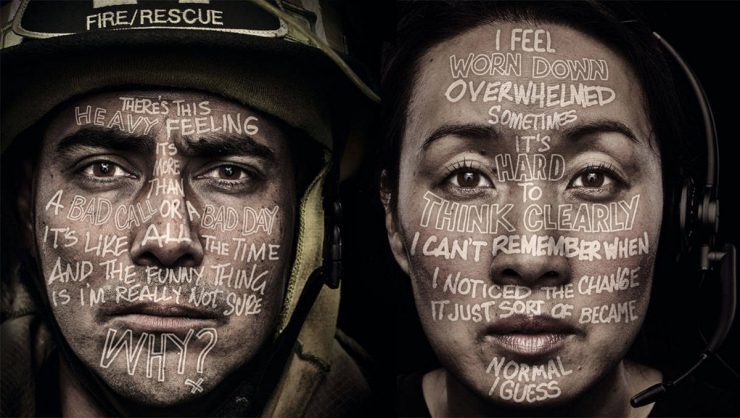 It's estimated that the incidence of PTSD among firefighters is approximately 20% compared to the general population's rate of 3.5%. Even more disturbing is the increasing rate of suicide among firefighters. In fact, a report by the Rudeman Family Foundation indicated that more firefighters died from suicide in 2017 than in all line-of-duty deaths combined. Read that again and take in the full weight of those words. It's awful.
That's why the Los Angeles Fire Chief jumped into action, hiring two psychologists in 2018 to form the Department's first Behavioral Health Division. That division and the LAFD's peer support system are designed to provide emotional and mental support to LAFD members for incident-based issues and/or long-term support.
Where do dogs come into play, you ask? Great question.
The LAFD Canine Therapy Program was launched in December 2020 to help alleviate firefighters' psychological and emotional trauma.
It's not a particularly new concept – animal-assisted therapy has been proposed as a treatment option for traumatized patients for a number of years. Sometimes, dogs are used directly after a traumatic event to reduce stress and anxiety. (Think of animal-assisted crisis response, like the many therapy dogs deployed to Ground Zero after 9/11).
But the use of canine therapy on a more regular basis is a growing trend with fire departments across the nation. Therapy dogs are trained to help stressed-out people feel relief from their problems or anxieties – at least temporarily. And it appears this therapeutic response has positively impacted the firefighters.
"These animals do a remarkable job of sensing who to approach, who might need a bit of comfort or consoling," said Battalion Chief Robert Takeshita, LAFD Peer Support Counselor & Therapy Dog Handler.
"They are so good at what they do that often the person they are comforting does not even realize what is happening; they just seem to feel better. The impact is clear as day. As handlers, we notice the immediate shift in a person's demeanor even after just a brief moment connecting with a therapy dog."
Currently, the LAFD Canine Therapy program has two canine and handler duos to assist all 3,500 members of the Department. One of them is Chief Takeshita and Willow.
It's not enough to cover the growing need, but they're working on expanding the program and adding a third therapy dog to help comfort firefighters during crisis situations and make coping with difficult incidents a bit easier.
The LAFD's Canine Therapy program is completely funded by the LAFD Foundation due to the City's current budget restraints. Approximately 97% of the city's annual budget for the fire department is allocated to personnel expenses, leaving just 3% to cover the department's other needs, like night vision goggles, washers and dryers, and mattresses for beds at the fire department.
Securing a third therapy dog would bring the LAFD closer to its goal of having at least one dog and handler duo per geographic bureau (they have five boroughs total). But at a cost of $25,000 per dog, it's difficult to find the funds to support adding more service animals.
The LAFD works with the Patriotic Service Dog Foundation to acquire and train therapy dogs, and each animal undergoes 10 months of training, plus two additional months working with the LAFD handler before permanently being attached to the LAFD.
These incredible dogs are specially trained to react to verbal and non-verbal stress indicators and assist the affected individuals (s). Thanks to the support of donors like you, Chive Charities was able to provide a $10,000 grant to the LAFD Canine Therapy Program to help obtain a third therapy dog for the LAFD.
They already have Willow and Jack, and we can't wait to see who's the lucky third dog to help this incredible community of first responders. Because of our many contributors, the LAFD is one step closer to making that a reality.
We'll come back soon with more updates and to introduce the newest addition to the LAFD Canine Therapy Program family once they have him/her. To all those who helped make this possible, thank you. It makes a huge difference! If you want to join us in supporting more Veterans, military families, rare medical individuals, and first responders, DONATE HERE.
(P.S. Special thanks to our Board Member Jimmy Sprinkel, an LAFD firefighter who introduced us to this incredible organization.)