Over the next few days, the coughs dissipated and the sniffles subsided, and for three of the girls, the sounds of giggling and playing echoed through the rooms again.
But one of them, 7-year-old Riley, stayed silent. Her symptoms only seemed to get stronger, her body weaker.
A few days after Thanksgiving in 2018, Riley's condition worsened, and her pediatrician ordered an X-ray to rule out pneumonia.
"They called us and said they saw fluid around her heart and that we should make our way to the hospital," Lisa said. "But still, I wasn't overly concerned. I didn't think it could be anything too serious."
Within hours, Lisa and Riley were sitting in a stark white hospital room as phrases like "heart failure" and "cardiac unit" were tossed into the air around them, settling on their shoulders like a physical weight.
Riley was diagnosed with myocarditis, an inflammation of the heart wall caused by a severe viral infection. She was quickly transferred to Children's Medical Center Dallas where the medical team saw that the left side of her heart wasn't pumping enough blood. Her left ventricle was failing. Three days later, Riley stood at death's door, one foot poised to cross the threshold.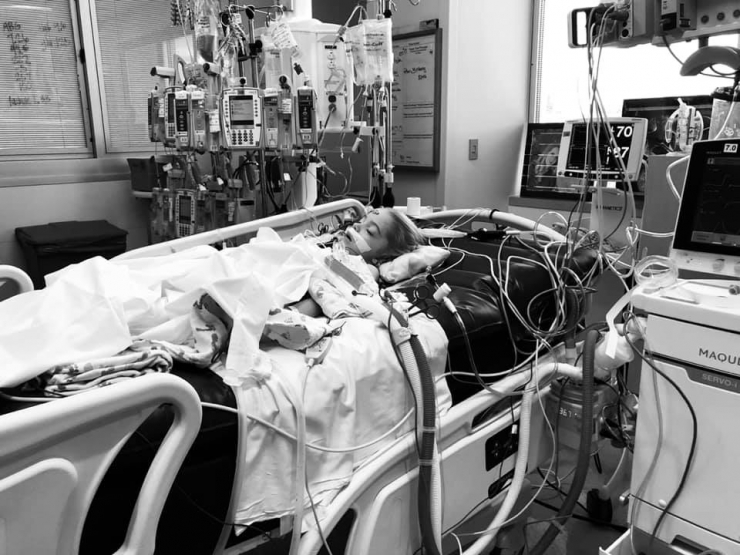 Only one option remained to save her life, to pull her back from the edge. Riley needed a Left Ventricular Assist Device or LVAD or she wouldn't survive. At the time, it was just the fifth procedure of its kind worldwide and the first known case in pediatrics.
To save her life, they would have to risk her life.
On December 11, 2018, Riley Robinson had her first open-heart surgery to place the critical LVAD. She survived the procedure but kept declining, and her name was added to the transplant list.
Soon after, Riley's right ventricle failed.
Her path forward was riddled with obstacles, all lined up one after another. Kidney failure, bleeding out from C.Diff., left side vocal cord damage, and allowed only 50 cc's of water each day (about 1 fluid oz. total).
Riley was dying.
"There were a lot of arguments happening between the care team as we were waiting for a heart transplant," Lisa told us. "At this point, Riley had firmly cemented herself into the hearts of many of the nurses, including one in particular. But she was so sick that no one could agree on what to do next. Should we try a Right Ventricular Assist Device (RVAD) or not?"
"Her favorite nurse finally said, 'Listen, if she doesn't have a cold, we'll extubate her and wait for a donor heart. But if she does have a cold, we're taking her off the transplant list and trying the RVAD."
That decision saved Riley's life, forcing the surgeons' hand to place the RVAD instead of waiting for a heart transplant - something she likely wouldn't have lived to see.
"A cold almost killed her to start this whole thing, and then a cold ended up saving her life. So we thank God for colds sometimes."
Riley underwent RVAD surgery, one of the only pediatric cases to have both the left and right devices implanted at the same time. Her condition had been so poor, so critical, that she was widely known throughout the hospital. Lisa said many nurses were scared to work in her room because she was so close to death.
That's why, when she overcame one hurdle after another, she was viewed as a miracle. From January 2019 through May of the same year, Riley kept pushing and waiting for her angel heart.
Nurses tried to keep her spirits up by decorating her room with her favorite superhero, Spiderman, and bringing a big Goldendoodle named Badger into her room for some much-needed snuggles.
And Riley found the strength to do what brought her the most joy - walking the halls, visiting with other patients, and cheering them up.
Things kind of continued on that way through the spring, until around the first of May. Lisa decided to go home for a bit and spend some time with her three other daughters who were missing their mom. Before she left, she told the medical team, "Don't call me unless you have a heart - and use the code word 'pineapple' so I know it's real."
On May 3, 2019, Lisa's phone rang with a FaceTime number from Dallas. When she answered, 15 people were on the call, sitting silently in front of a cup of sliced pineapple, giant smiles spread across their faces.
Riley was getting a new heart.
The staff asked Lisa if they could tell Riley, and she agreed on the one condition that they put her on FaceTime so she could watch. All 15 of them put on Spiderman masks, walked into Riley's room, and shouted, "You're getting a heart!"
(The family would later learn the name of their angel donor, an 11-year-old girl from Louisiana who shared the same middle name as Riley: Rae.)
Once again, Riley endured another open-heart surgery, her third in a little under six months.
Everything seemed to be going as expected, and Lisa was giving Riley a bath in her room when she started screaming and went limp. She had suffered a side effect that caused a stroke and seizure, and her left side was completely motionless.
"As the team wheeled her away, I was just praying, 'C'mon Riley, move your left side. Move your left side.' And she reached up with her left hand and pulled out her nasal cannula."
Thankfully, the doctors were quickly able to identify the issue, and once Riley's blood pressure dropped to normal levels, her side effects were gone. She has no lingering effects from the stroke, though she's experienced a few seizures in the months since.
Miraculously, the child who had faced death more than once, who had pushed through incredibly difficult moments, who still found the strength to walk the halls and visit with other kids, went home from the hospital only 12 days after her transplant.
And while her angel heart is healthy and strong, she'll eventually need another heart transplant in her teenage years (Riley is 10 now), since her heart can't grow with her. The family is praying for another miracle.
Until then, Riley has other plans, including going back to the hospital - but not for the reasons you might think.
What makes her happiest is helping others. She's well-equipped for it, experiencing more adversity in her 10 years of life than many of us ever will. So Riley got an idea.
"I thought of Badger the Goldendoodle and how much I had connected with him in the hospital," she said, "And I thought, 'I want to give that feeling to other kids.'"
With the help of a few incredible people, including a special person named Taylor Kizer, Riley was gifted a Golden Retriever puppy named Gracie who recently turned one. And while Gracie is a sweet and cuddly bundle of love, let's just say she doesn't yet have the skills to be a therapy or service dog.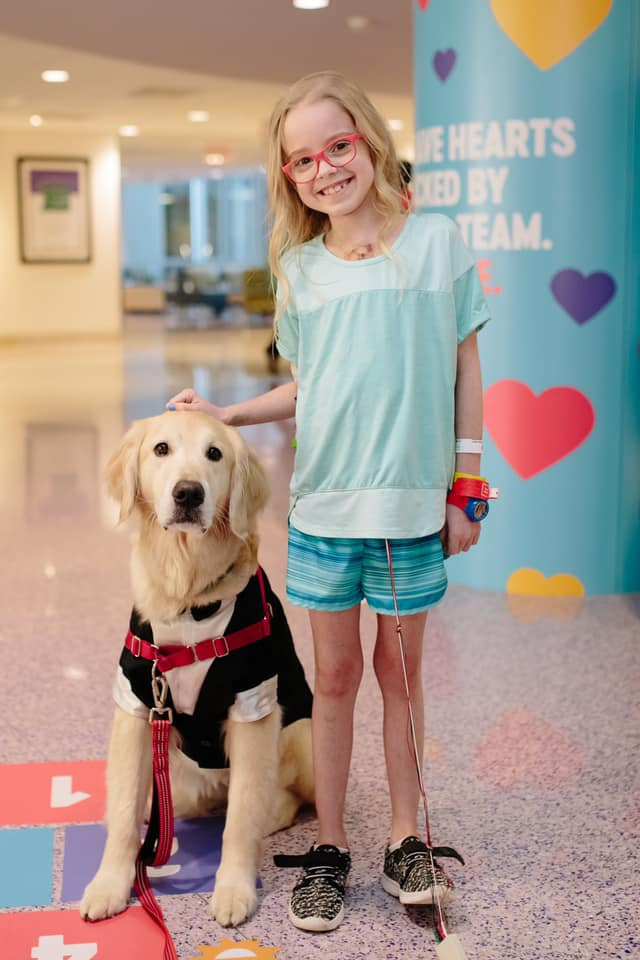 That's where we come in.
Taylor was connected to Brad Niedtfeldt, a long-time member of the Chive Charities board. He's helped change a lot of recipient lives and knew pretty quickly that Riley could be next.
She has a heart of gold and dreams of using her gift to inspire others. How could we say no? We couldn't. We wouldn't. Next week, Gracie the Golden Retriever will begin her training sessions for both therapy and service dog requirements. It's all because of donations from people like you, and the total impact was $3,648.
"You're giving her the opportunity to do what makes her the happiest," Lisa told us. "Helping others."
Like the medical team at Children's Medical Center Dallas, we're in awe of Riley. She's long had a heart for serving other people, and now that heart carries the legacy of another brave and courageous girl.
Riley will call on that strength in the next few years, as another heart surgery seems likely. Even today, she's in the hospital battling the effects of another cold. But you can bet she'll be walking the halls and bringing a smile to faces as soon as she's able. Miraculous Riley.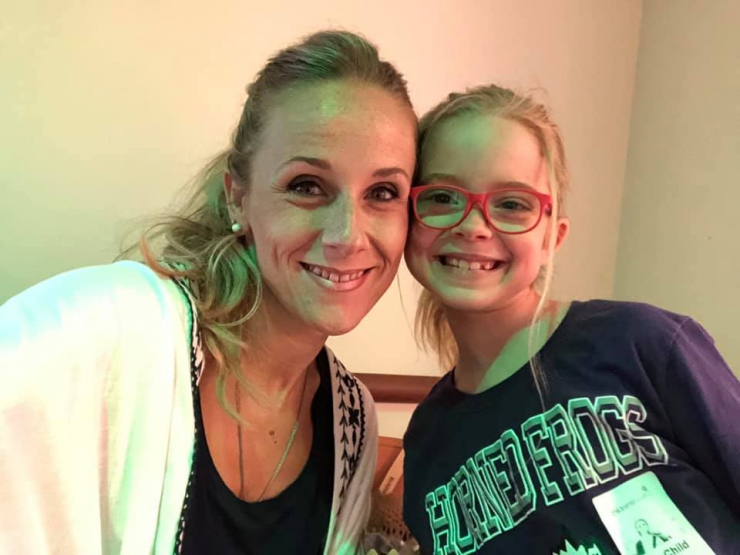 We know stories like hers are tough to read. No kid should ever experience the trauma and pain that Riley's been through. But this world doesn't often play fair. And it's donors like you who help even the score, who give our recipients the opportunity to chase their dreams. Become a donor and join our movement to change more lives. DONATE HERE.
Editor's Note: During our call with Riley and Lisa, we could tell Riley wasn't feeling great, and was battling another minor cold. Her mom said her labs were looking good and negative for things like strep and mono. But she rested her head on the table, closing her eyes and taking breaks while we talked, and frankly - I was worried about her. After all, it was a simple cold that started this journey. She went to the hospital yesterday and will be seen again by the pediatric cardiologist. We'll keep you all updated as we know more!
P.S. We would love to rally the community behind Riley by sending all the positive thoughts and prayers her way. We'll share any comments directly with her mom, Lisa, and hopefully cheer her up from the hospital as she works on getting better.