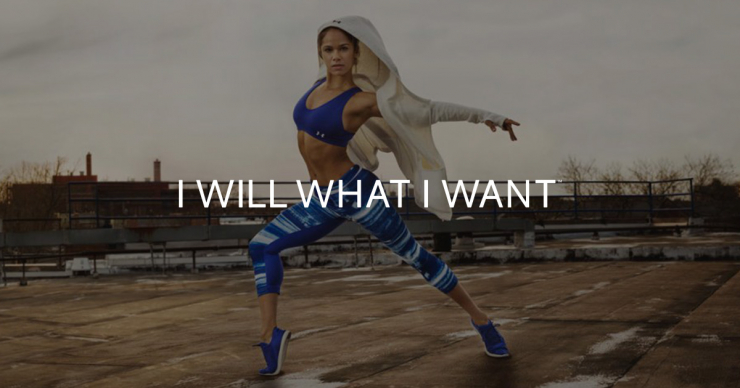 The most viral component? A stunning commercial featuring Misty Copeland, a superstar ballet dancer who would go on to become the American Ballet Theatre's first Black principal dancer in its 75-year history.
The video hints at the challenges she overcame to earn that title, including criticism that she was too short, too muscular, too busty, and too old to be considered for a professional ballerina job.
But Misty didn't care about what had stopped others from getting there. She only focused on what could get her there. Herself. Her determination. The relentless pursuit of her dream. She wills what she wants.
That brings us to the superstar of this story, Tayshawn Stevens.
Like Misty Copeland, Tayshawn has spent the majority of his life hearing other people tell him what he can and cannot do. Born with Becker's Muscular Dystrophy, a genetic disorder that gradually makes the body's muscles weaker and smaller, Tayshawn learned pretty early on that he was his own biggest advocate.
"I won't let people forget about me," Tayshawn told us. "If I need something, I'll contact people on my own and I'll keep contacting them until I get the help I need."
Both Tayshawn and his older brother were diagnosed with Becker's MD. They entered his current school district when Tayshawn was in the second grade, and not long after, he was connected with the on-staff physical therapist, an incredible woman named Sue.
Sue has known Tayshawn for 13 years now, since he was just 8 years old, and has been an invaluable resource to him - of course in her role as a PT and helping tackle that side of his life, but also in how she treats him as a person. She sees past his challenges, past his wheelchair, past the many things that he could use as excuses to do nothing and go nowhere…she sees the real Tayshawn.
"If I had to try to define Tayshawn to someone who has never met and experienced him, I would tell them that he's patient, driven, and dedicated," Sue told us. "He takes actions on his own to get his goals met."
In other words, he wills what he wants.
That aspect of his personality - his ability to get things done - has been even more critical these last few years. When he was just 16 years old, Tayshawn entered the foster care system. He's still part of that system today.
After he was placed in foster care, Sue got involved with a county-specific program in their area called the Higher Education Mentoring Initiative (HEMI). Through that program, HEMI seeks to help prepare foster children for post-secondary education and training.
Foster youth often face challenging life circumstances while being moved in and out of homes during their lives. For many, postsecondary education or training is never or rarely discussed or encouraged as an opportunity beyond high school. National and local statistics for foster children who turn 18 and "age out" of the system are not encouraging. Really, it's pretty grim.
But the HEMI program recruits, trains, and supports mentors - just like Sue - to establish positive long-term relationships with foster youth. Then, those mentors assist, encourage, and support student academic achievement and help create a direct pathway to education and career training opportunities after high school graduation.
Through HEMI, Sue officially became Tayshawns mentor. (She's also the person who connected him with Chive Charities, but we'll get to that later.)
Not long ago, Tayshawn once again accomplished what many said couldn't be done. He was accepted into Wright State University as a full-time college student. When we asked him how he chose WSU, he explained that he and Sue had previously toured another option.
After getting to the admissions office, Tayshawn realized pretty quickly that this was not the school for him. The door to the office wasn't powered - there was no automatic button to open it for him so he could wheel himself through. Cross it off the list.
Next was Wright State, a school renowned for its accommodations for students with disabilities. Here, Tayshawn found a home.
Again, he surpassed all expectations, applying for financial aid and grants that will nearly cover the full cost of tuition and room and board. He was doing everything he could to get things done. But there was one thing left that he couldn't tackle on his own.
"Throughout my life, I've never really gone anywhere," he told us. "We never had a wheelchair-accessible vehicle and I require the use of a wheelchair full-time. So that's an obvious challenge. For a while, once I was old enough, I was able to use MetroAccess - basically a shared-ride service for people with disabilities like me."
"But the one in our area runs with the bus line now, and once I was placed in foster care, my new home isn't located near the lines. So I lost that form of transportation, and really the only option I had."
It doesn't take much to see how hard it must be for him. He's a teenager living in a foster home with no wheelchair-accessible vehicles. How is he supposed to go anywhere? And while Tayshawn has plenty of friends who would be willing to pick him up, they don't have the accessibility either.
"It's very difficult for me to transfer from my wheelchair into a car, and if I am being transported in a regular vehicle, I cannot bring my power chair along. Therefore, I lose my independent mobility. The only way that I am able to be transported so that I can have independence is to use a van with a wheelchair lift. This is very costly, and I simply cannot afford it," he explained.
So, when Tayshawn got accepted into Wright State, the challenge of transportation loomed right in front of him, threatening to take that away from him, too. But something else, rather someone else was also right in front of him - Sue.
She got online and started digging around, eventually landing on the website of an organization created to help rare medical diagnosees with items not typically covered by insurance: Chive Charities.
If ever there was an organization for Tayshawn, it would be this one.
Tayshawn is currently enrolled in a driver training program in Columbus, Ohio, about 100 miles from his hometown. It's essential for him to attend because it's the only program in the state that offers on-road evaluations for hand control or joystick drivers like him. Once he passes the extensive course training, he'll be able to drive independently. He was just missing one, small detail…the vehicle.
That's about the time Sue found Chive Charities on Facebook and Tayshawn submitted his application.
He wills what he wants.
Like Sue, we see past the challenges, past the wheelchair, past the many things that he could use as excuses to do nothing and go nowhere. We see the real Tayshawn, too.
Our amazing donor family was right there with us. And with their support, we were able to fund the purchase of a new ADA van for Tayshawn for a total impact of $50,000.
If the life-changing impact of that didn't immediately hit you, it's really something to reiterate. Tayshawn has never, in his own words, had access to reliable transportation. That changes now.
When our own John Resig heard more about Tayshawn and how much he's done to help himself, he decided to jump in and lift some of the burden by writing him a personal check. It's all part of the "Get Tayshawn to college" fund. Just because he's proven that he can handle almost anything on his own doesn't mean he should have to. You've all made sure of that.
Like Misty Copeland, Tayshawn has heard it all. He has too many needs, it's too difficult, there's not enough money for that.

But Tayshawn also doesn't care about what would stop others from getting there. He's only focused on what could get him there. Himself. His determination. The relentless pursuit of his dream. He wills what he wants.
And in those moments where he simply can't shoulder it alone, where he's exhausted all of his options - well, in those moments, he has Sue.
Everybody needs a Sue. Someone who will be there when no one else can. Someone who will do everything in their power to step up and help. To change a life. To make a difference. We call ours Chive Charities donors. Be like Sue and DONATE HERE. And be like Tayshawn and go after what you want, and what you need, and APPLY FOR A CHIVE CHARITIES GRANT.