"Do the right thing, even when no one is looking." These are the words FDNY firefighter Ray Pfeifer lived by, and the words he died defending.
Ray didn't know the whole world would be looking at him on the morning of September 11, 2001. He was on the golf course that morning, relaxing with his friends from the department, when they got the news. Ray leaped into action, rushing to the station to gear up and get on scene. He spent the next 8 months digging through the rubble of Ground Zero. Among the twisted metal and smouldering ruins, memories of his station's other 11 firefighters who responded to that call swirled around like smoke. All 11 had been killed.
Ray never stopped putting the needs of others before his own. That's why, when he developed Stage 4 kidney cancer in 2009 as a result of his work at Ground Zero, he wasn't only worried about himself. When he was diagnosed, Ray's benefits were on the verge of expiring. Ray joined the FDNY in 1987, and worked tirelessly for months picking up the pieces of a national tragedy. He knew so many fellow firefighters who risked everything for others, and he couldn't bear to see them suffering, uncertain of how they would pay their medical bills, as he was.

So he did the right thing. Ray, in his wheelchair and battling cancer, led a small contingent to Washington, DC in 2015 to challenge lawmakers to provide proper care for 9/11 First Responders. He was a leading force in lobbying to extend the James Zadroga 9/11 Health and Compensation Act of 2010 through 2090, ensuring health care coverage for 75,000 people who need, or will need, treatment for health conditions developed as a direct result of 9/11 exposure.
Ray fought for this legislation until his death in 2017. He fought, knowing he would never get the chance to see the impact he had made in the lives of first responders and their loved ones. But because of his efforts, in 2019, the "Never Forget the Heroes: James Zadroga, Ray Pfeifer, and Luis Alvarez Permanent Authorization of the September 11 Victim Compensation Act" was passed to provide financial support for 9/11 responders, survivors and their families.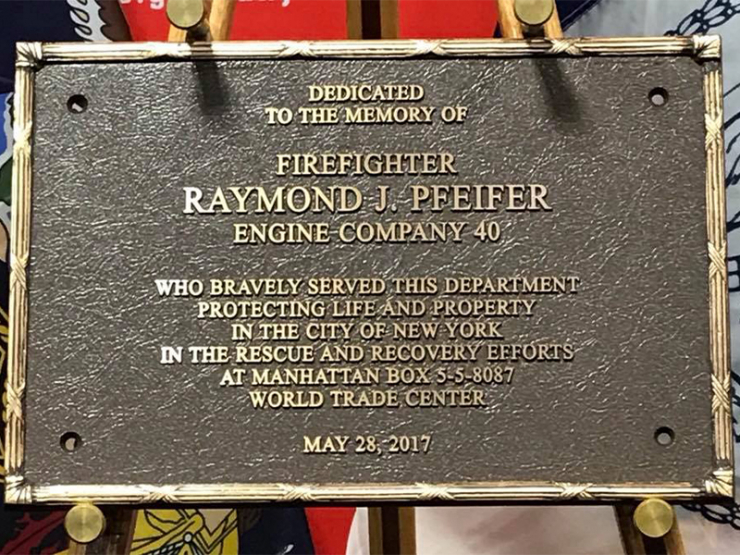 Like most legislation, though, this Act still left some gaps and long waiting periods to receive compensation. And if there's one thing that injured and sick First Responders don't have time for, it's waiting for access to healthcare. That's where the Ray Pfeifer Foundation comes in.
The Ray Pfeifer Foundation is a dedicated group of volunteers whose mission is to help people right now. They are continuing Ray's legacy of doing the right thing, even when no one is looking, by providing essential health care items to affected First Responders who simply can't afford to wait for help.
The impact of the RPF spans a broad spectrum; they help to provide home health and hospice care when insurance has limits, purchase motorized scooters, portable oxygen tanks, bed lifts, back braces, nutrition supplements, disposable underwear, hearing aids, compression garments, hyperbaric chamber therapy and so much more.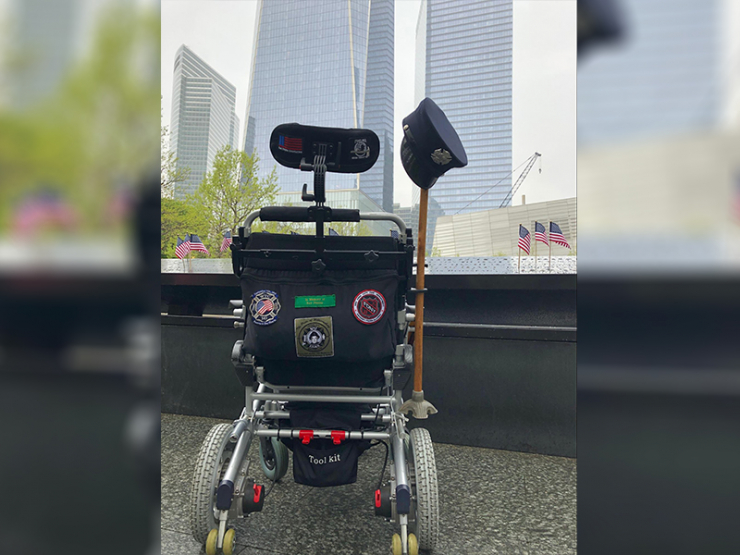 The RPF seeks to ease the burden of day-to-day life for these heroes. By supplementing home health aide visits limited by insurance, for example, the foundation is able to help with daily living and routine care, which can be crucial for someone dealing with a terminal condition like cancer.
Of course, since the demographic that the RPF serves consists of First Responders, that means one thing: it can be hard for those in need to actually request and accept help! These are people who dedicated their lives to the service of others, risking everything for the greater good. First Responders tend to put themselves last, even when they truly need help. The RPF wants to let these heroes know that it's okay to let someone do the heavy lifting for once. It's okay to accept help. It's okay to make sure your needs are being met.
And no one understands the mental and physical struggles these folks go through better than the board members of the Foundation who volunteer their time. Every person but one on the board is a current or retired First Responder. Many worked on the scene at Ground Zero. One board member's first day on the job was September 11, 2001. He was taking the tags off of his gear when he was called into action. They have been through the struggles of the people they seek to help, and they understand how hard it can be to accept that help.
Thousands of first responders around the country are currently battling 9/11 cancers and other
conditions. The number of people who will die from complications related to 9/11 is expected to surpass the number of victims killed on 9/11. The need that the RPF hopes to meet is huge, and Chive Charities wants to help them get there.

Our donors understand the sacrifice that First Responders make every day; some of them are First Responders themselves. Thanks to their monthly donations, we are able to grant the Ray Pfeifer Foundation $10,000, which will provide 3 months of medical care for first responders with 9/11 related health conditions!
There is nothing we can ever really do to repay those who have lost their lives or been hurt in the tragedy of 9/11. But what we can do is support those who need help now. The Ray Pfeifer Foundation has that in common with Chive Charities; we know we can't provide a cure, but we can make life a little easier, and a little brighter.
If you want to help Chive Charities support amazing organizations like this one, learn more about becoming a donor right HERE!