Just another day in paradise.

The best place on earth to grab a cheeseburger, if you ask Jimmy Buffett.

The tropical hideaway for Ernest Hemingway and his harem of six-toed cats. Who enjoyed corn, apparently.

The New Year's Eve hotspot for Chivers since 2012.

And home to more than 65,000 conch-lovin' locals.

But the next day, September 10th, a little storm by the name of Irma came through town, and it seemed like paradise may be lost.
While the full impact of Irma may take time to grasp, we know it affected more than 6 million people and caused more than $25 billion in damage. When a storm of this magnitude hits, sometimes it's the little guys affected the most, the underdogs that get overlooked. But that's the thing about theCHIVE community, we have a knack for putting the underdogs squarely in our sights.
Wesley House Family Services is a nonprofit that's been part of Monroe County Florida for more than 100 years.
The mission at Wesley House is simple: do whatever it takes to ensure families – the foundation of every community – have what they need to weather any storm that comes their way. Even a category 4 hurricane.

Like the late, great Whitney Houston, Wesley House believes the children are our future. Keeping them safe, healthy, and thriving means providing prevention and support services for troubled families, managing all aspects of foster and adoption cases in the county, and nurturing positive parent-child relationships for expectant and new families.

Translation: Wesley House runs a full-time child care center and pre-K program, manages the entire Monroe County child dependency care system, and offers parent training courses for newbies. With about 140 kids in the system, plus dozens more in early child development, it's safe to say their plate is full.
What happens, then, when the main supporter of a community's foundation literally loses its foundation?

They do what they always do.

They get to work.

More than 1,200 homes were damaged or destroyed in Monroe County, including Wesley House foster homes, client and staff member homes, and the Wesley House child care center. Beth Barrett, CEO, walked us through the kind of devastation you won't see on the news.

"Our children are from at-risk families," she explained. "Hurricane Irma caused yet another upheaval in their lives, so the faster we can get these families, the foster homes, and our child development center back to a sense of normalcy, the greater chance we have of decreasing the instances of abuse and neglect of the children in our community."

Many families have been without work since the storm, and don't have the money to rebuild and replace, well, everything.

And for those with insurance, deductibles are high, contractors are in short supply, and the wait is long. The people of Monroe County need relief now, before they're forced to move out of the area some have called home for generations.
"We're losing families because they don't have the means to rebuild and recover. They're the foundation of our community – police officers, teachers, case managers, nurses...they're just a few that need some assistance to stay."
Fortunately, Chive Charities was already working on a plan.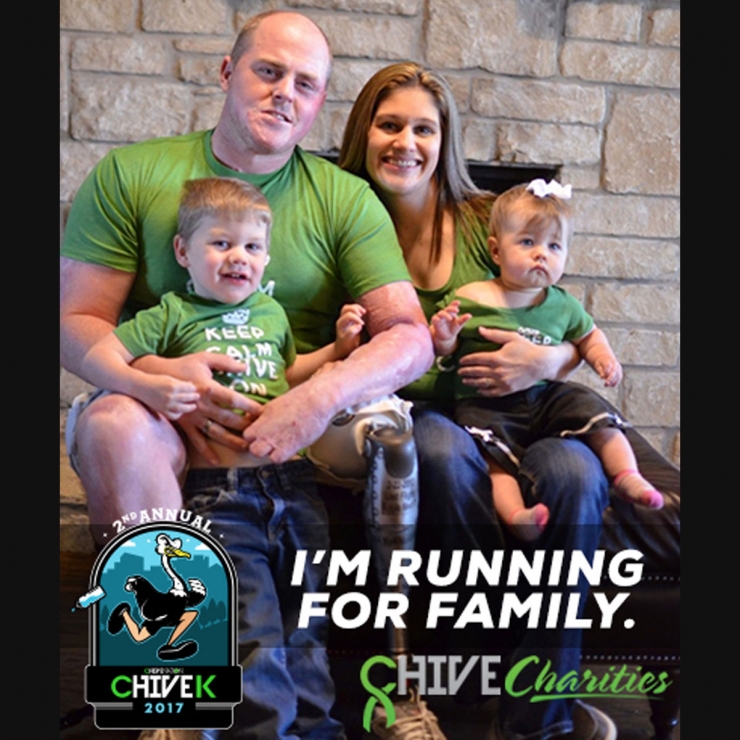 Before Irma blasted her way through the Atlantic, as Hurricane Harvey descended on Houston and the Florida hurricane season was just ramping up, we made the decision to channel proceeds from the 2nd annual Chive K to hurricane relief efforts. We knew first responders would be tested to their limits, and that countless families would need help for months and years to come. theCHIVE community is about as close to family as you can get without a blood test, and they raised more than $78,000. When Wesley House reached out for help getting their community back on its feet, we were ready.

This week, Chive Charities presented Wesley House Family Services with our first hurricane relief grant of $25,000, which will help those affected by Hurricane Irma restore their lives and get back the sense of normalcy they had before the storm.

So far, seven staff members, two foster parents, and three at-risk families have benefited from the donation, with assistance for construction, replacing lost vehicles and furniture, and rental assistance. It's going to be a while before things are truly back to normal, but we're excited to help this community rebuild its foundation and return to the business of helping kids reach their full potential.
Though Chive K is behind us for another year, Chive Charities' Green Ribbon Fund is forging ahead for underdogs like the families of Wesley House. Click HERE to become one of the monthly Green Ribbon donors changing lives every single day.