She told her mother the "walls were breathing." She was having so many seizures every day, her ocular nerves were fried and continued to spasm, giving the illusion that the walls and windows were breathing in and out. Just as the frenzy ended, another seizure began.
Then, the darkness came.

This is 3-year-old Rozalyn Abbott 30 minutes before the right side of her cranium was removed, allowing doctors to attach 120 electrodes directly to her brain. Her mother and father were hoping for news that Roz's brain could be normalized with less invasive and damaging surgeries than a hemispherectomy, which meant disconnecting the right side of her brain entirely.
What the electrodes revealed was both tragic and fascinating. Roz was diagnosed with Rasmussen encephalitis, and she was the only 500th known case worldwide.

Their worst fear was now reality: the only way to save Roz would be a hemispherectomy. But there was good news, too. The electrodes also revealed that prior to surgery, Roz's brain was already making new connections on her left side, carving out new pathways to preserve her communication skills.
A little kid's brain has so much plasticity, it can replicate one side's function by rerouting neural pathways to correct for damage, i.e., the right side of her brain was downloading to the left, preserving her communication and motor skills. Incredibly, her doomed right side's final gift to Roz was a magnificent feat of adaptation.
Then, the darkness came again.

Doctors will tell you having a hemispherectomy is akin to having a stroke – each half of our brain controls the opposite side of our body, with a few exceptions (hearing, vision, smell, digestion, heart, etc.). When they disconnected the right side of Roz's brain, the entire left side of her body would basically quit working. Her vision would cut directly down the left sides of both eyes; the part of her brain that controls her bowels would cease to function; there were so many more consequences. And, Roz's mother Anne vividly recalls, the doctor warned, "I want to prepare you for an outcome in which Roz may lose her imagination."
Lose her imagination??? What else?
"We're certain she will have the ability to hear, and she will recognize you. Nothing else is guaranteed."
When Roz woke up, her eyes could no longer see the left side of her world. Her bowels had lost the ability to process certain foods, but they continued working. Her left arm no longer received signals, but, shockingly, her left leg did. She retained the ability to walk, and then she started talking, "Can I have a cupcake, please?"
Mercifully, the seizures stopped. Roz had lost so much, but the walls were still for the first time in her life.

How communities are supposed to work:
In 1964, Sidney was nicknamed America's "All American City;" most homes proudly fly the American flag in their front yard. The town's residents are resilient, the economy is driven by small businesses, and its citizens look out for each other. Speaking to one resident at The Bridge restaurant, "We don't wait for the government to solve our problems, we believe in personal responsibility in this town."

One such citizen was Roz's neighbor Andrew Holthaus. He was on a walk a few months ago, and noticed Anne struggling to get Roz into the family car. He remembered Chive Charities specializes in helping people diagnosed with rare medical conditions, so he did what good neighbors do, and took action. He called his local Chive Nation chapter in Dayton, and they called us. Days later, Brian Mercedes and I arrived in Roz's living room.

Roz smiled and high-fived me. What blew me away is that Roz can talk just fine, she can read – in fact, she's only about a grade behind in school – and she's re-learned learned how to walk as well. What Roz is missing are things you'd never think of…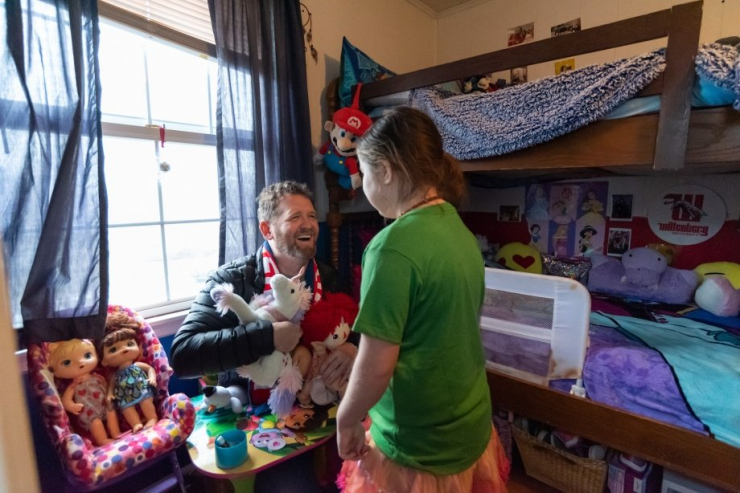 The part of Roz's brain that tells her she's tired was gone, so she literally never gets tired. She's simply active all day until physical exhaustion puts her down for the night, usually after midnight. Then she sleeps so deeply that her central sleep apnea causes her forget to breathe 100 times a night.

Roz showed me her "breathing machine," a CPAP that provides continuous air pressure in her throat to keep her airway from collapsing while she sleeps. But what happens when the electricity goes out?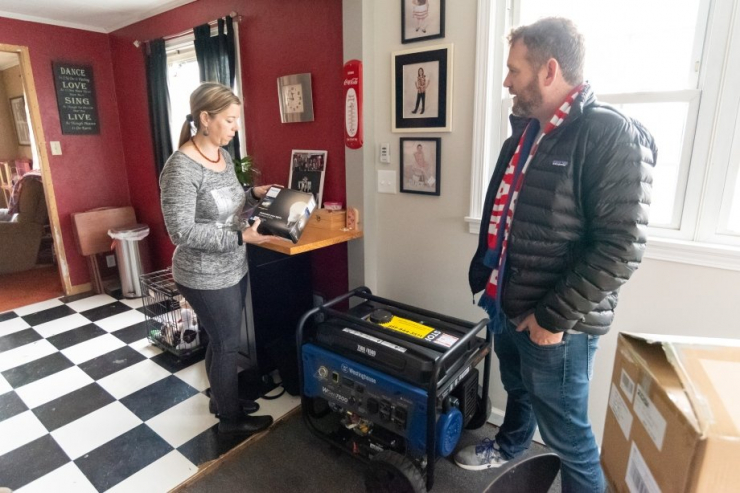 Our Chive Charities Green Members had already taken care of that by the time we arrived. A brand new generator was on standby to make sure Roz stays in good oxygen, along with a touchscreen tablet, a Philips Hue starter kit, home monitoring and security cameras, and an Amazon Echo Dot – all things that would greatly increase Roz's safety and security at home.

Next, Roz showed me the family car. Among other issues, the old rust bucket's gas gauge was defective – Anne watches the odometer to estimate when it needs refueling. And this relic is entrusted to transport Roz to her doctor, 45 minutes away in Dayton?
When we came back inside, I told Roz why we had really come to visit her.

Roz has always wanted a grey Honda Odyssey to get her to the doctor, which is a strange obsession for an 8-year-old, but I respect it. I told her there were a lot of good people out there that were going to make it happen.

After seeing the look on Roz's face when I told her, I have no intention of letting her down. (Donate here.)

Even the best neurologist will tell you the brain is largely a mystery. Only 9 months after Roz had half her brain removed, she was back in tap dance lessons. Think about that.
As I was leaving, Roz held my hand and said, "Don't worry that I have half a brain. My disability is what makes me special."
Five years ago today, a team of caring doctors gave Roz a second chance at life. Since then, she has pushed the limits of her physical ability farther than those doctors ever imagined. Now it's up to us to keep her moving forward, and it starts with getting her to and from the hospital safely.

The fabric of a community has so many brilliant colors, including and especially red, white, and blue, and so many pockets of beauty and compassion. Today, we'll stitch ourselves into the fabric of Roz's story in spectacular fashion, I think.
The goal is set at $30,000, and to sweeten the offer, a tech company in nearby Dayton called STRATACACHE will match every dollar you donate, up to $30,000. Every dollar you donate is worth double. And every dollar past that goal will go to badly needed home improvements, including flooring and trim work in the kitchen, and installing safety rails on both sides of the family's front porch step.
Let it rip, Chivers. Donate right here!
KCCO,
John
PS – If you do one thing today, watch the video below.