A more positive take on that would be the reason behind your motivation to get up in the morning and take on another day. The one good reason you have to face challenge after challenge and still keep moving. The one good reason you can get knocked down or thrown sideways by all of life's curveballs and still find hope. Usually, that one good reason is a person.
And for Tasha, her reason is Nyla.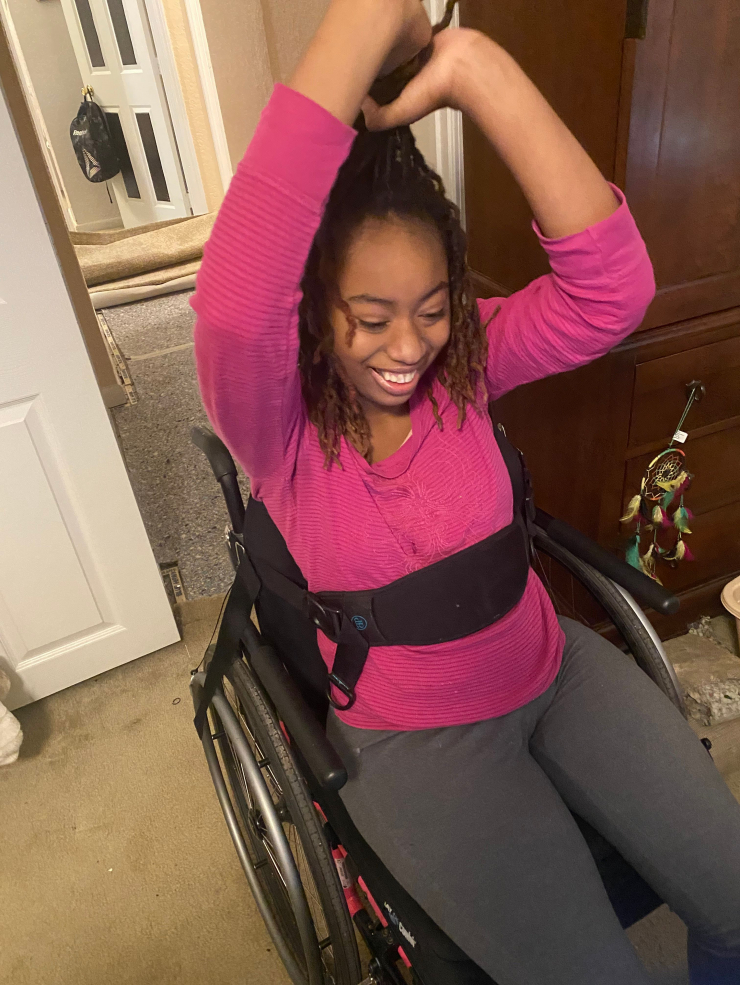 Tasha was 17 years old when Nyla was born, and she would quickly shoulder more responsibility than she ever imagined. Just 24 hours after she and Nyla were discharged from the hospital and settling in at home, Tasha's sister - a licensed nurse - arrived to help. Within minutes, they noticed the baby's eyes were rolling and fluttering quickly. Nyla had also stopped feeding and was difficult to wake.
"My sister said it looked like she was having seizures," Tasha explained. "We rushed her to the hospital, but she was so tiny that they couldn't get a vein for her IV. Not long after, they airlifted her to Augusta, GA. And she stayed there for four months."
The situation had quickly turned dire. Doctors performed an MRI and diagnosed Nyla with a minor brain bleed and a seizure disorder. Then later, hypothyroidism, cerebral palsy, low muscle tone, and scoliosis. (Donate right here.)
Tasha would also discover that a nurse had noted seizure activity within the first few days following Nyla's birth - before the family was discharged. But unthinkably, no one followed up or mentioned it to Tasha.
"Once more of the information came out about the hospital's negligence, we knew we had enough detail for a lawsuit," Tasha told us. "But as an underage parent, I would have to sign rights over to my mother to pursue it. I just couldn't do it. I couldn't put my child's care in someone else's hands - even those of my own mother. Raising my child was more important than winning a lawsuit."
Tasha had every reason to consider legal action. But she had other good reasons not to.
As time went by, Tasha continued to pour herself into every detail of Nyla's care. She enrolled her in a program called "Babies Can't Wait," an early intervention system in Georgia for babies and toddlers with special needs or developmental delays.
Nyla did really well, and she started wearing AFO's (ankle-foot orthotics) and using a walker independently. "Once she learned how to walk, she didn't want to wear her AFO's anymore," Tasha laughed. "It seemed like nothing was going to slow her down."
Eventually, though, Nyla's scoliosis caught up with her.
"I told the doctors that I thought she needed to wear her AFO's again, but at every visit, it felt like they were giving us the runaround and not taking what I said into consideration. For me to live with my child and see her struggling and falling was unacceptable," Tasha said.
Tasha had good reason to be upset. And so she did something about it.
She demanded that doctors take another look and listen to her concerns. Finally, they agreed with her and fitted Nyla for new braces. She got about a year of relief before surgery became the next best option, and Nyla had a spinal correction procedure in August 2019.
Once again, the difficulties kept coming, and Nyla's growth and weight gain began impacting her progress. She started falling more and injuring herself, including breaking her wrist and arm, and damaging her upper teeth, requiring emergency dental surgery.
"I can't allow Nyla to walk at all by herself anymore," Tasha told us. "For her own safety, she uses a wheelchair now."
That's caused a whole other slew of challenges, like needing wheelchair access to their home, accessibility in the bathroom, and of course, safe transportation. Nyla recently underwent another surgery to correct her right hip, knee, and ankle in December 2021, and it's been hard coming back from that.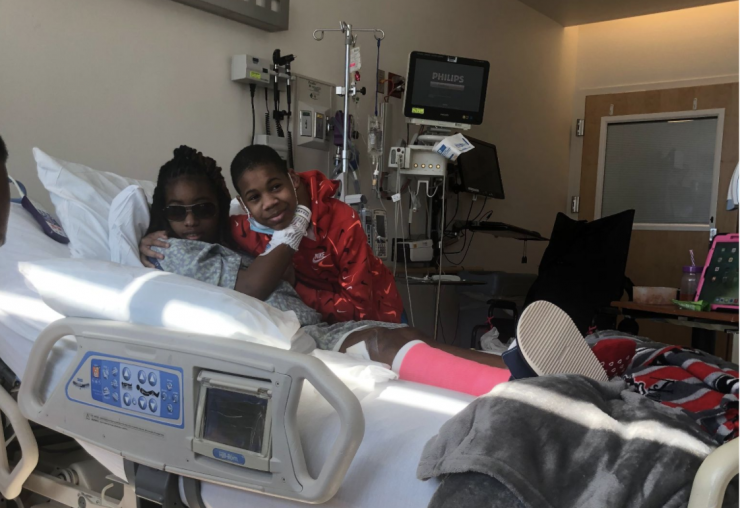 But as Tasha told us, Nyla continues to find a way to smile, laugh, and hug those she loves. Mostly her mom:
Thankfully, they met a real-life angel (who also happens to be a pediatric nurse) named Rochelle. Rochelle knew about Chive Charities and the work we've done to support rare medical families just like Tasha's, and she told her to reach out and get the help she needed.

She was the reason Tasha and Nyla found their way to our organization and a huge part of how we were able to help.
As it stands today, Tasha is the only one caring for her daughter - the only one who takes her to appointments and oversees her frequent therapy sessions. This past fall, she was forced to quit her job just to keep up with all of the medical visits and needs, but really wants to be able to earn a living and provide for her family.
So, when she told us their story and explained their needs, it was an easy decision to say yes to supporting them.
With the help of our donor family, we purchased a new laptop for Tasha that will allow her to work from home. A small amount of $850 that has the potential to get them back on their feet.
And then, we asked our donors for a bigger need with an even bigger impact. With their support, we funded a new 2019 Dodge Grand Caravan for $49,270 - in her favorite color, red - to get Tasha and Nyla the safe and reliable transportation they desperately needed.
"We have been hitting speed bumps in the road for many years," Tasha shared. "But somehow, God keeps giving me the strength to never give up on my daughter. My back has been up against the wall with everything happening to her, but thanks to you all, we can keep going."
Nyla is Tasha's one good reason. She's the light of her life, the force that always pulls them back together.
And yet, they needed just a little more. They needed a reason to hope. A reason to believe that something better was waiting. A reason to wake up and keep pushing forward.
Our Chive Charities donors are a big part of why they have more of that today. Sometimes, you just need one good reason to make a life-changing decision. Let them be your reason. DONATE HERE.