But sometimes, it just doesn't.
This is Samaria, her family calls her Mia. She's eight now, but when she was two, the simple joy of running barefoot through a field on a bright spring day fell out of reach. Everything about life, good and bad, became uncertain, and her mom and dad found themselves living every parent's worst nightmare.
But this is Chive Charities, and we're on a mission to make the world 10% happier, so the faithful Green Ribbon donors rallied to see what we could do. We called Mia's mom.

"What is Mia like now?" I asked Melissa. "What are some things she likes to do?"

"She loves books – 'The Rainbow Fairies' and 'Junie B. Jones;' she likes to be outside; she's in gymnastics. Actually, they told her she's not coordinated enough or strong enough to do a cartwheel, so she's been working so hard on it," Melissa paused. Her voice hitched a little, like proud moms do. "So. Hard. And she can do one now. It's not the prettiest, but it's all the way over and she can land on her feet."
How did we get from the sweet little sprite in the lead photo to a child who was never expected to land a cartwheel?

"She was a happy baby and hit her milestones early. Everyone gravitated to Samaria, she is quite charismatic!" Melissa laughed. There's a twinkle in Mia's eye, and maybe a hint of mischief in her grin. It could be her dogged determination, but there's definitely something special to this girl.

While things were normal for Mia's first few years – regular kid illnesses, bumps, bruises, even a few stitches – Melissa admits there were the slightest of red flags beginning around nine months. She and husband Joe thought Mia might be having seizures, but didn't really have any proof, and doctors reassured them Mia was just fine. They had two older boys, were expecting their fourth child, and things were busy but typical.

But one April evening in 2012, Mia was snuggling with her parents in bed, something third-borns rarely get to do, when she suddenly vomited and went unresponsive. First responders worked on the toddler for 30 minutes before rushing her to the hospital. She was in a constant state of seizure, and only the strongest, most dangerous medication would eventually stabilize her. It was terrifying.

Doctors first insisted Mia must have ingested something toxic, but a battery of tests quickly revealed several very serious conditions threatening her life: polymicrogyria (PMG), a rare brain malformation where there are too many small folds on the surface; multifocal leukoencephalopathy/leukodystrophy, a disease affecting the central nervous system that leaves the body open to autoimmune infections; NPHP1 gene deletion, causing kidney and retina impairment; and intractable epilepsy. That's a lot, and they're all serious conditions.

One early morning, after several agonizing days in the pediatric ICU, Mia woke up and turned to Melissa. "Mommy, can we go home now?" She's got a fighting spirit, that one.

Soon after receiving that lengthy list of diagnoses, when it seemed there weren't any blows left to endure, Melissa and Joe learned their daughter also struggles with Autism Spectrum Disorder, sensory integration dysfunction, and other cognitive issues that make everyday life much more challenging. But, like middle children everywhere, Mia is stubborn, and fiercely determined to overcome any obstacle in her way.

She's working through her anxiety and becoming more comfortable speaking up for herself. In fact, last year she took a big leap and let her classmates in on her struggles, which made school so much better. She's also working with an outreach group to support kids newly diagnosed with epilepsy. How amazing is this kid who, at eight years old, is already advocating for people of all abilities?

Mia needs a service dog to alert her family when a seizure is coming, and keep her safe when she has one, to assist with balance and coordination, and to provide deep pressure comfort during times of high anxiety and sensory overstimulation. She's been working so hard to get there.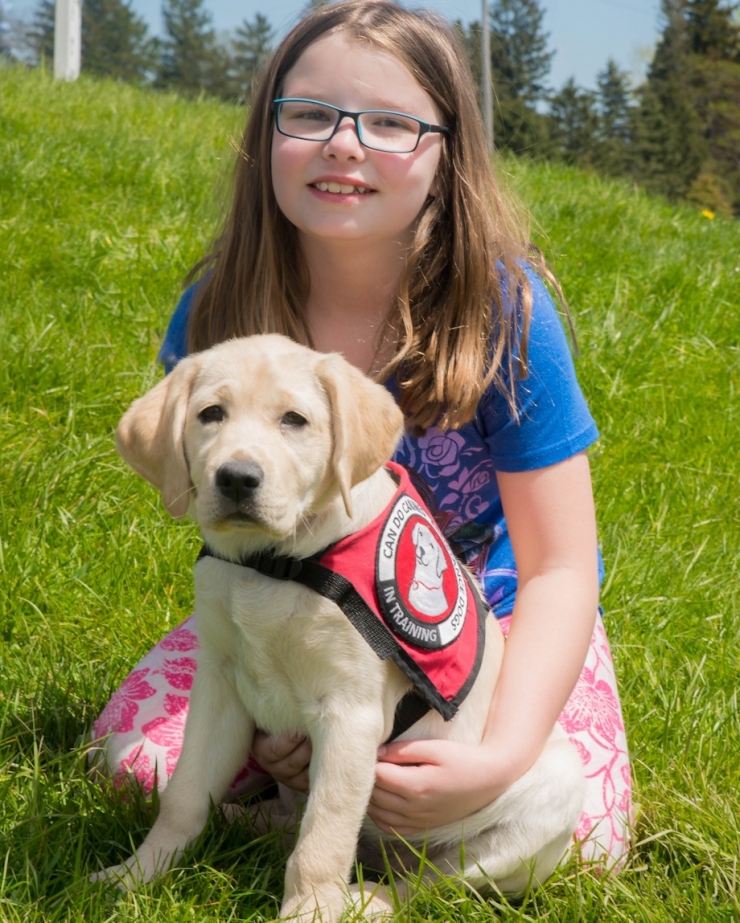 With her community by her side, Mia and her family raised $4,500, and it's our honor to cover the balance needed to get her the help she needs. With a $12,500 grant from Chive Charities, Mia has finally started the process of finding the right service dog to keep her safe and happy, and we'll be following her journey the whole way. Here's a pic from her recent visit to Paws 4 Ability, where she'll meet her new best friend. Also, props to the dedicated superheroes of the Green Ribbon Fund for making yet another deserving recipient's dream come true – they're truly a special breed.
This week it was Mia, next week it will be another fighter who needs our help. Will you be part of the story? Go HERE to become a monthly donor and help us create many more happy endings.