Like most of the men around him, Dennis spent many of his first weeks abroad asking himself what in the world he was doing there. His family had a long line of service members before him, and Dennis had felt the calling to sign up long before the war began. Now that he was firmly entrenched in Vietnam though, he found himself wondering if and when he would get to go home. It wouldn't be the first or last time he would ask himself that question.
As a helicopter Crew Chief, Dennis had the unenviable position of seeing the atrocities of war from every angle. In Vietnam, there was no escaping it. "We were in many situations," he told us. "We took many wounded from the flights, took too many dead out of battles, saw too many lives changed."
During one pre-flight inspection, Dennis and several other service members met at his helicopter to go over a mission to put troops in the A Shau Valley. "Our helicopter was shot up," Dennis recounted. "Afterwards, I held the tail rotor drive shaft that was almost shot in half."
Understandably, Dennis didn't want to spend a lot of time telling us about his experience at war. He simply reiterated the sentiments of so many other Vietnam veterans when he said, "As we returned home, we were made to feel as if we were not welcomed back. But the memories, the nightmares, the sadness, the pain...it never wants to go away."
He was a 20-year-old kid fighting a war of men, with only his fellow soldiers beside him to lift each other up.
After his Vietnam service was over, Dennis came back to the U.S. and joined an Army artillery unit ("which I absolutely did not like," he said). One day, he was riding along on a Howitzer that had too many soldiers on it. They were in a column following each other while on night maneuvers.
"It was pitch black outside and the driver could not see the vehicle make a turn in front of him," Dennis told us. "I was sitting on top when the driver lost control in the dark and drove us off a cliff."
Dennis fell from the top, hit the spade, and injured his back, causing temporary paralysis. He would regain movement, but never fully heal from the incident.
At this point, Dennis has survived the Vietnam War, been injured while in service back in the states, and was almost certainly dealing with the effects of Post-Traumatic Stress (PTS), a condition that was not widely understood or diagnosed at the time. With nowhere else to turn, he looked to the only people who could understand.
"When I came home from Vietnam, I met some Army friends and we helped one another with what we went through in 'Nam," he said. "We worked on each other's cars and just talked about things that we might be going through. I joined all of the Veterans groups I could think of to talk to others that were going through the same difficulties, and trying to help new troops that were suffering from their experiences, too."
Together, they lifted each other up.
Since then, Dennis met his (now) wife Fran, who was integral in helping him recognize his PTS and supporting him as he sought therapy and healing. Together, they've faced sobering circumstances, including the death of their son in 2013 and the death of their granddaughter, Bailey, in 2019 (she was only 23 years old). They also adopted their granddaughter, Nevaeh, who has been a true light in their household. She's lifted them both up.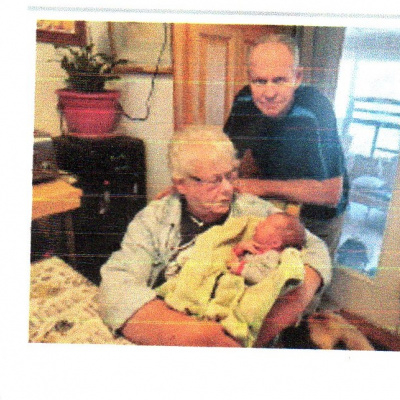 Once Dennis retired from the military, his service to his country continued. He stayed connected with other veterans through his local VFW #3917 and has helped many returning vets from Iraq and Afghanistan assimilate to post-war life. Dennis and Fran's house is usually filled with soldiers from Ft. Carson who need someplace to go and someone to talk to. Dennis is there for them when they need it most, a priceless gift they open again and again.
Dennis's struggle with PTS will be life-long. There's no cure for post-traumatic stress. The injuries he sustained from his fall off the Howitzer have stuck with him, too. He has given so much of himself over the course of his life, and it was time to get something back — to let someone else lift him up.
As it turns out, that's exactly why Chive Charities was created. We've been here since 2012 to lift people up when they need it the most — all through the kindness and generosity of people like you who support our efforts with donations each month.
So, when Dennis's care team suggested a service dog to help with mobility and emotional support, he looked to Mountain High Service Dogs and Chive Charities for help.
Earlier this year, Dennis was paired with a sweet-tempered service dog who has already lifted him from moments of heartache and despair. When they thought of what to name this angelic animal with a healing heart, only one seemed to fit: Bailey.
Your donations helped fund the $10,000 cost of training for Bailey that has completely changed Dennis's life for the better. When his mood darkens and negative thoughts creep in, Bailey gently rests her head on his lap and calms him. It seems so simple for someone who has been through so much, but for Dennis, it's everything.
We all face challenges and hardships in our lives, no question. For some, it's war or death or trauma or uncertainty. For some like Dennis, it's all of the above. But as the beloved Mr. Rogers once said, "When scary things are happening, look for the helpers. You will always find people who are helping."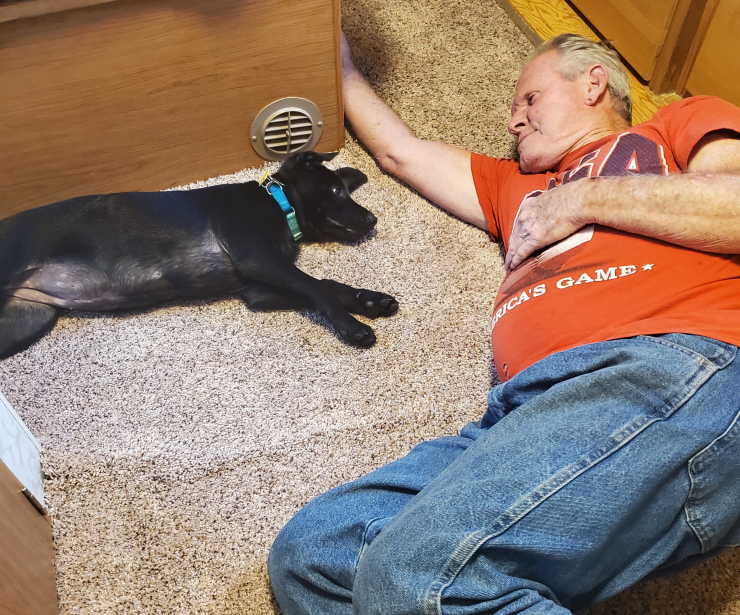 At Chive Charities, we're lucky to see and meet those people all the time. Whether it's a recipient like Dennis who used his painful experiences to help others in similar situations or a donor who gives $100 each month to support them, we're surrounded by those who lift us up.
So today, we're asking if you can help us be the helpers with a one-time or monthly donation. We won't let you down, and through our mission to make the world 10% happier, we'll be there to lift our recipients up. DONATE HERE.