We had just reviewed the upcoming charity recipients for July through October. We were blown away by the fact that we were rewarding more life-improving items to more deserving recipients than ever. The fact was not lost on us that this increased level of impact and the record-level donations were coming during the middle of a pandemic. There's just something about this community stepping up when the need is greatest.
Our current problem stemmed from acquiring a wheelchair accessible van. If you've followed our inspiring stories these past few years, you'd know that giving away wheelchair accessible vans has become a pastime at Chive Charities. To date, we've given away 146 of them so you wouldn't think one more would be an issue. But this was something bigger and potentially more impactful than any that had come before. It had to be retrofitted for triplets, all in wheelchairs. Do they even make vans big enough to fit three wheelchairs?
We called up our accessibility guru at AMS vans, Dallas Crum. "That shouldn't be a problem," Dallas responded confidently. But wait, I forgot to mention that we'll actually need TWO vans for two different families with triplets at once. "Yup, we've got you covered."
OK, then. Let's do this!
The Resendiz Triplets
If the bond between twins is strong, the bond between triplets must be tungsten-level strength. Alejandro, Armando and Fernando Resendiz came into this world together and have been inseparable ever since. For years, their lives were pretty typical. They loved playing soccer, going to the North Carolina beaches, riding bikes, and playing fetch with their dog. But that all changed when they started showing signs of physical deterioration. There was a time when they only knew one speed, sprint. By the time they were 9, that pedal-to-floor gear was slowly being replaced by waddling. When stumbling and falling became commonplace, it was time to get some real answers.
Olga, the Resendiz triplet's mother, eventually had her fears confirmed. It was Duchenne's Muscular Dystrophy, an inherited disorder of progressive muscular weakness, and all 3 triplets had it. She was given a grim outlook – there was no cure and the boys would soon require wheelchairs.
"When we found out that we weren't going to be able to do 'normal' things typical kids do, we felt sad, mad, and confused as to why," Armando told us, speaking for his brothers like he usually does. Each of the triplets has carved out his unique roll and personality. Armando – the leader, protector, and talkative one. Alejandro – timid and sensitive. Fernando – strong-willed with the ability to show a sensitive side. "We were 9 years old when we found out," Armando continued, "so we had to find a way to adapt quickly into our new life."
And adapt they did. They found a way to get out and enjoy the things they loved, like soccer and the beach.
Alejandro, Armando and Fernando weren't going to let their conditions define them.
They recently went on to graduate highschool, no minor feat considering the constant doctors appointments, physical demands of travelling to and from school, and the ever present health issues.
So what comes next? Well, there's a road block in their way. More on that later…
The Piñon Triplets
Unlike the Resendiz triplets, when Santiago, Felicita, and Frida Piñon came into the world, their parents already knew there would be lifelong challenges ahead. At an average weight of just a pound and a half, all three were born with cerebral palsy.
It was Santiago, however, that had the roughest road ahead. Born the smallest of the three, Santiago was given long odds at surviving past a couple weeks once an MRI revealed a grade 4 brain bleed caused by the worst possible type of stroke. As Lizdelia and Santiago Sr. held their tiny baby boy for the first time, they were told it could be the last time before he was whisked away for a possible emergency surgery. At best, they were told, Santiago would be confined to a bed for his life, unable to socialize, and unable to demonstrate any emotions.
Can you imagine the size of little 1 lb, 4 oz Santiago's heart that day? If fight has anything to do with it, Santiago's heart is made of the strongest stuff possible. In what would become a theme in Santiago's life, he persevered and something miraculous happened. Santiago's brain was able to rewire itself and no brain surgery was needed!
The Piñons were finally able to take their children home after 115 days in the NICU.
But life at home wouldn't get any easier, especially for little Santiago. After years of constant crying whenever he would sit upright for any length of time, doctors were finally able to diagnose him with tethered cord syndrome. Basically, Santiago's spine wasn't free-flowing like yours or mine. His was pinched, causing constant pain as well as a host of other physical issues like pain in his back, legs and incontinence.
Several spinal and leg surgeries later, Santiago's quality of life has been improved but the pain will always be there.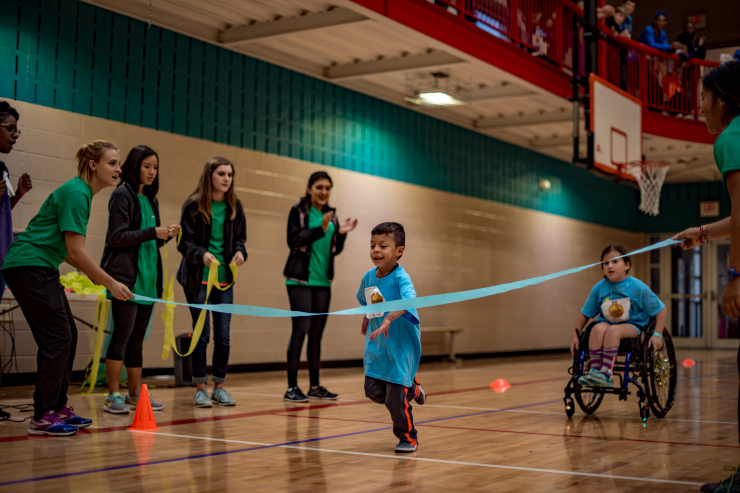 It comes as no surprise that Santiago, who has repeatedly shown superhero-level strength and grit, loves to pretend he's the Flash. Once told he would be confined to a bed, this fighter has places to go and running there is the only way he knows how to get there. That is, of course until his physical limitations leave him exhausted and land him back in his wheelchair.
But that would never stop Santiago or any of the triplets from competing in the Miracle Baseball League, their favorite sport.
What could stop the twins is something big, something previously unattainable for both the Resendiz and Piñon triplets.
The Need
When Alejandro, Armando, and Fernando graduated from High School, their only means of reliable transportation – the school bus – disappeared. The 19-year-olds have become homebound, wheelchair bound and bed bound. What a gift for such an amazing accomplishment as graduation. Olga and the triplets have missed numerous important doctors appointments because they simply can't travel.
For Santiago, Felicita, and Frida, travel has become a marathon event which includes lifting each growing child and their wheelchair into multiple cars, lugging along equipment, and coordinating with nurses and personal care attendants. They were becoming just as trapped in their home as the Resendiz triplets.
It's no wonder that Lizdelia pinned up a picture of a wheelchair accessible van in her bedroom and looked at it every day as motivation to one day make her dream a reality.
The Solution
Welcome to a community that makes dreams come true Resendiz and Piñon families! We'd like to welcome you with open arms the way Chive Charities and Chive Nation knows best, by making your lives at least 10% happier.
Made possible by the Chive Charities monthly donors, we're happy to announce grants of $58,000 and $52,700 for 2 brand new AMS Vans Ford Transit wheelchair accessible vans. Each comes equipped with a power lift, enough room and seatbelts for 3 wheelchairs as well as additional family members and medical equipment.
The vans open up the world again for both triplet families in a way neither thought possible. For both the Resendiz and Piñon families, they could not be more thankful for the group of strangers changing their lives. "There are a lot of mean people out there," Lizdelia told us. "But there are mostly a lot of kind people that won't look at their wheelchairs, their limp, they won't look at those things. They will look at the individual and see a human being, a kid and also see that they have a need and respond to that need. That is really rare."
I couldn't think of a better way to describe this community.
At Chive Charities, we're all about making dreams come true and freeing the underdogs from the walls that confine them. Go big or go home, right? Here's the thing, though. We could never go big without each and every one of you donating anywhere from $5 – $100. Help us make the next dream come true by signing up as a monthly donor, at any level, RIGHT HERE.