Didn't know how but I always had a feeling
I was gonna be that one in a million
Always had high, high hopes
Now that you have that tune stuck in your head for the rest of the day I'd like you to meet our newest one in a million – Makayla.
To say life has been difficult for the latest underdog whose life Chive Nation has forever changed would be an understatement. This Panic! At the Disco fan has been through more heartbreak, frustration, loss, physical and mental barriers in her 14 years than most of us will experience in our lifetimes. But through it all she's worn a smile on her face and kept her hopes up high.
While giving birth to Makayla, her mother Aimee had an allergic reaction to an antibiotic and required an emergency C-section to remove Makayla safely. Aimee's allergic reaction to certain drugs would prove to be dark preview of things to come.
When Makayla wasn't hitting developmental milestones early on, a doctor recommended an MRI which revealed she had spastic quadriplegic cerebral palsy and epilepsy. The diagnosis affects all four limbs and is the most severe of the three types of spastic cerebral palsy, marked by the inability to use the legs, arms and body.
Despite not being able to walk, talk, dress or feed herself, run or play with the neighborhood children, Makayla grew up happy with her mother Aimee. Her mother always made a point of involving her in the community. Makayla loved being around people and interacting in her own way. But below the surface, there was so much more that Makayla wanted to say and share with the world.
Then one day in 2017, Makayla's mom Aimee came down with a throat infection which required a visit to the ER. She was sent home with a drug to help her fight the infection. That night, after preparing Makayla for bed and kissing her goodnight, Aimee took her medicine and went to bed herself.
Makayla's mother never woke up.
Over 100 miles away, Makayla's grandma, Terri, received a call that her daughter had just passed away due to an allergic reaction to medication. Terri immediately jumped in her car to pick up Makayla and bring her home. Shortly after, Terri filed for and was granted full guardianship of Makayla.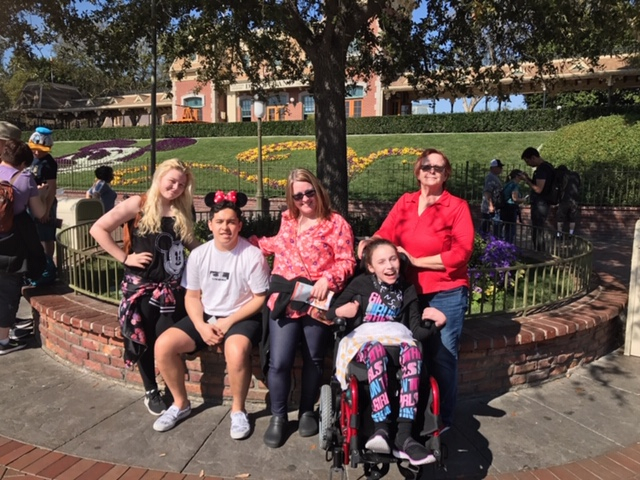 Makayla was welcomed into a loving household including her aunt, cousins, and of course her grandma. Together, they made a team that would rally behind Makayla and give her the support she needed.
In October 2017, Makayla was enrolled in a school near Temecula, California where she had the fortune of meeting an incredible teacher named Cheryl Stark. Cheryl would take a particular interest in seeing Makayla reach her full potential. As her 4th period teacher, Cheryl could tell Makayla had so much to say and was frustrated about not being able to communicate. The school fitted Makayla with an eye gaze communication device which would allow her to speak with those around her. It was like opening up a new world for Makayla.
Suddenly everything she had been holding inside for years began spilling out. Her funny, sarcastic personality started to shine. She was able to tell everyone what she needed. She could ask questions, crack jokes and talk with her friends about movies, music, sea world, and all her other interests.
With her eye gaze machine, her selfless and supportive family, and her incredible teachers, Makayla was off to the races. Well, that's not entirely true. Being a young teenage girl who loves getting out and about, there's always been something holding her back.
When grandmother Terri took over care for Makayla, she was forced to make a financial stretch and purchase a minivan in order to transport Makayla, her wheelchair, and other medical equipment. In the two years since, the now 14 year old Makayla has grown. getting anywhere has become unsafe and almost impossible. The process of getting her anywhere sounds less than ideal.
It takes 15-20 minutes to get Makayla in position and dead-weight lift her into her carseat. That's even before hefting the 50 pound wheelchair into the back of the minivan and repeating the process in reverse when they get to their destination. Terri, the 66 year old grandma, described the process as back breaking. "Right now, it's always with dread that we plan to go places," she explained. "It's just so hard." Erin, Makayla's aunt who helps care for her, has pulled muscles in her neck trying to get Makayla into the vehicle. A couple months ago, Terri was lifting Makayla into the van and didn't have enough 'umf' to get her all the way up. When she nearly dropped Makayla on the pavement, she knew she couldn't do this much longer.
That's when fate stepped in.
Cheryl, Makayla's teacher, had the fortune of running into Chive Nation's favorite surfer girl, Grace Medlin, as she was leaving a soccer game near San Diego.
As Grace was wheeling herself into her Braunability wheelchair accessible van, Grace's mother explained to Makayla's teacher that there's this incredible community at theCHIVE that raised enough money to purchase Grace her wheelchair accessible van. Not only that, the Chivers raised enough to send Grace on her dream surfing trip to Hawaii to participate in Duke's Fest.
Cheryl immediately jumped online and started filling out an application for Makayla on the Chive Charities website.
There are certain stories that come across our desk here at Chive Charities where you just know you need to go above and beyond to help the family. Makayla's story was one such story.
We're excited to announce that the Chive Charities donors are stepping up with a huge $51,000 grant to Makayla which covers the purchase of a wheelchair accessible 2019 Dodge Grand Caravan XT. The van comes equipped with the extra kneel hydraulic feature, making the incline of the ramp easier to navigate with Makayla's manual wheelchair.
Makayla's new van will be an absolute game-changer. When she was told she was getting the van, Makayla was so excited she immediately communicated through her eye gaze machine, "Let's take a road trip!" Makayla can't wait to finally travel stress free to Disneyland and her next Panic! At the Disco concert.
Makayla's universe has now been expanded thanks to a small group of committed donors, just like you, who choose to give monthly to Chive Charities. But there are dozens of future recipients who also have high, high hopes. If you'd like to take part in making dreams come true for the next Chive Charities recipient, you can donate RIGHT HERE.