She's four years old here, a big fan of Spider-Man, and an even bigger fan of soccer and surfing.

When she joined her peewee soccer league, Grace was so excited she slept in her jersey for a week.

She's a curious one, an explorer. There's something truly extraordinary about her

Especially when she gets on a surfboard. She kind-of stumbled upon surfing accidentally, when her family stopped by a surf competition in their hometown of Oceanside, California. One of the surfers noticed Grace – it's hard not to – and asked if she wanted to go out in the water.
"Grace was hooked," remembers her mother Heather.
Grace's father Zach, an Army veteran who served in Afghanistan, added, "When Grace started talking about surfing even more than she talked about soccer, we knew we had a real water baby on our hands. She's very strong willed, she wants to be the best at anything she does."

During one of her soccer matches Grace fell down. Several times. Her family chalked it up to clumsiness, but Grace's legs seemed to wobble more and more as the weeks passed. Grace's pediatrician explained away her fatigue as kindergarten growing pains, but her parents weren't so sure. When they asked Grace how she was feeling, she told them there was an "invisible monster stealing her ability to walk."

In January 2016, Grace went into a rapid decline. She started losing her balance constantly and her speech began to deteriorate – she could still talk, but her voice had an odd cadence, often stressing the wrong syllables, which made her difficult to understand. Frustration set in.
Finally, in March of 2017, Grace's "invisible monster" finally got a name: Friedreich's Ataxia (FA).
Young children diagnosed with FA always experience the worst of it. It's never something you want, but you're far better off developing symptoms at 20 years old than 5. Grace was 7.
What begins with loss of coordination in the arms and legs graduates to hearing loss and slurred speech, aggressive scoliosis, diabetes, and serious heart conditions including hypertrophic cardiomyopathy. Most patients with FA are confined to a wheelchair within 10 to 20 years after diagnosis – Grace needed a wheelchair in 6 short months.
The average lifespan after diagnosis is 25 to 30 years, but Grace's prognosis is far more grim. Her last two years, when they come, will not be pretty. Grace will lose the use of her arms, the ability to speak, swallow, and even hold her head up. She will likely pass away from arrhythmia and congestive heart failure. It's an incredibly heartbreaking future for such a vibrant little girl.

This is where our story begins. What can we do to help? First, she badly needed ADA-accessible transportation – when a growing child needs a wheelchair, mobility is key, so last month, Chive Charities' Green Ribbon donors funded $49,000 for a brand new BraunAbility van. Now this little angel can roll up to the edge of the beach to tackle the tide. The heavy lifting's already been done, but there's much more to do…

Grace gets frustrated easily – understandable given she was sprinting up and down a soccer field two short years ago. Her illness is degenerative; she doesn't get better, she only gets worse. Friedreich's Ataxia is a menace like that.
So when Grace falls into a funk, her health declines. Keeping her positive and happy can actually make a difference sometimes. It's rare, but we've never paid much attention to odds. That said, we knew when we hopped a plane from Austin to San Diego, we were wading out into we-need-a-miracle territory.

"Why do you like Spider-Man so much? I'm more of a Wolverine guy, personally. Their relationship is complicated and I blame Spidey. Because it's his fault."
"No it's not."
"He just follows Wolverine around cracking lame jokes, Grace."
"They're a team. They're secret best friends."
"That's a stretch. I'm John."
"I'm Grace."

I asked Grace why she loves the water so much?
"When I'm in the water, I'm not the girl in the wheelchair anymore, I'm just Grace."

There's a noticeable shift in Grace's body language after she changes into her wetsuit. She's energized, she can't get into the water fast enough.

Grace insists on walking out to the water's edge. She won't be denied getting to the ocean. Her mom told me she will literally crawl for it if nobody helps her.

Grace's little sister, Ray. She has a tender heart and possesses wisdom far beyond her 3 years. Ray often comforts Grace during appointments, holding her hand and offering an encouraging, "It's O.K., Sissy. You almost done."

I met Grace's surfing instructor, John Afshari. He's been teaching adaptive surfing in Oceanside for years with Stoke for Life.
"For Grace, this is the most empowering thing she does. She chooses the wave, she knows how to navigate the surf. I think you'll be surprised how good she really is. Grace is a competitor."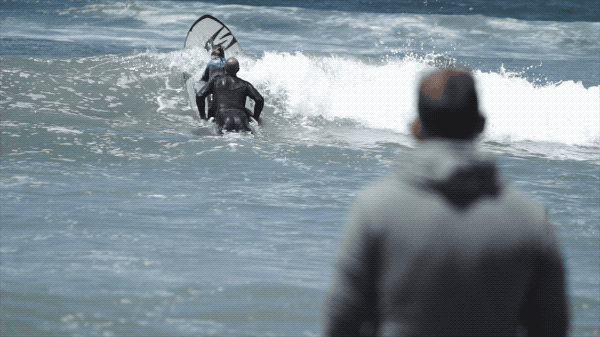 He wasn't kidding. Grace literally attacks the waves. She's fearless in the water.

It was a privilege sharing this day with Chive On California.

Grace whispered, "Thank you for helping me."
*melts*

The next day, Grace went to her 6-month checkup. Ray doesn't leave her side.

Grace's mother just posted this amazing update on Grace's Instagram:
"After 5 LONG hours in the heart transplant clinic: Labs came back showing zero signs of failure, lactic acid is the lowest it's EVER been, heart muscle hasn't grown since they last saw her, AND her heart is pumping like a CHAMP! Her heart failure team did a happy dance as they told us "See ya in 6 months!" Grace has had so many reasons to celebrate the last 2 months, but this. is. HUGE! Surfing, sun, sand, adventures in her van "Big Blue," and heavy hitting antioxidants have worked wonders on her mood, quality of life, and apparently her heart."
I can't stress enough that this simply doesn't happen. Kids with FA don't just get better. But here she is, fighting back against a disease not known to give back any ground.

I look at Grace and it's difficult not to picture the painful road that lay ahead for her. Maybe it's for that reason belief in miracles is so widespread. 72% of Americans believe in miracles. Maybe, when faced with pain and suffering, we want to cast aside the laws of nature in favor of the ethereal?
But that's not actually the reason. The reason is simply that miracles take place all the time, you hear about them every day. So far at Chive Charities, I can count four.

Miracle #1, meet Miracle #5. Grace meets Zoe at the Effin's Epic meetup. That's a moment there, folks.

Heather told me, "If Grace has something to look forward to, she won't become melancholy, which always leads to poor health. What she wants most is to go to Duke's OceanFest in Hawaii, where adaptive surfers like her compete. There is a protective cove at the event where the waves are smaller and less likely to knock her off the board. She wants to meet other kids like her. Oh, and she wants to meet professional surfer Bethany Hamilton really bad."
Duke's OceanFest takes place at the end of August. The goal is set at $10,000 so Grace can live the mermaid life for a week in Hawaii. I personally can't wait to write the follow-up to this post.
Grace's family didn't want us set the goal any higher than $10,000. "That's more than enough generosity." But I just found this really cool adaptive surf board I think Grace might love to take to Hawaii. And then there's all those surf lessons she might need well into her 30s. Miracles happen every day, after all. Anyway, goals were made to be broken.
Donate to Grace right here!
KCCO,
John
UPDATE #1: $10,000 in 1 hour!!! Now it's time to set this precious girl up for a long time. Let it rip, Chivers!
UPDATE #2: $20,000. You doubled the goal and it continues to surge. The Chive Community continues to amaze.
PS – If you do one thing today, consider becoming a Bronze, Silver, or Green Member right here! Thanks for making Grace's story possible. We'll see all our Green Members at the Green Gala in September!
"When you get into a tight place and everything goes against you, till it seems as though you could not hang on a minute longer, never give up then, for that is just the place and time that the tide will turn."
-Harriet Beecher Stowe
**As always, thank you to BraunAbility for their continued partnership making the world more accessible.