Did you grow up in a family like this?

Or more like this? A lot of us fall into this category, me included, so if you're part of the first group, consider yourself lucky.

Miles is one of the lucky ones (that's literally his family up there). First off, he's a twin (Miles on the right, brother Ashton is on the left).

Second, he and Ashton are the youngest in a blended family with seven kids ranging from 12 to 28, so you can imagine how awesome Sunday supper is at their house.

The other thing about growing up in a big family is learning to share. Everything. Especially when you're a twin. Miles and Ashton don't seem to mind, though, and even now, as their 13th birthday looms near, the boys still sleep in the same bed.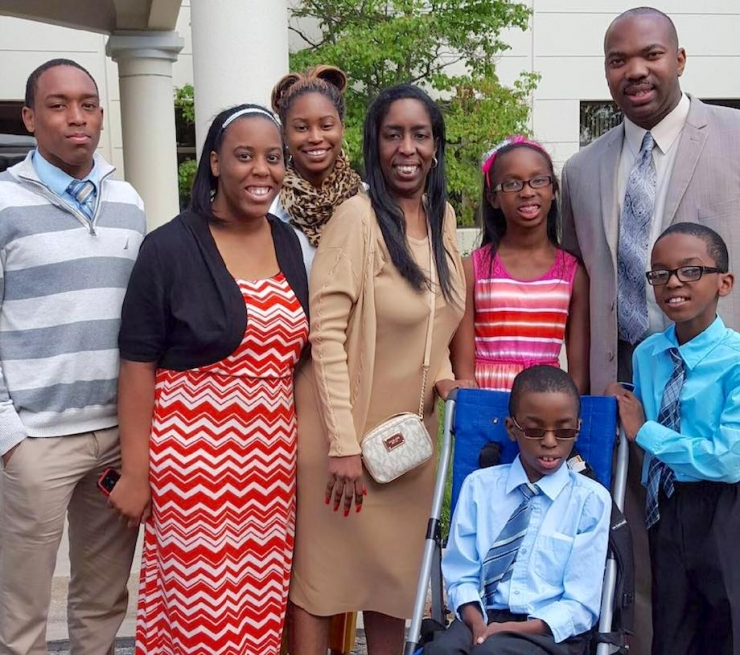 They're a tight family; seven kids, two parents, and a robust network of nearby relatives, and four years ago, they learned many of them share something they never expected or hoped to share.

Miles and Ashton were born at 28 weeks, weighing less than three pounds. They faced many of the hurdles premature babies face, Miles more than Ashton, but life moved along fairly typically for a few years. Though he experienced some developmental delays, Miles could walk, talk, and run, and loved sports. He was an abundantly happy kid.

"We first noticed something was different about Miles when he and Ashton were in first grade," his dad Mike told me. "He was sitting really close to the TV, and sometimes he'd steal Ashton's glasses to see better."

Kids have bad vision all the time, right? It wouldn't have been that big of a deal, but not long after Mike and his wife Melissa noticed Miles' eyesight problems, they realized he was also struggling with balance and becoming disruptive in school. They consulted specialist after specialist, and around the twins' ninth birthday, were given the most devastating news.

Miles was diagnosed with spinocerebellar ataxia 7 (SCA7), an inherited disease of the central nervous system that causes physical regression, loss of motor control, and ultimately leads to blindness. He was showing all the symptoms, and the disease was progressing rapidly. In a matter of months, he could no longer walk, swallow, or talk, and his parents were stunned.

Mike and Melissa went into crisis mode, working to get Miles the help he needed. At the same time, they began to question the issues Melissa was having with her vision. Could this really be happening to two people in their family?

After meeting with the specialists helping Miles, Melissa AND their daughter Alyssa were diagnosed with SCA7 as well. The family was stunned – no one had ever experienced these symptoms before, and now three of them were facing an illness with a very grim prognosis and no cure.

"How do you handle news like that?" I asked Mike. "It has to be scary, watching the ones you love fighting this battle."
Mike paused for a moment. He has one of those smooth, baritone voices that instantly puts you at ease, and I wondered if he was a musician or a writer of some kind. He is not, but offered this insight:

"Hearing those diagnoses, one after another, it definitely caused us to pause, and take a moment to reflect," he admitted. "Then we created a plan on how we would cope and what we would do next."

The only treatment for SCA7 is easing the symptoms as much as possible. For Miles, it means a customized wheelchair, a feeding tube, and more medical interventions than most of us will ever know in our lifetime.

It also means finding joy in the small things while he can – listening to music (everything from metal to R&B), playing video games, being silly, and getting out of the house as much as possible.

Mike has a difficult journey ahead of him. Miles' condition is deteriorating rapidly, and his wife and daughter are beginning to struggle, too, though thankfully, SCA7 seems to be less aggressive in females than males. With their future now so completely uncertain, making every day as happy and joyful as possible is priority number one, and Chive Charities is honored to help.

"Right now, everything is challenging," Mike told me. "My wife uses a walker to get around, Miles needs a big, heavy wheelchair, and we're still learning what issues Alyssa will face. It's hard to get out, go to the park, to the mall…we want to get back to normal in whatever ways we can."

Mobility is a gift most of us take it for granted, and when it's gone, the world is much, much smaller. Thanks to a $40,000 grant made possible by Chive Charities' monthly donors, Miles and his family received a 2018 wheelchair-accessible Dodge van, and now, the whole world awaits.
It couldn't have come at a better time, because just yesterday, Mike shared that two more of the kids were diagnosed with SCA7, a huge blow to a family that's already weathered so much. Please keep them in your thoughts and prayers in what has to be a scary, uncertain time.

Giving kids like Miles access to the simple joys in life is a big part of what we do here at Chive Charities; supporting families in crisis who have nowhere else to turn is another. We couldn't do either one without our amazing community, and we'd love you to be a part of it, too. Become a monthly Chive Charities donor right HERE.
**P.S., thanks once again to our friends at BraunAbility for their continued support of underdogs like Miles.