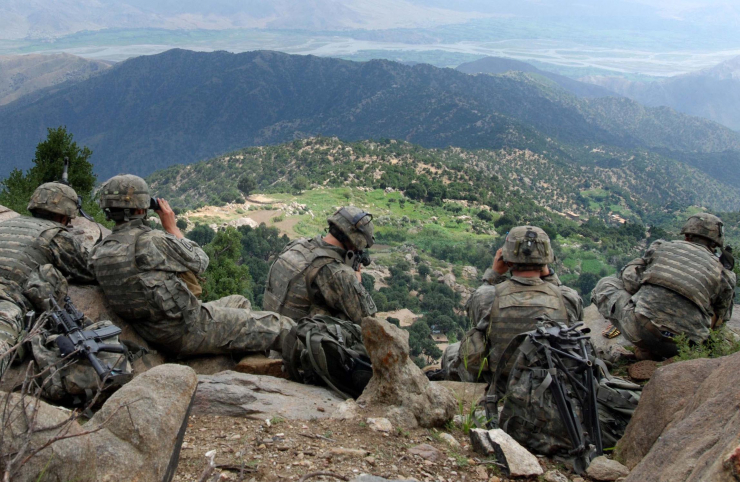 My brother came back weighing 10 pounds less but carrying a weight on his shoulders that was so much more.
I imagine many Veterans face similar thoughts once the battlefield is left behind and they're plopped back into the U.S. as unceremoniously as the day they left. So many lives were lost. So many lives were changed. How could that not feel senseless?
When Kabul fell to Taliban forces on August 15, 2021, my brother was the first person I thought of. I wondered how to help him. I wondered if I could.
15 years ago, The Independence Fund began in the halls of the Walter Reed National Military Medical Center with a similar idea: helping Veterans and their families. They refer to it as "shifting the war back home."

For many Veterans, the war moves from Iraq, Afghanistan, or any other deployment area to an internal battle and to the hands of their caregivers and families. For Veterans with catastrophic injuries, that challenge is even greater.
In 2010, Sarah Verardo's husband, Michael, was grievously wounded while serving with the 82nd Airborne Division in Afghanistan. Two separate IED attacks took his left leg, much of his left arm, and left him with polytraumatic conditions that have required more than one hundred surgeries and years of speech, visual, physical, and occupational therapies.
Sarah became a national advocate for wounded Veterans and their caregivers, and seven years after his injuries, she became the CEO of the Independence Fund.
She is uniquely positioned to help others through similar circumstances, and she's been instrumental in shaping national policy for our warfighters and their families, frequently advising administration officials and members of Congress on the experiences of the families of severely wounded Veterans.
Following the legacy of the Independence Fund's founder, Sarah has created the non-profit's Caregiver, Family, Adaptive Sports, and Advocacy programs.
They partner with ranges to give vets a chance to shoot again. They offer retreats for wounded Veteran caregivers. They provide financial assistance and medical deliveries. They even launched an "Allies Program" for combat interpreters who supported these units and then later fled Afghanistan to protect their lives, just like the Wafa family we introduced you to last year.
They do a little bit of everything - and it adds up to a lot for our Veterans.
Similar to how Chive Charities is known as the Oprah Winfrey of wheelchair-accessible vans (thanks, donors!), the Independence Fund is also well known for its all-terrain track wheelchairs - they've provided over 2,400 chairs to date.
And yet, one of the biggest opportunities for impact in the military community is more recent.
Sarah helped lead the development of a partnership with the Department of Veterans Affairs that hopes to combat Veteran suicide through reunions of some of the hardest hit units of the War on Terror.
This revolutionary program is called Operation RESILIENCY. And it's something Chive Charities is excited to help support.
Through this offering, a unit that saw mass casualties would have the chance to come back together for healing and respite. That includes losses on the battle field and losses here at home due to suicide or other circumstances.
"We are always so grateful for community partners who recognize the importance of mental health and mental and emotional wholeness for Veterans, and especially during June's PTSD Awareness Month. We know the impact of Operation RESILIENCY retreats, and the way these reunions have the power to heal years-long invisible wounds," said Sarah Verardo, CEO of the Independence Fund.

While they can't go back and erase the loss these units - these soldiers - have experienced, they can use these retreats as a way to reduce Veteran suicide.
The statistics are sobering. Each year, more than 6,000 Veterans take their own lives. Operation RESILIENCY focuses on the mental health and wellbeing of Veterans in order to prevent Veteran suicide and improve the overall quality of life for vets and their families.
Thanks to the support of our monthly subscribers, Chive Charities was able to provide a $10,000 grant to the Independence Fund to cover travel expenses for 40 Veterans participating in Operation RESILIENCY retreats.
There's healing in community, and the comfort and support these brave men and women feel when their units are reunited again…well, it's nothing short of amazing.
The goal is to ensure the unit that experiences the battle together, experiences healing together.
As many of our Veteran partners and organizations have shared, there has been a huge surge in PTSD flares post-Afghanistan. And given that June is PTSD Awareness Month, financial support of this program couldn't have come at a better time.
Thank you to Chive Charities' donors for aligning with us in support of this amazing program and expanding its reach with these funds," Sarah said.
That support is critical, because the war isn't over when these soldiers leave the battle ground. It stays with them mentally, emotionally, and physically - and for many, it trickles into their relationships with family and caregivers. The war isn't on the battlefield any longer. The war is here at home.
Because of donors like you, we can help them fight. We can't take the losses away. But we can work to prevent new ones.
Now, when my brother turns to me for support, I can tell him that he's not alone, that people care about him and the sacrifices he's made. I can point him towards Veteran- and military-focused organizations like the Independence Fund and Chive Charities, like Merging Vets and Players, Boulder Crest Foundation, and Heroes Sports. I can be there for him when he needs it most.
If that's not real impact, I don't know what is. Become a donor and join our movement to support Veterans and military families just like Sarah and Michael Verardo's - and just like mine. DONATE HERE.
If you or someone you know is a Veteran or military family who could benefit from a Chive Charities grant, CLICK HERE. For resources and support from the Independence Fund, learn more by visiting IndependenceFund.org.
Please know if you're a Veteran in crisis or concerned about one, there are responders standing by to help 24 hours a day, 7 days a week. Call 1-800-273-8255 and press 1.