Aubree's short history reads like a nightmare for every parent. She was born perfectly healthy, following an easy pregnancy. She developed completely normally until she was five months old. As mom Desiree put it, "Things just didn't seem the same."
While Aubree's CT scans and MRIs were all coming back normal, she was rapidly regressing. She could no longer roll over or sit up, she stopped cooing and making sounds all together. She didn't make eye contact or respond to any stimuli. She began struggling with chewing food and consistently rocked her head back and forth. It was a difficult, baffling time. Aubree, once a happy, playful, active baby – was now a shell of her former self.
"I cannot tell you how many times I have been told my daughter is a mystery," Desiree told us. She has been tested multiple times for rare diseases – every single test has come back normal. On paper, nothing was wrong with Aubree. But her family knew that wasn't the case. "I have spent countless hours online researching and looking up all of her symptoms. Aubree requires a genetic test that time and again has been denied by our insurance. If we are able to get this testing, it will tell us what to expect or be prepared for. It will let us know if there is a chance, or not, for a cure."
Amidst all this uncertainty, one thing remains true: Aubree's cheerful determination. She greets each day with enthusiasm and joy, and although her capabilities are more limited than they used to be, she doesn't complain. She takes a few steps and stumbles. If she's down, she's never down for long. In as much as it takes you to blink, she's up and trying again. To those who don't yet know her, Aubree looks like a precious, angelic, two year-old. But beneath her porcelain exterior is a warrior – a tenacious and resilient spirit. A fighter who is never going to give up.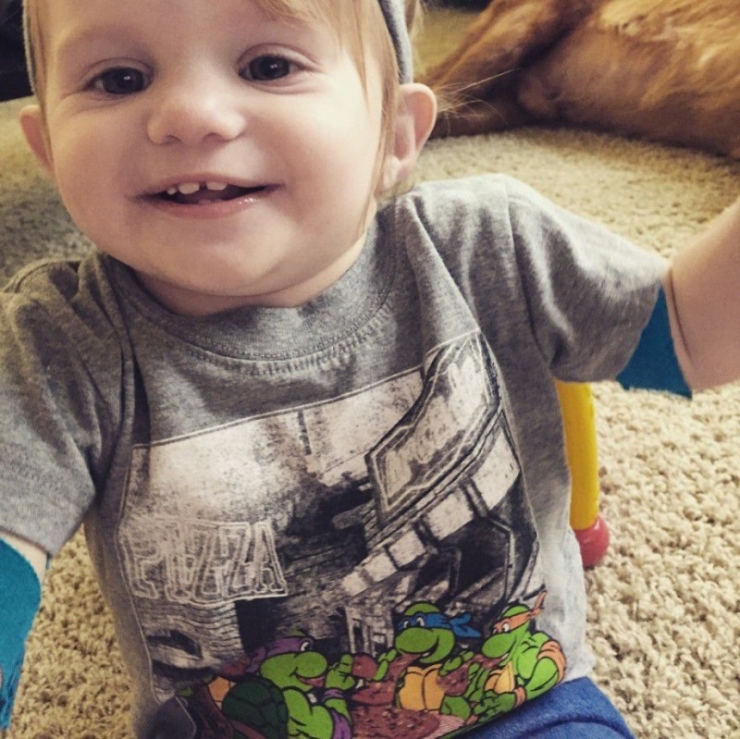 A younger Aubree hanging with her best buddy… who is appropriately named, Buddy.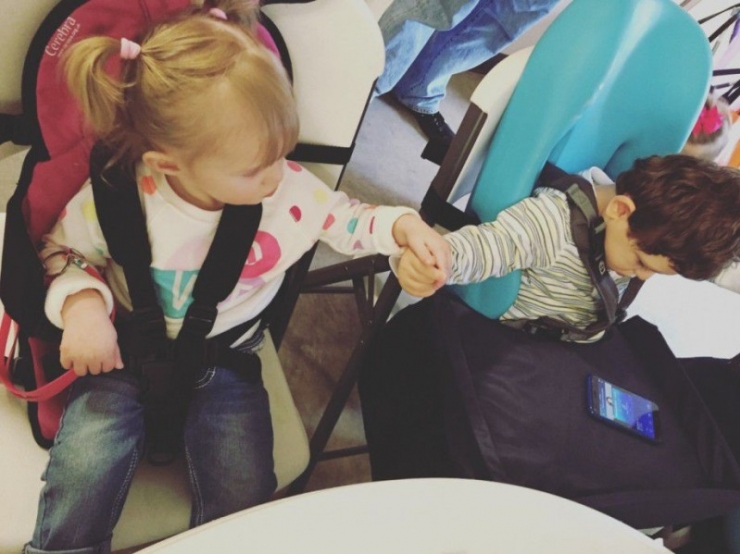 Aubree has a heart of gold. She is compassionate and sweet-natured. She can sense when people sometimes just need a friend.
Four days before Christmas last year, Aubree suffered her first seizure. She spent three days in the hospital and was released just in time for Christmas Eve.
"Seeing my sweet little baby connected to all the machines just lying there motionless broke my heart. It seemed like the life was sucked out of her."
But the seizures didn't know who they were messing with. They had no idea. This resilient little fighter was back to feeling herself in no time, and was in good enough spirits to play around with Dad.
Too cute.
Although Aubree continues to be sure of herself, her parents Matthew and Desiree have a lot of unanswered questions about her future. Will she live independently? Will she ever speak? What do the next 5 years look like, or even the next 5 months?
They knew genetic testing was the next step. But they had no idea how to raise the money to purchase the tests on their own, independent of insurance.
That's where this gets interesting...
Now living with her family in San Antonio, Desiree lived her whole life in Austin, TX… which also happens to the headquarters of theCHIVE. She had lots of friends involved in the local chapter, she heard the name all the time, but she didn't think they would do anything for her, specifically. Finally, she convinced herself to submit an application. "To be honest," Desiree said, "I thought nothing would happen."
But then she got a call from Chive Charities' Executive Director Brian Mercedes – not only was her application approved, but they were also wondering if they could drive down to San Antonio and meet Aubree in person?
Desiree couldn't believe her ears. But it all became real when Brian and Haley arrived at her doorstep…
The reality of having real people from Chive Charities in her kitchen, talking to them about her daughter's difficult journey, was an overwhelming experience for Desiree. "I didn't expect any of this," she told us. "When I first saw theCHIVE I thought it was all humor and drinking. You don't understand what this means to us. I get teared up thinking that we may finally have answers."
While Desiree, Brian, and Haley talk about Aubree's future in the kitchen, Aubree is completely content during her weekly Physical Therapy appointment.
Aubree hits the ground running once she gets outside. Brian can barely keep up!
When she's swinging, she's totally happy. It helps her senses, just like being in the water soothes her. She couldn't take her eyes off Haley the whole time, but we can't blame her – Haley's got a special way with kids.
One thing about Chive Charities that sets us apart is that we're not interested in the bare minimum. If someone writes an application for a quality-of-life enhancing item, or in Aubree's case, a genetic test, our Program Director Angie Cone immediately gets to work getting to know the family: Mom, Dad, Sisters, Brothers. Where they're living, what daily life is like, all of it, every detail. Why does she do this? Because she aims to improve Aubree's whole life, not just the foreseeable future. And one thing that kept coming up was the lack of reliable transportation…
Desiree's jeep had recently blown its engine. Even if she paid to get it fixed in the shop, it had accumulated over 200,000 miles. Dad Matthew worked full time at Aeroponics to support his family so borrowing his car meant forfeiting their only source of income. Desiree was having to rely her mom's vehicle to accomodate Aubree's 7-10 appointments a week.
We can do better than this… Angie thought.
So Chive Charities didn't just cover the cost of the essential genetic testing. They got Aubree an SUV, too. One that's roomy enough to fit her gait trainer and medical equipment, and safe enough to transport this precious cargo.
For us, it's about championing the underdog. For people like Aubree, who need help but don't know where to turn. Who have causes so rare they haven't been diagnosed yet.
It's about making her world a little brighter, and her life a little easier. So with a $34,000 grant, Chive Charities is changing Aubree's life. $3,500 will cover the Whole Exome Sequencing Test to determine what Aubree has, and the rest will purchase a 2016 Honda CRV to safely bring Aubree to and from all her medical and physical therapy appointments.
But before this news can even sink in, Aubree is off to find another adventure. There is no keeping up with her, but we're up for the challenge. We will be just a couple steps behind her as she meets her milestones, we'll celebrate with her when she receives good news, and support her when things get scary.
Because that's what Chive Charities is all about. Once you're a member of our family, you're in it for life. We might be scattered across the nation, we may be so wildly different you can't imagine what we all have in common, but our one shared interest is powerful enough to dim all the others:We want to improve the world. We want to brighten lives like Aubree's.
So when Aubree stumbles, we'll be there to catch her and offer her help to get back on her feet. Although knowing her, she probably won't need it.
Aubree isn't alone in her search to find out more about her rare disease. Today is World Rare Disease Day, a day that brings awareness and support to the rare disease community. Find out about events in your area or how you can get involved at globalgenes.org.
Our members are the heroes behind Aubree's story and others like hers. If you want to meet the next Aubree and change her life, become a member HERE.