Ronni's eyes flipped to the rearview mirror of the family car, checking on her one year old son, Luke, for the tenth time that minute. So far, so good.
The pattern repeated itself as they made their way to the doctor: Road. Mirror. Road. Mirror. So far, so good.
Behind her flitting eyes, memories of car trips past crept in the back of Ronni's mind like clairvoyant ghosts: don't forget what could happen, they whispered.
Mirror. Mirror. Road. Mirror.
The image of her baby turning blue, aspirating and unable to breathe, flashed through her mind. Memories of her husband, Dave, breathing life back into his tiny mouth as they rushed to the hospital.
Road. Mirror. Ambu bag. So far, so good. For now.
This pattern might seem too paranoid, but given the situation, it's far from it. Ronni and Dave live in a constant state of panic. Their baby boy, with the big blue eyes and the chubby cheeks that melt their hearts, has faced death more often than any of us most likely ever will. Luke was born with a rare genetic condition, a mutation of the SCN8A gene. It affects Luke's brain cell function, causing neurological problems including epilepsy and learning difficulties. Some days Luke has more seizures than can be counted, in excess sometimes of hundreds per day. And sometimes, he stops breathing.
While living with this condition is distressing, Luke's family of six is relieved to at least have a name for the chaos that has ruled their lives for the year that Luke has been alive. Receiving a diagnosis took months of seizures and hospital stays and questions and tears, Now that they have a name, they have some hope, although the rarity of this condition brings with it even more questions than before.
If you've been following Chive Charities for a while, you know the journey for a child with a super rare condition like Luke's is a long and bumpy one. Simple things like going grocery shopping become almost insurmountable tasks when one of your children could seize and stop breathing at any moment.
Taking Luke out of the house means being prepared for anything, and that requires a lot of baggage: his parents have to carry an Ambu bag (a mask that can be placed over Luke's face and pumped with air to bring life back to him if he stops breathing) in addition to a pulse/oxygen sensor, a heart monitor to alert his parents when he stops breathing, a suction machine, oxygen, and a percussor to help keep his lungs clear.
He even had to be airlifted once because no car could travel fast enough to save his life after his seizures.
This means that Luke doesn't get out much, and therefore, neither do Ronni and Dave. The couple has adapted their schedules to streamline operations so that they can get Luke's older brothers and his sister to ball-games, swimming lessons, and school.
Dave, who worked at the McAlester Army Ammunition base for the past fifteen years, leaves at 5:45 a.m. so Luke's great grandmother can drive the 40 miles round trip every day to get the kids to school and back home.
Even with Dave's coworkers banding together and donating time off for him to stay home and be with his family, there simply aren't enough hours in the day.
Luke cannot hold his head up, talk, sit up or grasp for toys yet, because of the low muscle tone that results from his condition. He is very, very fragile. Riding safely in the car is almost impossible as he must keep his head elevated and lay slightly on his side to avoid the choking and aspiration that still haunts Ronni and Dave every day.
Despite all this, Luke is the happiest little baby you'll ever meet. Every morning before school, his older brother Zane spends precious time talking to Luke and snuggling with him. Luke knows his brother's voice and his sweet eyes start searching the room for him the moment Zane gets home from school. It's love that keeps this family going, and it's love that keeps Luke fighting day in and day out.
Ronni and Dave had to come to terms with the fact, however, that they can't fight alone. So far, it has taken a village to keep Luke alive, and as he and his siblings grow older, his family's needs have grown. The issue of transporting 4 kids is a struggle for any family, but for one who has to be prepared to resuscitate their child at a moment's notice, that issue is literally life-or-death.
And that's where Chive Charities comes in. Ronni and Dave knew what it would take to make sure that Luke can get to the nearest hospital as quickly and safely as possible when the next episode of seizures gets too intense: an accessible, reliable van. But they also knew that there is no way in hell they could afford it. Luckily for them, a group of angel investors has been working diligently to invest in the futures of babies like Luke since 2012 -- that's right, those angels are YOU Chive Charities donors.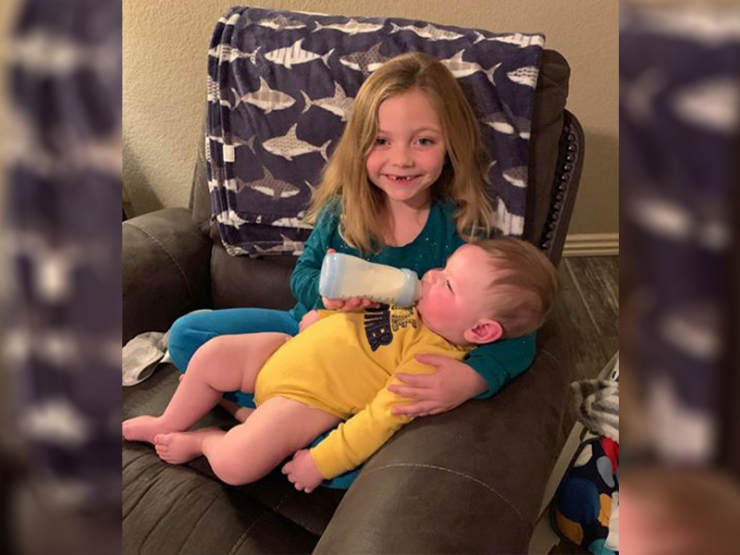 Thanks to your continued donations month after month, we were able to purchase Luke a brand new $40,000 wheelchair-accessible van from our partners in mobility, AMS Vans, that will literally save his life day after day. No more waiting for an ambulance as their baby turns blue. No more of dad breathing life into his body through tears while mom drives in a car that isn't big enough for all of Luke's medical accessories. The ghosts of that past may linger, but thanks to our donors, Luke's future is bright enough to drive those shadows out.
This is the best rearview mirror view a parent could hope for.
And the special latches in the back of this van will assure that Luke's stroller and, one day, his wheelchair, will stay at the exact angle he needs to keep him from choking or having trouble breathing.
At Chive Charities, we believe in paying it forward. Many of us have been blessed by the kindness of strangers in our lives -- I know I have. And in this plane of existence we find ourselves in, the good and the bad somehow tend to weigh each other out, even when the images in the rearview mirror of life seem grim. If you want to play a part in shaping someone's future into one full of life and happiness, today is the day to make it happen. You can choose to start changing lives through Chive Charities, and you can do it right HERE!