Strength has been tested, damage is widespread, emotions are running high, but the a surge of humanity rising above the floodwaters is something this country desperately needed. Many of you answered the call, raising more than $170,000 to help victims of Hurricane Harvey survive the toughest days of their lives. Thank you for that.

theCHIVE has always championed the underdogs. It's a place where being resourceful, hard-working, and authentic are as important as college degrees and official titles. This is Austin, a Marine Corps veteran and new Chive Charities family member, and when we asked him to tell us a little about himself, it was obvious he was going to fit in just fine.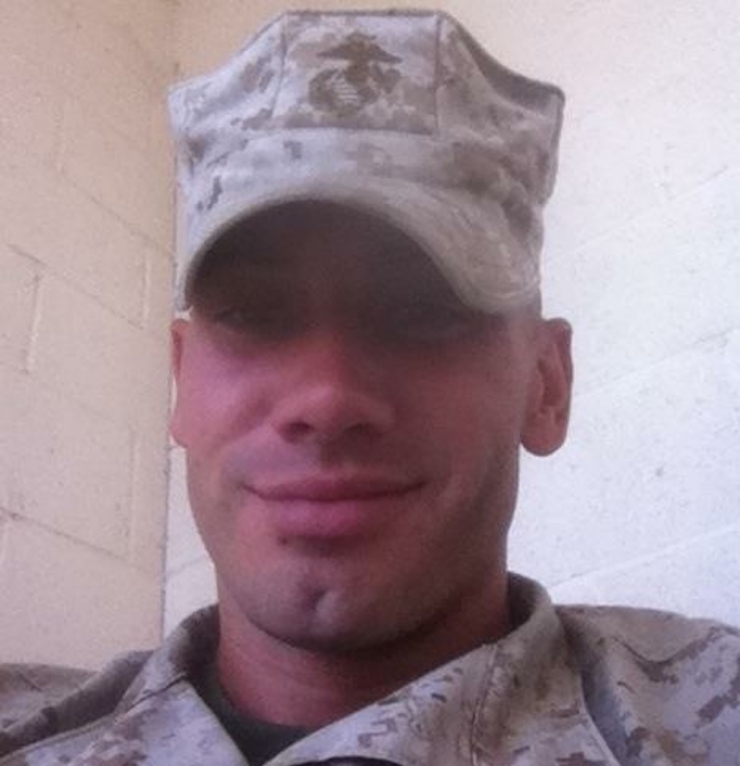 "Right out of high school, I had a scholarship to play baseball at Southeastern Illinois College. I dropped out after a year, worked in a factory for five or six years, and realized I wanted more for myself," Austin said on our call. He enlisted in 2010.

During MOS school, two of Austin's fellow Marines received orders to Okinawa, Japan. One of them had a young family who wouldn't be allowed to deploy with him, and it sounded like a good way to see the world, so Austin volunteered to go in his place. He spent three years overseas, then came back to the States ready to start the next chapter.

On his grant application, Austin mentioned being really into fitness. Like, really into fitness.

Sorry, couldn't resist.
"Have you ever won any titles?" I asked. He paused for a minute, and you could hear him smile over the phone.

"Yeah," he began, "Two for bench press, and I placed in a few others for power-lifting. Lifting weights was a really big part of my life." Was.
It started with severe back pain, then an all-over rash, then pancreatitis. ER doctors were stumped, but concerned enough to order more testing. Maybe it was a tumor in his pancreas? They later found one on his spine. He went for a second opinion, endured many more procedures, and then, this past January, received unimaginable news.

"I swear my heart stopped, but, Austin had never sounded more confident than in those next few minutes," his sister Maddie explained. "He told me that it would be O.K., and that he was going to fight, and he is going to win, and I had never believed anything more in my life because if anyone could, it would be him. You should know, he is a man of his word, because he has done just that every day since."

Stage four esophageal cancer. Doctors were shocked to find such an aggressive illness in a non-smoking man as young, fit, and healthy as Austin, and estimated it had silently raged in his body for at least three years. There were tumors in several organs and the cancer had spread to his bones. This was bad.
"It really took my breath away. It's legitimate, full-blown cancer," Austin admitted. But he's an underdog, remember, and he didn't waste any time at all figuring out how to kick cancer's ass.

The defense team assembled.

Treatment began right away – 10 rounds of chemo, 10 rounds of radiation, two surgeries, and daily pain medication were just the beginning. Austin moved from Arizona to Ohio, back to his hometown, to make treatment at the Cleveland Clinic a little closer and be near his rockstar support network.
Things are getting a little better, day by day.

Earlier this month, Austin was back in the gym, started playing a little golf, and is getting out to see his friends again. His outlook is improving right along with his PET scans. But there's much, much more to do.
The treatment he needs now is in Houston, at M.D. Anderson, in addition to his appointments at the Cleveland Clinic. Traveling back and forth like that is never easy, but doing it while undergoing cancer treatment is brutal. Chive Charities is committed to helping him get there and get well, so we're providing a $5,000 grant to cover travel and hotel expenses. All Austin has to worry about is fighting hard. If you have a minute, send Austin some positive vibes to keep his spirits high – cancer sucks, he could use the boost.

It was a good talk with Austin; he's incredibly chill for someone in the midst of an epic battle. Towards the end, we were talking about working out – where he goes (Planet Fitness with his brother Logan), what he likes to do (hates leg day, but does it anyway), and I had just one more question: "What's on your gym playlist?"
Old school rap and Hip Hop are my go-tos, and I half expected Austin to be the same. He chuckled a bit.

Did not see that coming.
"Anything soothing, with piano. Pachelbel's Canon, Fur Elise, anything classical," he said. I may need to give that a try.
Every week, Chive Charities provides financial assistance to underdogs just like Austin, and we couldn't do it without the Green Ribbon donors who give a little bit every month. Click HERE to see what it's all about, and join the good work happening 365 days a year.