Some would argue that social media has exacerbated that feeling, but regardless of the catalyst, we've all been there.
We've gotten sick right before a special event. We've been stuck at work the night of a big party. We've had commitments we couldn't break that kept us from something we would have much rather done.
But for most of us, FOMO is fleeting. An event here or a party there. Those little flickers of disappointment that are (usually) pretty quickly forgotten.
For Kimberlexia, her FOMO is a consequence of the world we live in sometimes - the one that's not accessible to everyone.
Some of her biggest moments are filled with bittersweet memories. What could have been if it could have been different? Like The Verve famously sang, "It's a bittersweet symphony, that's life."
Take her diagnosis as a case and point.
Kimberlexia was a typically developing toddler who hit all of her milestones right along with everyone else. It wasn't until she was 3 years old that her mom noticed her feet seemed floppy and it was getting harder to put on her shoes.
In the beginning, doctors told the family that Kimberlexia had cerebral palsy. While it wasn't the news they wanted to hear, they were thankful to have a diagnosis. Bittersweet.
Only Kimberlexia continued to regress. By the time she was five, she could no longer walk independently and required the use of crutches, then a walker. Less than three years later, she was using a wheelchair full-time.
"It kept progressing so quickly," Kimberlexia told us. "My hands, arms, feet, and legs were eventually all affected." Her medical team seemed surprised, but they were certain they knew what was going on and how to treat it - only nothing seemed to be working.
From age 8 to 18, Kimberlexia tried to adjust to her worsening condition, accepting what she had been told and what it meant for her future. She tried staying positive, too, even when the school lacked the resources to transport her and her wheelchair and she began missing out on class field trips. The FOMO was bad, but her attitude was better.
Then came a curveball no one saw coming.
The children's hospital in Atlanta had been doing some randomized blood testing, completely unbeknownst to Kimberlexia or her mom, Lashea. At this point, Kim had been poked and prodded so much over the last year or more that she had no viable veins left and needed an implanted port to help deliver IV medications.
"I had horrible side effects from that medication," Kimberlexia told us. "But I wasn't getting worse so I kept with the treatment plan."
Then, the hospital called.
"They told us that the random testing came back and I had been misdiagnosed all those years," Kimberlexia said. "I had been taking medication for a disease that I didn't have. All they said to us was, 'Sorry, that isn't what you actually have.' And then they started treating the new disease from that point on."
The "new" disease was a rare genetic condition called Charcot-Marie-Tooth (CMT) syndrome. It's a degenerative nerve disease that causes muscle weakness, decreased muscle size, and decreased sensation, and there is no cure.
"Kim endured so much unnecessary pain from her initial diagnosis," said Lashea. "But knowing the final diagnosis was bittersweet because there wasn't anything that could be done to help my child."
They were thankful for answers (the right ones this time), but coming to terms with a decade-long misdiagnosis wasn't exactly what they were after either.
And still, Kimberlexia persevered. She did well in school, made friends, and tried to soak up as much of the experience as possible. She has a way of looking on the bright side, of finding the positive in any situation. But still, the FOMO was real.
"I cried when I had to miss my senior trip," she told us. "That was the biggest one for me that I didn't get to experience. The school just didn't have a way to accommodate me and my chair. So yeah, there were a lot of things that I missed out on."
It's a bittersweet symphony, that's life.
Kim endured a life-altering misdiagnosis and numerous setbacks, including a disease that progressed so fast, she's not able to write much with her hands anymore and has lost the majority of feeling in her legs.
But Kimberlexia is pretty unstoppable.
"The prognosis is what it is and there's no treatment for it," she told us. "So I'm content with what it is. I haven't been walking since I was about five years old, and it bothers me sometimes, but I try not to dwell on things I can't do anything to change."
What she does focus on is accomplishing every goal she sets for herself.
After graduating from high school, she pursued an online college degree, earning her bachelor's in criminal justice studies. She has her sights set on getting her master's degree next, which she plans to use to find a career working in the juvenile justice system.
She also wants to do it in person. "I really want to experience college from the campus," Kim said. "And I think I deserve that."
We do, too. There was just one problem - she needed transportation and they couldn't afford it on their own. Then they heard of Chive Charities.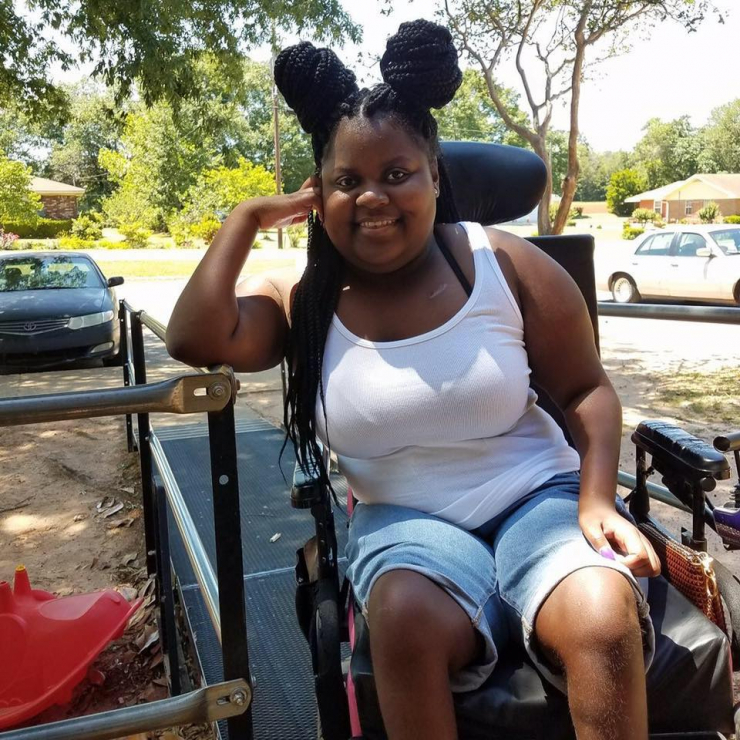 As Kimberlexia's mom filled out the application, she included a note:
"I have witnessed my baby earn two degrees fully online. I'm so proud of her. But I'm also saddened by the fact that she can't take her motor chair to graduation. As she embarks on her career, I want to be able to take my child anywhere she has to go, comfortably. She is already faced with many challenges. I want to help her overcome them, and with your help, I can."
They had the will to seek help and improve their lives. They just needed the way.
Through the support of our Green Ribbon Fund donors, you helped provide it in the form of a 2019 Dodge Grand Caravan from our partners at AMS Vans. The total impact was $46,299.
"I consider myself beautifully flawed," Kimberlexia said. "When people see me, they expect me to feel bad because I can't walk. But I'm happy. I'm a human. I just can't walk."
"This van means everything. I'm so thankful. So excited. So ready."
Kimberlexia has experienced her fair share of FOMO. And yes, sometimes the bittersweet moments outweighed the positive ones. Misdiagnosis. Painful side effects. A rare and degenerative disease.
But that doesn't define Kimberlexia.
She's beautifully flawed, a happy and content human being with so much to offer. And thanks to donors like you, we can help her get rid of the bitter part and get back to the sweet.
It's a sweet symphony, that's life.
Now that's a verse we can get behind. DONATE HERE.