These are the words of Keisha Greaves and when you read the story we're about to tell, they'll take on even more meaning. We all take things for granted — our health, our relationships, our resources, our mobility — and it isn't until we're faced with adversity that we realize what we had all along.
Nearly 10 years ago, Keisha had just graduated from college and moved back to her hometown of Cambridge, Massachusetts to pursue her MBA. While in grad school, she put her bachelor's degree in Fashion Merchandising to work and was an independent merchandiser for a company, traveling from store to store to ensure that brands were represented accurately.
One day, Keisha was walking around the supermarket with her mother and sister when something strange happened. "We'd been chatting and shopping when out of nowhere, I tumbled onto the floor," she told us.
"It took everyone by surprise, including me. As I sat on the cold ground, my legs seemed to have left the rest of me. They became dead weight, and I couldn't lift myself. It was the most confusing experience I'd ever known," Keisha said. "My mind told my limbs to do something that they just wouldn't do."
One minute she's walking, the next she can't move. Her typical mobility taken for granted.
Keisha initially chalked it up to all the things we tell ourselves when something in our gut is saying, "This is bad. This is really bad."
A few weeks later, she struggled to reach a box in the pantry, feeling like her hand was fighting against a ton of weights pushing it back down. One minute she's reaching for something, the next she can't move.
Something wasn't right, and Keisha realized it was time to see a doctor.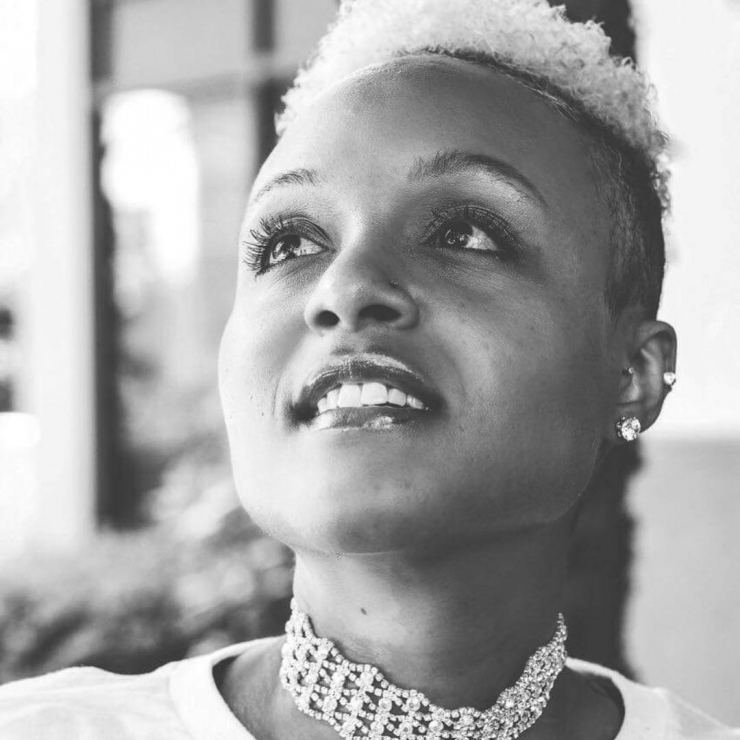 After numerous tests, including visits with an orthopedist and neurologist, Keisha had a muscle biopsy that gave her the answer to a question she didn't want to ask.
At 24 years old, the fashionista with a big personality and vibrant style was diagnosed with Limb-Girdle Muscular Dystrophy. Life as she knew it had completely changed, and a new journey was about to begin.
"The first thing I did was check Google," she told us with a smile. "I had to know what this was, what it meant, and what on earth I would do."
Her search told her that this particular type of Muscular Dystrophy (MD) impacts the body from the shoulders to the legs. It told her that most people with MD are males, and most are diagnosed as babies or during adolescence. It told her that the disease is progressive and that there is no cure.
What it didn't tell her was how to rationalize that information against a way of life she wasn't ready to leave behind.
"I was in a mix of disbelief and confusion," Keisha said. "How am I going to live? Will I have to be in a wheelchair? Then I thought, 'What if the doctor is wrong?' This can't be my life. It has to be something else."
For a few years after she received the phone call with her diagnosis, Keisha refused to believe that she really had Limb-Girdle Muscular Dystrophy.
"I thought I could diet and exercise it away," she told us. "Though I walked with a cane many days, whenever I had an important meeting or interview, I'd tell the manager I'd recently sprained my ankle or had gotten into a car accident. I never wanted to verbally acknowledge what was happening," Keisha explained.
She finally confided in a close friend and he encouraged her to write a blog about her experience and what she was feeling. Once the words started flowing, the truth nestled into her heart and her denial faded away.
"It was like a weight was lifted from my mind," she said.
In typical Keisha fashion (pun intended), she donned a pair of bright eyeglass frames, grabbed the nearest tulle skirt, and got herself ready to face her new normal. She reached out to others in the disability community and created her own network of people who understood exactly what she was going through.
Her diagnosis led to an awareness about mobility and accessibility that she simply didn't have before. She realized how challenging it can be to locate elevators on a college campus or the difficulties of finding clothing that work with a wheelchair. Putting her fashion degree to work — albeit in a much different way than she imagined — Keisha created an organization and clothing line called Girls Chronically Rock to inspire and empower others.
Consider Chive Charities part of the inspired group.
In the 10 years since she first fell on that grocery store floor, Keisha has worked through the trauma of a scary diagnosis, the understandable denial shortly thereafter, and the acceptance of the future ahead of her.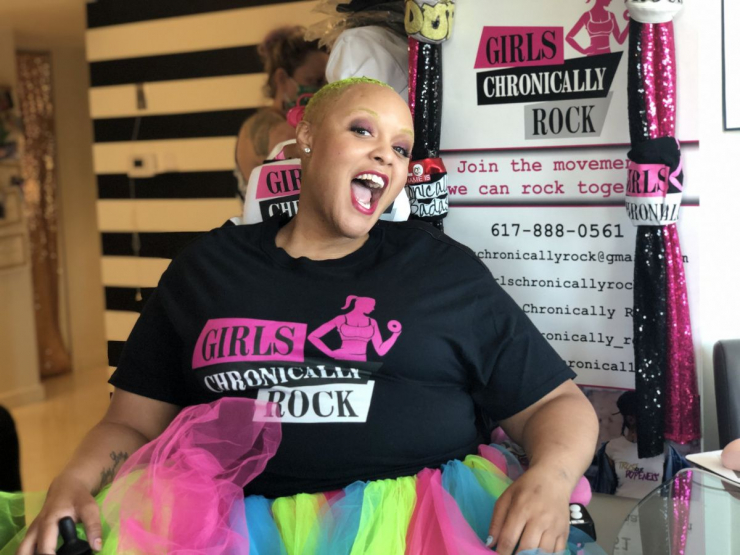 She's built a community of like-minded people, shared her story publicly as an awareness advocate, and created a successful organization to help evoke change for those with disabilities. She certainly doesn't take any of that for granted.
Neither do we.
When we heard Keisha's story, we knew we wanted to help. Keisha no longer has a vehicle of her own, and even if she did, she wouldn't be able to safely operate it. And remember, this is a girl with big plans. She attends weekly physical therapy appointments, countless doctor visits, and needs to be out and about in the community to help grow her brand.
Like most of us, Keisha took her access to readily available transportation for granted. If you weren't able to drive, if you didn't have a car, if you had a wheelchair to contend with and no one to help transport you, what would you do? If you're Keisha, you would turn to Chive Charities and our incredible donor family for help.
With the help of monthly donors like you (become one HERE), we partnered with our friends at AMS Vans to purchase a 2020 Chrysler Pacifica for Keisha with a total impact of $45,561.06.
Now, this girl with the big plans (she hopes to attend New York Fashion Week with her new van one day) can get back to using her bubbly, vibrant personality to continue inspiring and encouraging others in the community. We can't wait to see what she accomplishes next.
Because of donors like you, we've provided life-changing grants to more than 400 recipients. Last year alone, we granted over 25 wheelchair-accessible vans to people in need, and we're hoping to create even more impact in 2021. Do we take that support for granted? Not for a single second.
Join us in making more dreams come true this year with a monthly donation. DONATE HERE.