Nowadays, the phrase "got your six" is shared among all branches of the military as well as all first responders, from firefighters to law enforcement agents. But what happens when our heroes retire and there's no longer anyone there to watch their backs? For many, a very different fight begins against a similarly deadly, unseen foe. Post traumatic stress afflicts tens of thousands of veterans and former first responders each year. Unfortunately, some feel the only way out is taking their own life. Enough so that 20% of suicides in the U.S. are veterans, alone. Those 8,000 annual deaths don't even take into consideration the more than 11,000 estimated failed or unreported suicide attempts.
As you can see, the problem is as alarming as it is complex. And complicated issues require strategic and proven solutions. Enter an organization with a unique approach to solving the problem: Got Your Six Support Dogs.
Got Your Six Support Dogs (GYSSD) is committed to providing specialized service dogs to veterans and first-responders suffering from post traumatic stress disorder and/or sexual trauma. Their mission is to help these men and women regain their lives through the healing power of dogs. While that mission may not be unique to GYSSD, their holistic approach to overall health and well-being for their recipients is.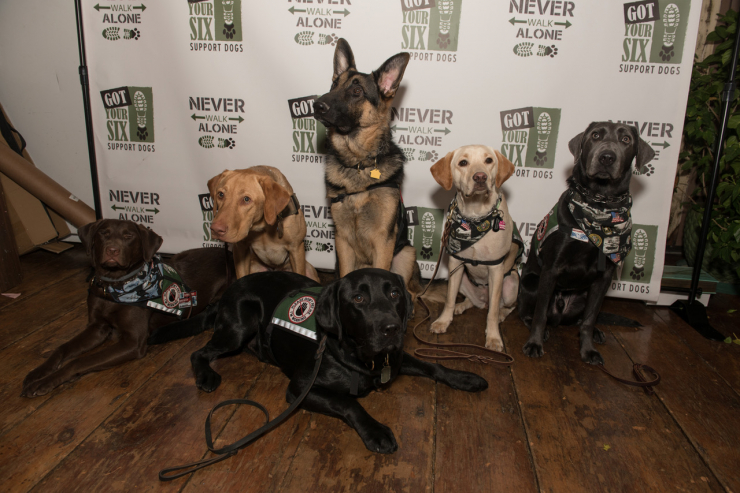 It all starts with the pups, though. These future service dogs go through 12-18 months of specialized training to provide a variety of tasks to assist their future partner. They can sense anxiety, recognize and interrupt harmful behaviors, wake their owner from night terrors, provide a sense of security and combat hypervigilance, retrieve items such as cell phones and keys, provide medication reminders, and reteach emotions such as love and affection. By the time GYSSD dogs have gone through the 260 training hours, they've received their service doggy Masters and PHD.
But these 12/10 good dogs are only half the equation. GYSSD fields requests for help throughout the US from veterans and first responders dealing with the effects of post traumatic stress. They take time to deeply familiarize themselves with each individual while also talking to family and other members of their support group about the recipient's daily struggles. They learn what the recipient's anxiety triggers are so they can develop a customized program for each individual.
After an individual is chosen to receive a GYSSD service dog, that's when the real difference-making starts. Recipients are brought to the GYSSD facility for a 2-week training that includes courses in trauma resiliency, suicide prevention, group counseling, and private sessions with clinical social workers. In addition, individuals take part in alternative therapies like yoga, acupuncture, art and music therapy, as well as nutritional programs. This holistic approach to managing symptoms and recovery is what really differentiates their program. And, of course, recipients are placed with their new best friend. By this point, the service dogs have received individualized training on how best to serve their owner based on their unique circumstance. GYSSD truly does everything possible to ensure that both the dog and the owner are set up for future success together.
And here's the coolest part. All of this is done at zero cost to the veteran or first responder. Nicole Lanahan, GYSSD's founder, was a professional dog trainer who saw firsthand the benefits of properly trained and placed service dogs back in 2015. While the demand for PTSD service dogs for first responders and veterans was overwhelming, so too was the pricetag. Nicole saw many organizations charging up to $25,000 per dog, an unreachable sum for many of those who needed them most. Shortly after, Got Your Six Support Dogs was born.
But does it work? The proof, as they say, is in the pudding.
A study from GYSSD's 2019 recipients showed that they already have experienced a 51% overall improvement since they received their dog. Improvement has come in the form of better sleep, concentration, less irritability, increased enjoyment in life, and better relationships with friends and family. And that's just the 2019 class. There is research that indicates positive results only increase over time.
No one is more aware of the long term benefits of GYSSD's program than Parker, who had fought PTSD since his first deployment in Afghanistan in 2012. For years, he dealt with nightmares, insomnia and severe night sweats. After being placed with his service dog, Rio, he didn't notice immediate results. But something incredible happened one night. As a night terror was about to grip him and lead to another sleepless, anxiety-ridden night, Rio jumped onto the bed and began performing compression therapy on Parker. The process relaxed Parker until he was able to fall asleep. That night, the first of many to come, was the best sleep Parker had enjoyed in several years. "I went from taking 9 medications to 2," Parker recounted. "I was finally happy, loved, energized, relaxed and able to reconnect with my family and kids thanks to Rio and GYSSD."
It's clear that Got Your Six Service Dogs cares deeply about making a real impact in the lives of our heroes, a sentiment we share wholeheartedly at Chive Charities. That's why we're jumping into the game and getting GYSSD's back with a grant from our monthly Chive Charities donors in the amount of $10,000. The grant will allow GYSSD to continue their incredible work and mission to help as many first responders and veterans get the support they need and truly deserve at no cost.
When our nation's heroes are in service, they always have a community around them. They have a built-in team that has their back. When they transition to civilian life, they also transition away from that built-in support system. Thankfully, there are organizations out there like Got Your Six Support Dogs and Chive Charities that will always have our heroes backs.
If you are a veteran or first responder in need of a service dog, or know of someone in need, please reach out to GYSSD HERE

If you'd like to join our committed group of monthly donors who make a difference for inspiring causes each week, consider donating to Chive Charities HERE