Her parents, Tim and Angie King were watching from the bleachers. Frankly, it had been a pretty horrible start to the summer and they were grateful for the distraction. Just a couple of months earlier, Angie's mom had passed away, and they were still reeling from the loss.
Kaylan wore the number 73 jersey in her grandmother's honor, and watching her pitch and bat and laugh with teammates was comforting. They almost felt a sense of peace.
Two days later, it was gone.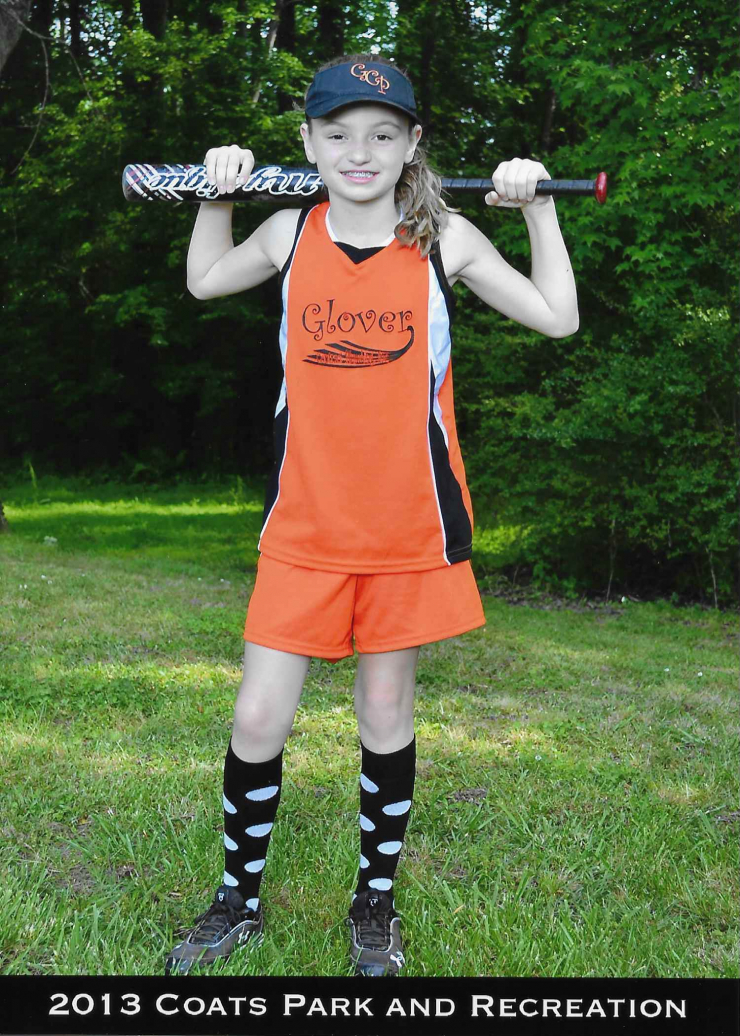 On May 21, 2014, Kaylan woke up with a headache, drooping face, and disorientation. Though she tried to get ready for school, she was unable to chew or swallow her breakfast and Angie knew immediately that something was wrong. The doctors knew it, too. After being rushed to UNC Children's Hospital, a CT scan and MRI detected the unthinkable - Kaylan had a giant brain aneurysm.
In the blink of an eye, everything changed.
She underwent surgery in a procedure so challenging the doctors called it the most difficult they had ever done. Her condition, a giant basilar artery aneurysm, is extremely rare in children. The Kings were told she was one of a handful in the world who had it. Kaylan, ever the social butterfly, was allowed to have a few friends visit her in the hospital before her surgery. Her nurses later said they wanted to keep things as normal as possible, knowing any extra stress could cause her aneurysm to burst.
Though surgeons were able to clip the main artery, Kaylan suffered two strokes that took away nearly all of her motor skills. She was unable to move, swallow, or speak, though her cognitive ability was largely unaffected. It's known as locked-in syndrome.
In the recovery room, Tim, Angie, and Kaylan's older brother Garrett wondered if the Kaylan they knew and loved was really still in there. Could she hear them? Did she recognize their voices?
Finally, after two long days of waiting, her left eye opened.
That simple movement, the up and down motion of her eye, gave Tim and Angie and Garrett the one thing they hadn't had since that fateful morning on May 21: hope.
In the blink of an eye, everything changed.
Every day, Kaylan's doctors came into the room to check for movement in her arms, legs, and body. There was none.
"She was retaining fluid in her lungs and her oxygen levels would drop constantly," said Angie. "So many times, her father and I thought 'that was it,' we thought we would lose our baby girl. I remember my son, who was 12 at the time, called me crying and asked if his little sister was going to die."
Yet, they pushed forward for Kaylan...and for Garrett. Born just 16 months apart, the two were inseparable. He needed her as much as she needed him - now, more than ever.
From the movement of one single eye post-surgery, Kaylan eventually learned how to move her fingers to control a power wheelchair. Using her eye to blink, she communicated her wants and needs with a spelling chart.
"It was very tedious as we had to write down the letters that were in colors just to know the word she was spelling," Tim told us. "She would look up with her eyes when we called out the correct letter."
With therapy, Kaylan began to eat pureed food and strengthened her neck to hold her head up. She soon stood with assistance and began to take some steps. Eventually, she was able to do away with the spelling chart and used an iPad to communicate instead. It wasn't good enough for Kaylan. She doesn't do anything halfway, and her recovery was no exception.
Enter Victoria Arlen and NextStep Orlando. Victoria is a television personality for ESPN and gained widespread popularity after appearing on Dancing with the Stars. Ironically, she also developed two rare conditions at age 11 that caused locked-in syndrome and paralysis, similar to Kaylan. Victoria fought her way back through a program called Project Walk, later named NextStep. The Kings saw Victoria's story and were immediately inspired to do the same for Kaylan.
After spending three weeks in intense physical training with NextStep Orlando, Kaylan was able to do things she hadn't done since her diagnosis. Typical Kaylan, she was able to do it all - making lifelong friends in the process - without ever speaking a word. What could she do next?
Thanks to our amazing donors (become one HERE) and awe-inspiring support from NextStep Orlando, Kaylan has a chance to test her full capabilities. The incredible impact is $20,000 for 16 weeks of intensive physical therapy.
NextStep is a small non-profit, yet they didn't hesitate to provide our largest grant partnership offer to date - $4,000 off the cost of their services. When we asked them why, the answer was simple: it was all for Kaylan.
"Kaylan is an absolute joy to have at NextStep Orlando," said Liza Riedel, Executive Director of NextStep. "She comes in focused and ready to work hard every day. And her infectious smile lights up the gym! With consistent activity-based therapy, Kaylan will continue to progress and has the potential to make a powerful recovery."
For Kaylan, this is a chance to give her recovery everything she has, and to get the physical training she so desperately needs.
"Kaylan is amazing. She completely lost her preteen and teen years to a wheelchair and hospital rooms, but she has not given up and still has a wonderful, infectious attitude," said Tim. "Being able to get Kaylan back to NextStep Orlando to let her gain further physical mobility will be an answered prayer. It's hard to put into words how much this will mean to Kaylan."
We can't put it into words for Kaylan, but we know what our donors and partners like NextStep Orlando mean to Chive Charities. Do you want to be one of the heroes who have a life-changing impact on our recipients? Consider becoming a member of our Hero Fund. Your life, and theirs, will never be the same.
Of course, you can always DONATE HERE to help more incredible recipients like Kaylan. All they need is a chance. Let's be the ones to give it to them.