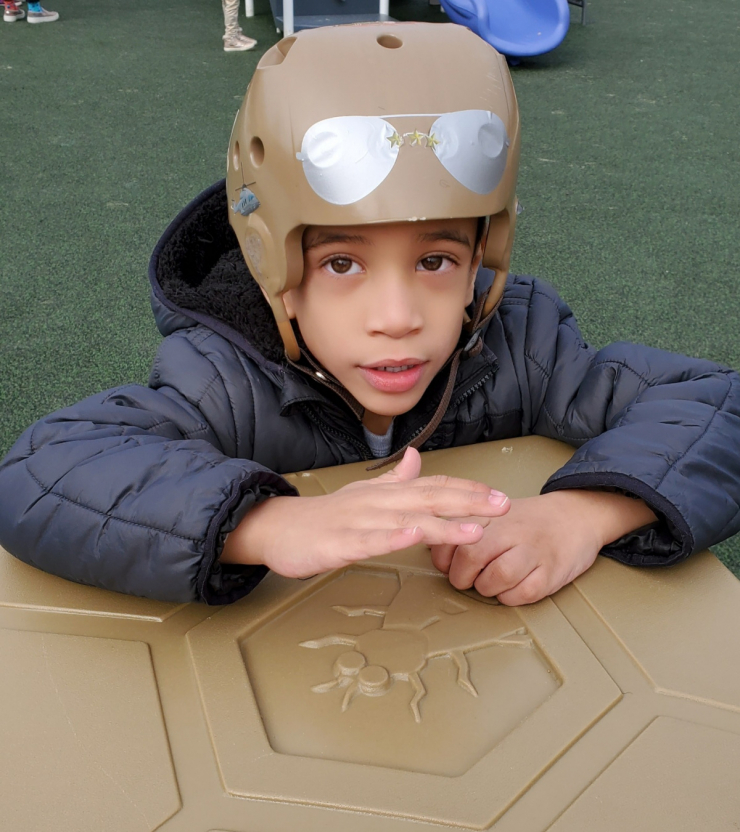 About this time last year, we met the incomparable Tayshawn, a driven and relentless college student who had overcome more obstacles than most of us could imagine.

Tayshawn and his older brother were diagnosed with Becker's Muscular Dystrophy as kids. When Tayshawn was in the second grade, he was connected with the school's on-staff physical therapist, an incredible woman named Sue.
She would be a huge part of his life in the following years, staying with him when he entered foster care and being a source of support as he navigated numerous challenges. Eventually, she became his mentor, and it was on her referral that Tayshawn found Chive Charities and applied for help.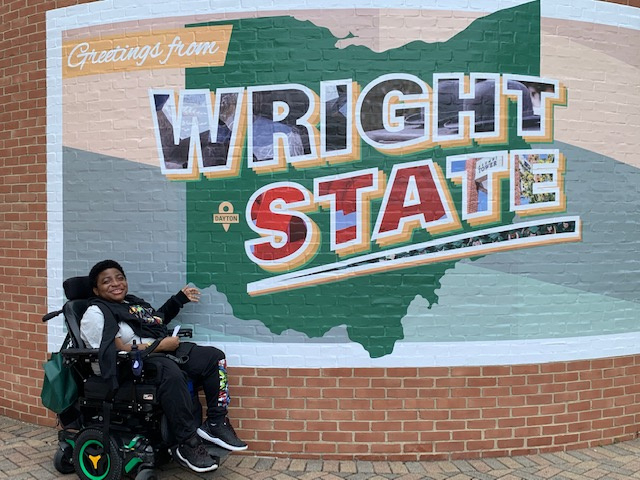 Then, it was April and King's turn.
April is 6-year-old King's grandmother and guardian, and the primary caregiver for him and his two siblings, 7-year-old Nova and 4-year-old Harlem. The details of how she came to be their guardian aren't important. What matters is that she stepped in when they needed her most, putting her own needs to the side to ensure they were taken care of.
With King, especially, that's taken a little extra time and care.
Not long after his birth, April noticed that he was lethargic and not doing very well. She drove him to the hospital and waited as they conducted tests and poked and prodded his small body.
"When they came back into the room, they told me he had septo-optic dysplasia spectrum," April told us, "I had never even heard of it. I was sent home with him and his medication but not much else."
Signs and symptoms typically include blindness in one or both eyes, low muscle tone, recurring seizures, and delayed development or intellectual disability. King had all of them.
He's also nonverbal, which can complicate things sometimes for a grandmother in charge of three children.
"You have to get to know him," she told us. "Really get to know him. He can't tell you what he's thinking or feeling or needing. So I pay attention to little things like his skin (Is it sweaty? Pale? Flushed?) and his breathing (Is it shallow? Quick? Raspy?). I am constantly watching him."


Last year, April got a cruel look at how much can change in a matter of seconds and how closely she has to watch her grandson. He had been playing in the other room when she heard a sound and went to investigate. When she found him, she saw King had collapsed and stopped breathing. "It was horrible," April said. "It made me feel like I have to have him in my sight every second of every day, and that's just not realistic."


Doctors also couldn't offer a solution. King's episodes aren't predictable. There's no service animal that can alert to a problem, no device that can sound an alarm and warn her. All they could do was increase his medication, and while that seemed to limit his seizure activity, she knew it wasn't a long-term solution.
But April is not one to sit defeated or feel bad for herself. She works hard, really hard, to make sure the three kids stay close.
"We talk about it all the time," she said. "I remind them how lucky they are to have each other and how we can get through anything if we keep pressing forward."
You can see the love when she talks about them, and she told us how close King and Nova are, especially being just one year apart.
King loves to work on puzzles, play on the trampoline, swing, and be around other kids. He also likes listening to soft, instrumental smooth jazz (amazing!) or the sound of waterfalls. School is a standout favorite of his, too, which says a lot about this social butterfly.
April tries to get them all outside as much as she can, taking the siblings to events, the park, and just about anywhere they want to go – when her 2006 Chrysler Pacifica van cooperates, that is.
"It overheats every three miles, but it has held on for long enough to get us where we need to go," April laughed.
It's also not wheelchair-accessible, which has become a bigger problem as King has grown and April's faced injuries of her own. Currently, she breaks his wheelchair down each time she needs to transport him, and not only is that hard and tiring as she gets older, but she also struggles with knee pain from arthritis. It's all a lot to manage, and it can be completely remedied with an accessible vehicle.


That brings us back to Sue. She already witnessed the difference an accessible vehicle can have on the life of someone who desperately needs it – she saw it firsthand with Tayshawn. That's why when she heard April's plight and saw all she was juggling with King, Nova, and Harlem, Sue once again mentioned Chive Charities.


"Sue is an angel," April said. "She really is. You won't find a kinder, more compassionate person. She's just so special to us."
She's special to us, too!
On Sue's referral, April reached out to see if we might be able to support their family with an ADA van. Thanks to the unbelievable support of our Chive Nation community and our partners at AMS Vans, we were able to purchase a white 2019 wheelchair-accessible Dodge Grand Caravan for a total impact of $46,084.
"When the nice people at AMS Vans asked me if I had any preferences, I couldn't really think of much," April said. "I'm a beggar, so I can't be choosy!" she laughed.
Luckily, she didn't have to be, and the team at AMS Vans hand-delivered a beauty to her just last week.


To April, one mantra sticks in her head more than any other: Keep moving forward and keep them all close. This van will allow her to continue doing both.


We asked her what she was most looking forward to with this new vehicle and she smiled and said, "I'm looking forward to everything! This is going to keep me going. I want to thank the whole Chive community for helping us out – we'd be nothing without you all."

Funny enough, we'd be nothing without people like April and Sue, who are brave enough to reach out for help and do whatever it takes to help those they love. And we'd be nothing without donors like you who give us the opportunity to support them.
As April would say, let's keep moving forward. For King, Nova, and Harlem, for Sue and Tayshawn, and for all the recipients and families who've been part of our 10 years of life-changing impact. Become part of our family of supporters and DONATE HERE.
Also, make sure you're following Chive Charities on Instagram for all our latest updates, and probably the easiest way to make your day 10% happier (besides donating, of course!)