It just so happens that no one practices what he preaches more than Ira. Ira's life before suffering an accident that left him paralyzed was nothing short of amazing. Incredibly though, his life has only become more inspiring since that fateful Alaskan day.
Before the accident
Ira grew up an active boy with a love for science and wildlife in Palmer, a small town near Anchorage, Alaska. A lifelong tinkerer, Ira always had a way of figuring out how things worked as well as finding a way to fix problems others dared not approach. Doctors once told Ira that climbing glaciers as a type 1 diabetic could kill him as the extreme temperatures would freeze his insulin. Not easily deterred, Ira found a way to wrap the insulin around his body, keeping it warm, and went about conquering glaciers.
After graduating co-valedictorian from his High School, Ira pursued his two passions – skiing and nature – by studying Wildlife Biology while ski racing at the University of Alaska.
After college, Ira worked as a research biologist – conducting research on salmon boats during the summer and crab boats during the winter. There were periods where he was out at sea for 365 days at a time. For the past 25 years, Ira has also lived a subsistence-based lifestyle of hunting, fishing, gathering and living off of the land.
It was his appreciation and respect for wildlife combined with his love for the true Alaskan experience that drove him to become a law enforcement Park Ranger. He was sickened by people abusing their hunting privileges, wasting thousands of pounds of fish and poaching illegally. He wanted to make a difference. "I wanted to help people protect their outdoor activities and protect wildlife," Ira told us via phone.
The Accident
In November of 2010, the same year he graduated from the Alaska State Trooper Academy, Ira went to work for the Alaska State Parks. He was clearing hazard trees from ski trails when he came upon what those in forestry call a "widowmaker". The top half of a tree had partially broken off and was suspended precariously over the trail. When Ira made a cut on the main trunk, things took a turn for the worse. Before Ira realized the main trunk was rotted through, the tree broke off at the stump. The top half simultaneously broke free, causing the main trunk to snap toward Ira like a fly swatter, crushing him with all its weight.
Ira suffered several broken bones in his chest, back and shoulder as well as a collapsed lung and a smashed L1 vertebrae, paralyzing him from the waist down.
What followed were 2 years of grueling rehabilitation, relearning basic tasks like going to the bathroom, navigating life in a wheelchair and struggling to regain his independence. Adding to it all, his once-happy marriage ended during his recovery. For Ira, the mental part of recovery was the most challenging aspect as he had to heal on his own. However, no one was more equipped to solve this temporary problem than Ira.
"I will ski again." These were Ira's first words to his doctors and nurses upon being admitted to the hospital with a broken back. "You've got to have goals to work towards."
Post-Accident
It's good to have the right people in your corner. Luckily for Ira, he was put in touch with former Chive Charities recipient and partner charity, High Fives Foundation. The HFF focuses on preventing life-changing injuries and provides resources and hope if they happen. Through an HFF grant to cover adaptive sports equipment, Ira was back on the road to his adventurous and independent lifestyle.
If you're anything like me, this is about the time when you begin questioning your life choices after seeing what Ira has been able to accomplish since his accident.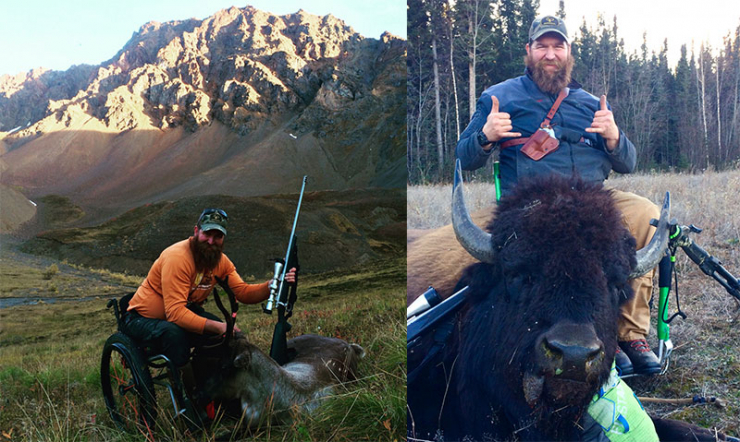 Okay, it's official. I no longer have any excuses for being an out-of-shape blob since long before the pandemic started.
Even before his accident, Ira had spent his life helping and teaching others. For years, he had been a high school skiing coach. Just last year, he donated over 2,000 pounds of vegetables from his personal garden. He regularly volunteered at an adaptive sports organization called Challenge Alaska. So when he went through his own incident and experienced the positive results of engaging in outdoor activities first-hand, a plan started to form for Ira. He started Team GIMP SQUAD as a way to inspire individuals to overcome physical and mental hurdles through sport.
He started taking disabled veterans and individuals with physical challenges fishing, hunting and skiing. After seeing results with the individuals he was helping, Ira wants to take it one step further. His newest goal is to start a Return to Dirt chapter in Anchorage. There's one big problem, though.
When getting out in the wilderness with the people he seeks to help, Ira is relying on the generosity of friends to loan him their vehicles. What he really needs is his own off road vehicle capable of handling the Alaskan terrain so he can continue to pay it forward more regularly and independently.
If you've been following Chive Charities the past few months, you're probably aware that we have donors in every single state and across the globe. However, when it comes to our recipient portfolio, our map isn't as representative of the nationwide support we receive. We launched our Freeway To 50 campaign in early March with the goal of fixing that issue, focusing on identifying recipients in North Dakota, Washington DC, Maine, West Virginia, Mississippi, Hawaii, and Alaska to truly become a nationwide charity.
We were over the moon to tell our Chive On Alaska Chapter that they had their very first local recipient. They embraced him immediately. "Our first CC recipient! Ira is the epitome of strength, motivation, and Alaskan hospitality. His drive and passion is truly amazing to see. He is able to overcome his own obstacles in life to help others overcome others."
At Chive Charities, part of our mission is to improve the quality of life of our veterans and first responders with disabilities or medically-related needs. But sometimes a single grant item can have far-reaching effects beyond the recipient. When we approved Ira's request for help, we saw a no-brainer opportunity to truly make not only his life 10% happier, but a chance to be the catalyst for a ripple effect – one that would change countless lives in the community Ira continues to cultivate. Thanks to a co-sponsored grant with High Fives Foundation and thanks to our incredibly generous monthly Chive Charities donors, our $18,054 grant will help purchase Ira a brand new 2020 CAN-AM DEF HD10 utility vehicle from Delta Power Sports.
The vehicle will be instrumental in allowing Ira to further his life's passion of inspiring others, continuing to pay it forward to those in need, as well as supporting his own independence. "I guess I've never really looked at it as paying it forward," Ira told us after we informed him that his grant was approved. "But I'm super excited to help people beyond myself and I guess that's exactly what it is."
"Life doesn't have to end after a major injury." Ira's words now echo with a deeper meaning. Count me in as one of the hundreds of thousands you're about to inspire, Ira. We couldn't be happier to be right there with you along the way. Welcome to the Chive Charities family.
Help us inspire the next Chive Charities recipient with dreams of making the world a better place by becoming a monthly donor RIGHT HERE.
If you know a first responder, veteran, or rare medical diagnosee in Hawaii, Mississippi or West Virginia, please send them our way!