So goes a verse in the song, "Waiting On A Miracle" from the 2021 Disney film, Encanto. It's not the favorite of three-year-old Haylee Kennedy - that honor goes to "We Don't Talk About Bruno" - but it's a pretty accurate representation of her life so far, and for her family who's been with her every step of the way.
In many ways, Haylee's journey began before she was even born. And they waited a long time for their miracle.
Her parents, Kati and Derek, and their first son, Kaden, just three years old at the time, prepared to welcome a second boy named Jaxon to the family. Tragically, after a typical pregnancy, Jaxon unexpectedly passed away shortly after birth. The family was devastated and reeling from the unimaginable loss. And more pieces of the puzzle wouldn't be revealed until Haylee was born about two years later.
Her development started off normally, too. At one prenatal check, they noticed that Haylee wasn't swallowing the amniotic fluid, but the specialist didn't see anything worrisome, and the baby passed every test with no issues. For Kati, it initially meant a lot of discomfort and pain, but nothing that she couldn't handle.
By 32 weeks, she was so uncomfortable and her stomach stretched so tightly from the extra fluid that Kati almost couldn't stand it anymore. At that point, her contractions began.
"There was no slowing it down, and because of what we experienced with our son, Jaxon, they said, 'Don't worry, we'll keep you updated. We'll let you know everything that's going on.' But that didn't happen, and it was very quiet in the delivery room that day."
When Haylee was born, she was in immediate distress. The medical team gave her five rounds of epinephrine, a hormone and medication used for helping restore respiratory function (known by its other more common name: adrenaline), and said on the fifth round, "This is the last one."
Thankfully, the fifth was the final and all Haylee needed to stay alive.
A miracle.
Haylee was born "floppy," and was super low-tone and not responsive. Because of Jaxon's death, the doctors immediately ordered genetic testing, and that seemingly small decision would change everything.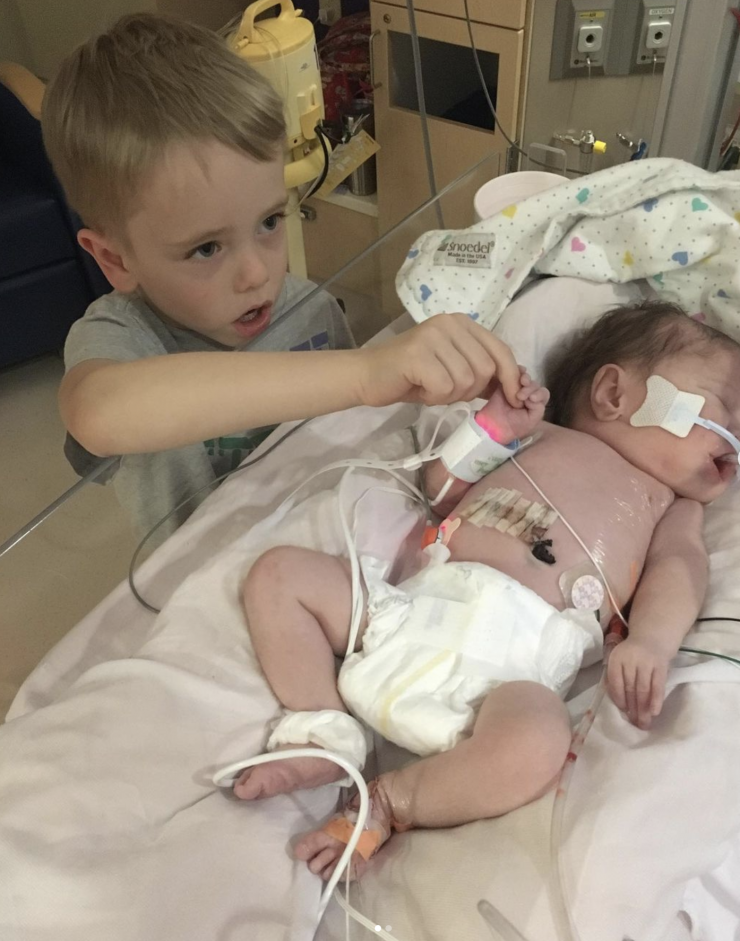 But first, they would transfer her to a larger, more specialized hospital where Haylee would stay and fight for her life for 8 months. EIGHT months.
And they didn't just have Haylee to think about, they had their older child, Kaden, too. ("He spent the summer at the hospital with us before he had to go back to school," Kati told us.) It was a lot to manage - almost too much - and Kati still can't understand how they made it through. But they did.
I can't heal what's broken…
Always waiting on a miracle, a miracle
It was around this time in the NICU that the family finally heard back about Haylee's genetic testing results. "They told us it was RYR-1," Kati said, "and like many people, we had never even heard of it."
RYR-1-related diseases are an inherited form of muscle weakness ranging in severity from mild weakness to severe disability. Essentially, muscles lack the ability to process calcium, a critical component of muscle contraction. That puts patients at risk for a myriad of challenges, including a life-threatening complication of general anesthesia. "She can't have it," Kati said bluntly.
The medical team also assumed that Jaxon had been born with the same genetic condition, but couldn't fully confirm it. Kati and Derek decided to test their eldest, Kaden, and found that he's a carrier for the gene.
"RYR-1 is so rare that they presented only the worst-case scenarios," Kati told us. "It's not a degenerative disease, but as she grows, it could weaken her muscles more."
Still today, Haylee's lungs are not strong enough without ventilation support, but she remains trach-free.
Beyond the rarity of her disease, which by definition makes her special, Haylee is just something else. She and Kaden are nearly inseparable and share a brother-sister bond that is difficult to explain.
He is - far and away - her biggest supporter, and recognizes at his young age that his sister needs some extra support. He's also probably the number one fan of her TikTok videos (which she loves to make with her mom).
Kati told us that Haylee adores anything with princesses, loves singing and reading, gives her teachers a run for their money, and is, generally, a typical threenager.
"She is…sassy and opinionated," Kati laughed.
So, it should come as no surprise that when she took her first test drive in an electric wheelchair, she let it be known that she wanted one of her very own.
Haylee can walk with a KidWalk gait trainer, but not for long distances. The family trialed an electric wheelchair through Haylee's school for three months, and every time she had to leave it behind at school, she would cry.
"Haylee got her own powerchair in December 2021, and her world was forever changed," Kati told us. "She has the capability and access to move without needing to ask for help."
"She can roll right up to someone to chat with them instead of sitting on the sideline by herself. I remember the first time we went to Target, she stopped every few feet because it was the first time she was in control and could stop whenever she wanted."
The only downside of this setup is that the wheelchair weighs over 200 pounds. In order to safely transport it (and Haylee) from one place to another, they needed an accessible vehicle with a ramp. Unfortunately, given the high price tag, they simply couldn't afford it.
Once again, they needed a miracle. But this time, they didn't have to wait long for it.
Kati is a supermom. You can get that vibe within the first few minutes that you're talking to her. So if you think she sat around and waited to see if this van would happen, you would be wrong. She contacted every organization she could think of to do what needed to be done. One of those organizations was Chive Charities.
By the time Kati got to us, she had already tracked down enough funding to cover nearly all of the cost of the ADA van. There was a small gap remaining - $5,000 standing between Haylee and more independence.
As an organization known for filling the gaps where insurance and other resources cannot, we were fully equipped to meet that need. Thanks to support from our monthly and one-time donors, we added that critical $5,000 to the total and helped them get the van they needed.
"We are so grateful for organizations like Chive Charities that can help families make something like this possible," Kati shared. "This is a big need for Haylee and her independence, and we can't thank you and your donors enough."
Thanks to donors like you, they aren't waiting on a miracle anymore. But a lot of other families are. Many are reading this story, submitting their own applications, and nervously waiting to see if their own lives are about to change for the better. Where else can you be part of something like that? Join our miracle-making family and DONATE HERE.