It's a way to send some love and gratitude their way, and show the range of backgrounds and financial commitments that come together to make our assistance grants possible. It's also fun to put faces to names, and see what inspired them to become a monthly donor in the first place.

Despite the obvious (Party with a Purpose, anyone?), lots of people tell us a particular recipient story motivated them to sign up and change more lives. So when I sat down to write Bryson's story, and I flipped through the pictures his grandma sent, I came across one I know is going to lead to YOU being in the donor spotlight one day...

Can you see him under there? Big eyes hiding under all that chaos? This was taken just a few days after his birth, back in September of 2012. Doctors had warned his mother before he was born his aorta seemed enlarged, but she never expected he would be diagnosed with 21 medical issues within his first month of life.
Genetics testing revealed he was missing a significant portion of his 15th chromosome, which impacted most of his systems and development. In addition to the enlarged aorta, he has a cyst on his brain stem, low muscle tone, sleep apnea, respiratory difficulties, and hearing loss, just to name a few.

"The doctors weren't very optimistic he would even survive because of his enlarged aorta and the cyst in his brain," his grandma Brenda told us. "In the beginning, we took shifts to watch him around the clock. He'd have 98 episodes a night – his breathing alarm went off ALL the time."

Bryson's grandparents took custody of him and his five-year-old sister Avri in 2017, but really, they've been caring for him most of his life – through four surgeries, multiple hospital stays, weekly therapies, and the countless medical interventions it takes to keep him as healthy and comfortable as possible. Needless to say, it's been a rough six years.

His weakened muscles and heart make walking nearly impossible, so Bryson uses a wheelchair to get around. Right now his only word is "mama," but he's learning sign language slowly, and while his cognitive development lags far behind other kids his age, his grandmother says he's the sunshine in their lives.

"Bryson has never been one to cry much, he's full of smiles and laughter, even when he's sick. And he just loves playing with his sister."

Being the primary caregiver for a child with special needs is hard, harder than most of us know or those caregivers will admit, and when we spoke to Brenda, we could tell she needed help. Her husband works long, late hours, so most of the heavy lifting falls on her, literally.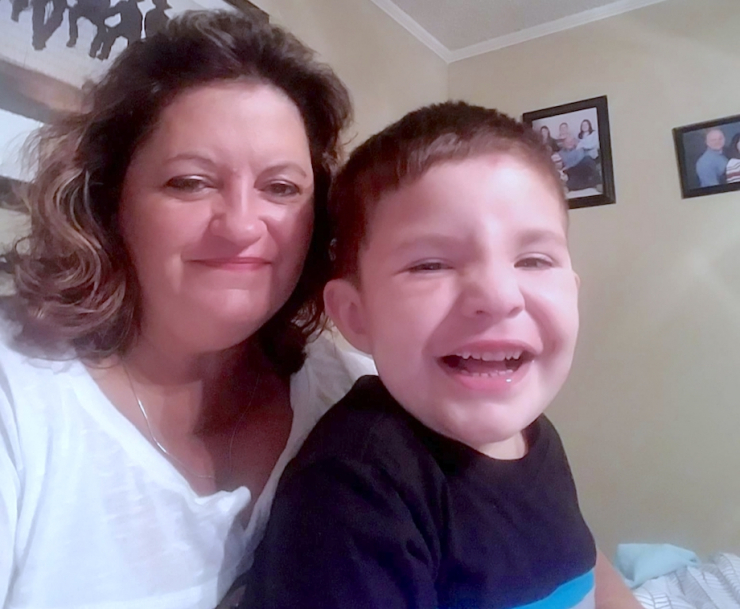 "I'm 4'11"," Brenda laughed, "maybe 4'8". And Bryson is a big boy. I can barely lift him anymore...I can't get him into the bathtub, into his seat at the table, or into the van, and he's just not strong enough to climb in himself."

"So what do you do when you have to go somewhere?" I asked. Brenda paused for a moment, and I could hear Avri chattering in the background. She sighed, and said that when her husband isn't home to help load Bryson into the van, they just don't go anywhere. Not the doctor or the bank or store, and certainly no place fun.
Then she told us about a motorized BraunAbility seat that could be installed in her van, enabling her to load Bryson on her own and give him and Avri the kind of normal childhood all kids deserve. Choctaw Nation had already donated $500 toward the seat, and Colorado nonprofit Friends of Man had given $5,000, leaving nearly $3,000 short on the $8,500 price tag. Brenda applied for a Chive Charities grant to cover the difference for the seat and installation, and we were thrilled to say YES!

This is just the beginning of their brand new lives.
Helping people of all abilities achieve their independence is the cornerstone of what we do at Chive Charities, and there are so many more families who need our help. Now that you know how much good we can do when we all band together, what are you waiting for? Become a Chive Charities monthly donor RIGHT HERE.