In 2011, Kayla had just said goodbye to her husband Kevin who had left that morning for Basic Training. While she trusted in the plan, she was less than thrilled about the timing of his extended absence. She was 8 months pregnant.


Later that same night, Kayla began experiencing severe pain in her stomach. It got bad enough that she scheduled a visit to her doctor for the next day. After running some tests, the doctor came back into the room, quietly shut the door and said: "There's something wrong with the baby."
Her baby, a little girl they planned to name Payton, had a brain bleed that caused Utero Hydrocephalus. It had already led to brain damage, and doctors were unsure if she would survive birth, let alone walk, talk, or develop normally.
The news came completely out of the blue.
"I remember laying in my bed," Kayla said, "And I was just balling my eyes out thinking, 'how could this be happening?'"
On March 1, 2011, Payton was born. The operating room was full of the C-section delivery team and five other doctors waiting to take Payton straight into the NICU. There were so many people in the waiting room waiting for her arrival, they were standing in the hallway.


Payton stayed in intensive care for the first week, and miraculously, no shunt was needed at the time. She was going home. More importantly, she was going to meet her dad for the first time, fresh off his graduation from Basic Training.




The emotion of meeting his daughter, of holding a real-life miracle in his hands, was almost too much to bear.




Payton continued to beat the odds and was advancing pretty typically for a girl her age, even walking before her first birthday. However, right after she turned one, Payton was diagnosed with Asymmetrical Bilateral Cerebral Palsy. Her right side was too tight, and her left leg muscle was too loose. More of the unpredictable.




Still, she continued to surprise doctors and for almost eight years, Payton made astounding progress.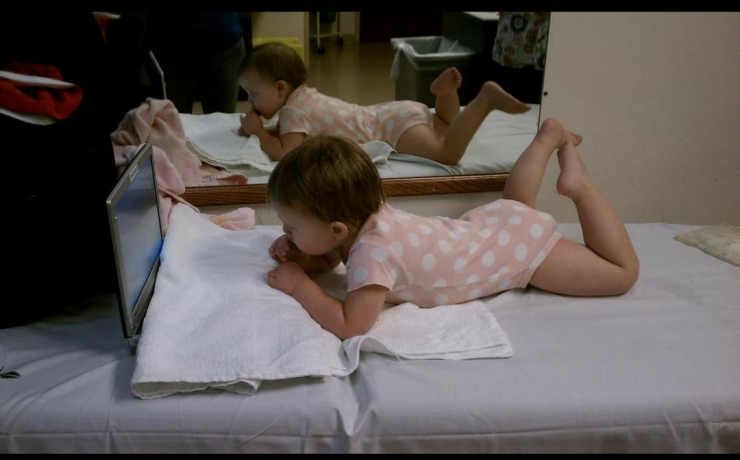 Her dad was still holding a real-life miracle in his hands. She was just a bit bigger this time.




Then came May 2019.

Payton had been acting strangely, and both her teacher and physical therapist noticed she was daydreaming and acting differently. Her once infrequent migraines were happening more often and getting worse, so the neurologist ran some tests and scheduled an MRI to check the pressure in her head - everything came back normal.




Then, out of the blue, it changed.
"One day that summer, Payton and her brother, Kylian, were playing out in front of our house with some neighbor kids," Kayla told us. "I stepped inside for a moment and I heard the kids yelling and a car honking. I looked through the front window to see Payton standing in the middle of the street, staring off into space."
"The other kids were trying to get her to move," Kayla said. "My heart stopped. I ran outside, scooped her up, and brought her inside. Payton never saw me. When Payton came to, she was extremely confused and threw up."


She was tested and the results showed that Payton had a very rare form of epilepsy called Jeavons Syndrome. She wasn't "daydreaming" as everyone suspected -- she was having hundreds of seizures a day, most of which were unnoticeable.




Kayla went to work, looking for any and all resources that could help her daughter. Eventually, someone in one of her Facebook groups suggested a service dog.
The biggest issue, though, was that because she was so young, insurance would not pay for the service dog or any of the training - and a lot of dog trainers are unable to work with children under 12. That is, until they found David at Guardian Service Dogs.




The family shared their story and what they needed, and he said he would love to work with them. There was just one problem. With all of the training needed to meet Payton's needs, it would cost almost $34,000, and that didn't include getting the puppy. How were they going to pay for this?
Multiple friends and even strangers stepped up to contribute. Numerous fundraisers were held and the word was spread about Payton and her hope for a service dog. The family was blown away and humbled by the kindness and generosity of so many.




Still, when all was said and done, they only had enough money to fund the first three months of the two-year training.
Thankfully, the unpredictability of life can be positive, too. Kayla and Kevin couldn't have known that they were about to be part of a community - a family - of people they had never met before. Chive Charities donors kicked things up a notch, and this time it wasn't out of the blue.
Our network of supporters ramped up the giving, leading to a total impact of $19,059.66. And, thanks to an incredibly generous 25% discount, Guardian Service Dogs helped us bring Payton's dream to life.
Payton was getting her service dog.




She thought long and hard about a name for her new companion, finally landing on one that represented the trainer / trainee relationship she was embarking on: Blue. Remember the velociraptor in Jurassic World? Yeah, just like that. (Payton's a big fan, so if you're reading this, Chris Pratt, give her a call).




The two of them are a match made in heaven. Blue started training when he was 12 weeks old, and while he's currently only one year into his training, he's already detecting seizures and has even caught her when she's lost her balance or fainted. Now, he's working on transitioning the seizure alerts to an emergency call device that could, quite literally, save her life.




Out of Blue came seizure detection, a sense of security, and hope for independence. Blue is the key to a brighter future and the answer to the unpredictability.
"Blue means a lot to me," Payton said. "He's my best friend and helps me with a lot of stuff. He makes me feel safe."
And now, because of donors like you, this budding stylist can pursue her dream of becoming a fashion designer, knowing that Blue is watching out for her safety and well-being. "I dream of dressing Blue up," she told us.
If that leads to another family photo like this one, we'll do everything we can to make sure it happens.




Like we said, life is full of uncertainties. Birth, illness, life and death. A girl and a dog who could save her. A call for help and donors who could answer it. Who knows what could come out of the blue. Who knows what could come out of Blue.
You could be part of the answer to a prayer, a plea for help sent out into the world. Payton's life is forever changed because of this gift. We don't know what tomorrow will bring, but we do know we have a community of supporters ready to step up and create life-changing impact. Become part of it with us. DONATE HERE.