The ornaments melted as the tree lit up in flames. Soon, the whole restaurant was engulfed in fire, threatening to reduce all of historic Downtown Columbia to ash for the third time in the last 150 years. Columbia Fire Protection District had no intention of letting that happen. They were the first to arrive at the scene. The team from Columbia Fire immediately grabbed a hydrant and started pumping water to the fire, trying to keep it from spreading to neighboring buildings. But the flames were too fierce.
The neighboring fire departments began arriving to help. Columbia Fire directed them to go behind building. The firefighters pulled a line to the back and started fighting the fire from behind, pushing the flames towards the front. This kept the fire isolated so it wouldn't spread to neighboring buildings. The strategy worked. The fire moved to the front, where Columbia Fire drowned it. They put out the fire and successfully saved Downtown Columbia. This is just one of many stories about Columbia Fire putting out fires, saving property, and saving lives.
Columbia Fire Protection District's origins date all the way back to 1849, when it was originally the Hook and Ladder Company. "We still have the oldest hand pumper in the state," Chief Brian Conroy boasts. They keep it on display at the local State Park. Once a year, they bring it out and try to set a record for the longest stream.
Columbia Fire is a small organization. Despite their district only covering 1 square mile of land, they actually service a 70-mile radius. They get about 500 calls a year, the majority of which are for medical aid. The rest of their calls are for fires. Much of their staff comes from the local Community College's Fire Academy. Chief Conroy says working at Columbia Fire is a "stepping stone" department. "If you've been here 2 years, you've been here too long." He uses his department to teach and train firefighters. The Chief explains, "Because of where we are located, they get a full spectrum of wildland fires, structure fires, and a plethora of medical aids. You need to get some experience and understand how to make things work with minimal equipment."
Columbia Fire operates on a shoestring budget of just $60,000 a year. Their firefighters only make $80 a month. "It just shows appreciation. Nothing more," Chief Conroy explains, who donates his $500-a-month salary back to his team. Columbia Fire has struggled to keep their life-saving equipment up to date with their budget constrictions. They are hurting financially and in desperate need of some relief.
Columbia Fire is the first to respond when people in their community are in need. Now it's our turn to come to their aid. Chive Charities is proud to announce that we are donating a $50,000 grant from the Chive Fund! Columbia Fire is in need of a new set of Jaws of Life right now. "We train on other ways to peel a roof off a car," Chief Conroy explains. "With other techniques, we can get into a car in 40-60 minutes. With the Jaws of Life, we can get the car open in just 20 minutes." That could be the difference of someone living or dying. We are excited to announce that part of the donation is going toward a new set of Jaws of Life! The rest of the donation will go to critical program expenses to allow Columbia Fire to keep saving lives.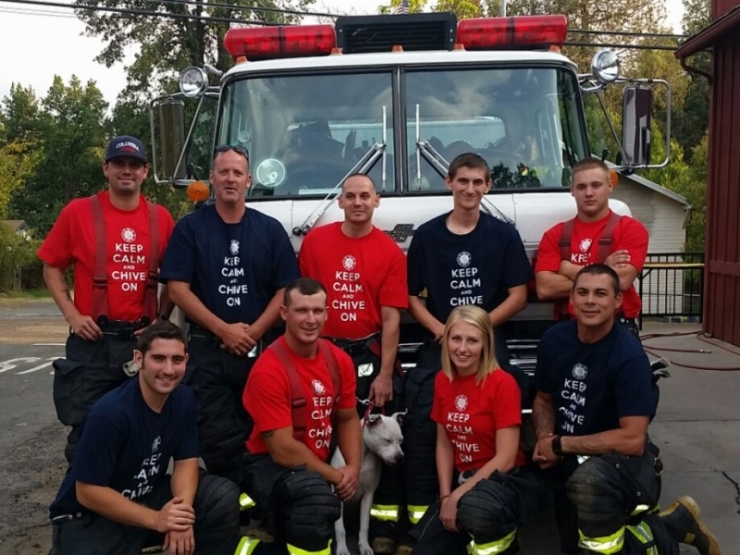 Meet the amazing firefighters of CFPD...
Columbia Fire has the oldest hand pumper in the state of California.
Here's a picture of the Columbia House Restaurant prior to the arson.
The fire would have caused much more damage if CFPD didn't arrive on the scene and fight the fire as bravely as they did.
Here's what the Jaws of Life look like in action. Columbia Fire will be able to quickly take apart cars involved in accidents to save lives. If you have a junk car you would like to donate for training purposes, find Columbia Fire's contact info at the end of this story.
At Chive Charities, our roots run deep in the firefighter community. One of our earliest flash charity campaigns was for the Moonachie Fire Department. That campaign laid the foundation for Chivers' obsession with crushing donation goals. It was one of the first times you obliterated a goal. Since then, this community has only gotten stronger.
We are proud to continue strengthening our charitable roots. The team at Columbia Fire is simultaneously training the firefighters of tomorrow while saving lives. "We try to prepare them," Chief Conroy is modest. Judging by their impressive ISO rating, it is obvious they are doing a phenomenal job. We are humbled to be able to make a small contribution to their immeasurable heroism. Thank you, Chivers, for your continued support of our first responders.
If you would like to make a direct donation to Columbia Fire, you may do so by mailing a check to:
Columbia Fire Protection District
ATTN: Brian Conroy
11328 Jackson St.
Columbia, CA 95310