Oh, hey there, Bruno Mars. Thanks for the inspo.
The first pic is our friend Charlie, and, song lyrics aside, you really can tell he's a charmer just by looking at him. There's not one photo without that megawatt smile. Not one. His parents are the same way – they radiate energy and a love so fierce I debated asking them to adopt me, too.
Charlie's family seems pretty typical on paper: parents are Sean and Jenni, big sisters are Savannah and Chloe, and all three kids were adopted.
Savannah got married not too long ago, and had a sweet little baby girl just last month.
I love how Jenni describes Charlie joining the family in 2001: "We adopted my little man from birth. We got to bring him right home from the hospital. He was so yummy and cute!"
But.
It didn't take long to realize Baby Charlie was struggling. "We started to notice something wasn't quite right when he wasn't hitting the proper milestones," Jenni explained. Rolling over, sitting up, you know the drill. Cue the doctor visits, tests, waiting, and wondering.
At nine months, a CAT scan revealed Charlie has schizencephaly, a rare brain disorder that causes physical and cognitive limitations, speech and language delays, epilepsy, and cerebral palsy. The scan also showed Charlie had suffered a stroke in-utero, likely in the first trimester, when brain development is kind of a big deal.
"Our little man had major brain damage," Jenni recalled. Doctors told them not to expect much from Charlie, that it was pretty hopeless. Obviously, they didn't know Jenni.
Man, I'll bet just going to the grocery store with this lady is fun – her spirit is mesmerizing. You get the sense she can accomplish anything she sets her mind to, and talking with her makes you want to run a marathon or climb a mountain or save the world. At the very least, you know she's a rockstar advocate for her boy.
"I don't know what people do who don't have fight in them – [with special needs kids,] you have to fight for every single thing," she said.
I asked Jenni what it's like caring for a child with Charlie's conditions.
"It's gotten much harder as he's gotten bigger," she said. We talked about how physically demanding it is to bathe and dress him, lift him in and out of the car, how expensive wheelchairs are, and how desperately Charlie wants to be independent like other 16-year-olds. There are so many things his body keeps him from doing on his own. Still, his disabilities don't come close to defining him.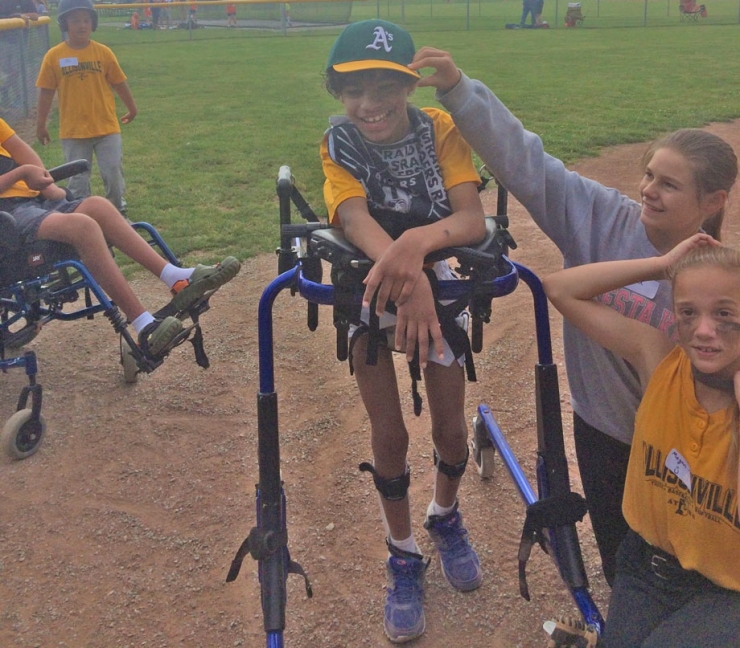 He loves sports, anything with a ball, Jenni said. He loves Raider football just like his dad.
Raider also happens to be Charlie's middle name.
Remember what I said about looking good on paper? You never know what'll come out in an interview, but this one, well, it did not disappoint. About three-quarters of the way through, I asked Jenni what she and Sean do for a living. He's a house painter and she's the music leader at their church. Seems reasonable.
Then, ever-so-casually, she mentioned they're in a rock band.
It's called The Jennerators.
So much made sense.
The awesome hats.
That energy.
And the music. Charlie looooooves music, especially classic rock. Sorry, B.Mars.
"He loves Kiss," Jenni laughed, especially "I Was Made for Loving You." Because, of course.
You can find Charlie jammin' out wherever there's a beat, family weddings especially, but he really loves going to his parents' shows. I would so love to see that.
Don't you love life more just by seeing him loving life?
It took a lot of convincing from a past Chive Charities recipient before Jenni would even apply for a grant. "It's always one fight after another. We've been kicked in the teeth so many times," she sighed. But mobility is becoming an issue just as fast as Charlie's growing, and even the smallest moments of independence are critical. Jenni finally asked for help, and we knew what we needed to do.
"There are times I get overwhelmed with our needs," Jenni said in a rare moment of gravity. "When somebody is giving you a hand out of a big pit, it's so hard to accept, but it's such a beautiful feeling to know people care." Chivers care, Hadden Family.
With the help of our Green Fund donors, Chive Charities granted Charlie's family $49,000 to keep them on the road and loving life. Think of all the groupies they can fit in there! Just kidding. As soon as Charlie gets back from summer camp, the Hadden family is hittin' the road for sunny California. I kind of wish we had given them an accessible VW bus instead, but the Town and Country was the obvious choice. It goes to 11.
Let's give more kids like Charlie the keys to independence. Click RIGHT HERE to become a monthly Green Fund donor and absolute rockstar.