Jolene Cartagenova was out of options. Her two sons, Vinicio (age 9) and Sebastian (age 4), each inherited a rare genetic condition called MCT8, or Allan-Herndon-Dudley syndrome, and both required the full-time use of a wheelchair.
Their dad, Marco, had spent years working 60+ hours each week to help the family make ends meet and fund the growing list of needs that insurance would not cover. Most days, Marco would drive straight from work to the hospital to see his kids.
Despite his best efforts - despite long hours and grueling work - they couldn't seem to save enough to cover all of the expenses and add a $60,000 ADA van to the mix.
So when the family's social worker mentioned Chive Charities and encouraged Jolene and Marco to apply for help, that's exactly what they did. Then, Jolene took to Facebook to share the news of their application and to plead for positive thoughts and good vibes that this prayer of theirs would be answered. Spoiler alert: it would be.
But what got them to that point?
Nearly a decade ago now, Jolene and Marco's oldest son, Vinicio, entered the world with the odds stacked against him. The family didn't even have a clear picture of what was going on - they just knew something was terribly wrong.
Vinny was born with a cleft throat, which made even the most basic functions like swallowing and eating nearly impossible for him. The little gap at the back of his throat led to a myriad of issues, and any food or liquid he ingested had the potential of bypassing his esophagus and going straight into his lungs. He could drown in his own saliva.

(Donate right here.)
For two years (TWO YEARS!), Vini was on the verge of death and diagnosed with failure to thrive.
"It was a constant battle to keep him alive," Jolene said. "We fed him with a syringe every single day, and we worked tirelessly to make sure he didn't lose the survival skill of eating by mouth."
More than once, Vinicio's outcome was so dire, the family planned his funeral arrangements.
He had so much stacked against him. First the cleft throat, then near-constant adrenal failure. It wasn't until he was approaching his sixth birthday that the family even learned that he had a genetic condition.
That's where his little brother, Sebastian, enters the story.
When Jolene found out she was pregnant, she and Marco decided to have Vinicio genetically tested. When the results came back, they were told Vini had MCT8, and that Jolene was a carrier for the genetic component. This disease is so rare, there are only 25 families worldwide known to have a loved one with the condition.
It occurs exclusively in males, so Jolene and Marco decided to find out the gender of their second child - and they were told it was a boy.
"Once we knew the gender, we decided to do prenatal testing," Jolene explained. "It wouldn't have changed how we progressed with the pregnancy, but we wanted to know what to expect."
"Those results showed that our second son also had MCT8, and because research shows a high infant mortality rate, we once again found ourselves planning a funeral for our child."
While they grappled with that news, Jolene and Marco tried to stay positive, focusing on caring for Vini and getting ready to welcome Sebastian.
"Everything was pretty normal until my last month of pregnancy," Jolene told us. "That's when things went downhill."
During Sebastian's birth, Jolene had a heart attack.
While a team frantically tried to keep her alive, Marco was pushed out of the room, sitting alone in a brightly-lit hallway while darkness threatened to envelop him.
All he could think about was planning another funeral. First Vinicio. Then Sebastian. Now Jolene.
Miraculously, she survived - just like her two young sons had before her.
In the days, weeks, and months that followed, Jolene and Marco did everything they could to heal and create some semblance of normalcy in their family.
They watched as Vini endured a life-saving throat surgery that initially set him back so far, it was like having a newborn again. Jolene was forced to quit her job working in corporate America to provide full-time care for her son, and while he eventually got a g-tube to help with nutrition, she was diligent about helping him maintain his ability to feed himself.
They watched as Vini overcame round after round of adrenal failure - so many that they were trained at providing emergency cortisol shots that would keep him alive until he could be transported to the hospital.
Then, they watched as Sebastian slowly began losing his motor skills and the ability to feed himself, demonstrating the same symptoms as his older brother. Unlike Vini, Sebastian was also diagnosed with clinical insomnia, seizures, and autism.
So much watching. So much waiting. So much fear, and anxiety, and rebounding, and hope.
Because it's not just about the tragedies and the heartaches. It's not just about the near-death experiences and the hospital visits and the 60-hour workweeks. It's about Vinicio - a 9-year-old boy who loves to dance, listen to his mom sing his favorite songs, and go skating at the local roller rink. It's about Sebastian - a 4-year-old boy who loves drumming, playing in the water, and jamming out to Queen and Linkin Park.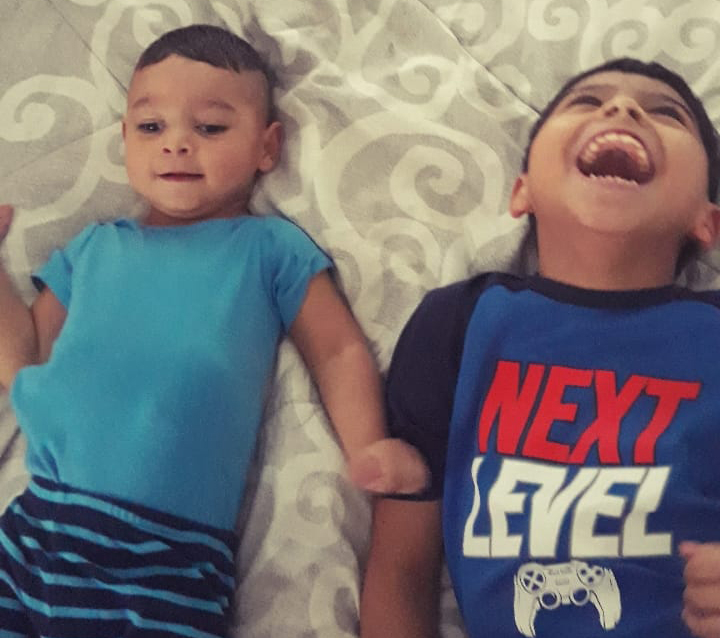 They've proven, time and time again, that they have a strength that's difficult to express. And at the end of the day, they're a small family just doing whatever they can - and whatever it takes - to be there for each other.
And sometimes, that means applying for help from an organization like Chive Charities. Sometimes, that means pleading with everyone you know on Facebook to send up a prayer, or cross your fingers, or send out all the good vibes you can muster to tip the scales of fate back in their direction.
And that's exactly what happened.
When Jolene shared her post about applying for a grant for a wheelchair-accessible van, a friend of a friend (of a friend) saw that post and was so moved, they decided to do something about it.
Well, not just something. Everything.
That anonymous person and their family saw what Jolene and Marco have been going through for the last 9 years or more and said, "That's enough. We'll take it from here." They reached out to our Chive Charities team and asked to fund the full cost of a new ADA van for Vinicio and Sebastian at a total impact of $68,570.

We surprised Jolene and Marco with the news just a few weeks ago, and let's just say they were in a state of shock.
It's not just about a van. It's about having everything you need to get your kids to doctor appointments, therapy, medical treatments, and a thousand other tasks that come with having two boys with an ultra-rare medical condition. It's about having the freedom and functionality to load them up and hit the road whenever you feel like it.
We take those things for granted. They won't.
When we asked where they want to go first, the response came quickly, "Cocoa Beach."
(Not quite Kokomo, but since that island doesn't actually exist anyway…close enough!)
At Chive Charities, we talk a lot about the power of community. And we do that because, like Jolene and Marco, we've seen what a committed group of people can do. It might seem like it's just about theCHIVE posts. It's just about photo galleries. It's just about telling the stories of veterans, military families, first responders, and rare medical individuals.
But you know that it's more than that.

It's really about the people who step in to change lives. For Jolene, Marco, Vinicio, and Sebastian, it was one anonymous donor. For nearly 500 Chive Charities recipients, it was donors like you. Every week, a family in need is asking for prayers, or crossed fingers, or all the good vibes you can muster. And by joining our donor family, you can help us answer them. Become a monthly subscriber and DONATE HERE.