Van, Lola, and Lulu are founding members of ChiveZoo, and anytime they stop by our office, it's pretty much Chivers Gone Wild up in here – in the most legal, HR-approved, we're-just-excited-to-see-the-puppers kind of way. Everyone's a little happier and the atmosphere is more relaxed, and the dogs enjoy the extra lovin', too. If you don't have canine visitors to your place of business, I highly recommend scheduling a puppy playdate STAT.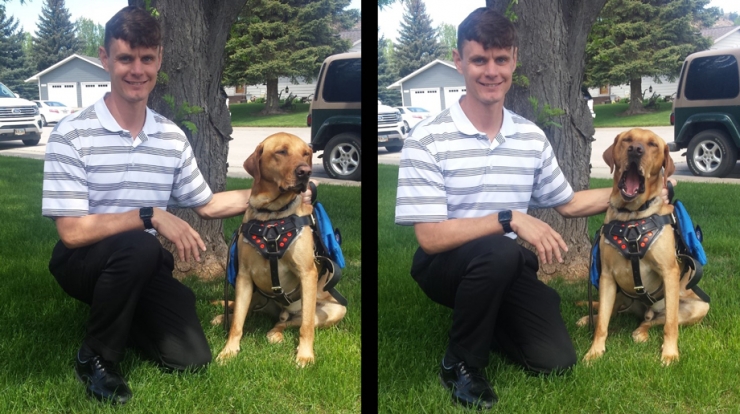 This is Elliot and his human Jon. They work for the South Dakota Department of Labor, helping other humans earn their degrees and get good jobs, and while their relationship is still pretty new, they're becoming quite the dynamic duo in their hometown of Spearfish.

"I wasn't sure I could handle a service dog," Jon admitted when we first met him. The National Guard veteran was diagnosed with multiple sclerosis (MS) in 2006, and almost immediately, his life took a drastic turn.

"My family went tubing one weekend in 2005, and I took some nasty spills, because, well, I wanted to have the record for going the fastest," he explained. A couple days later, Jon felt a tingling sensation in his right thigh, but didn't think much of it, assuming he pinched a nerve while tubing. But when the sensation didn't go away after a few months, Jon decided to get it checked out.

"The first thing the doctor suggested was MS," Jon said. "I was shocked." A spinal tap confirmed the diagnosis, and in a matter of months, Jon's health declined faster than his tubing record. He went from avid outdoorsman to relying on a cane for every step, and soon, depression rolled in like a fog.

It's not hard to understand why Jon struggled – his diagnosis forced him to leave the National Guard, his lifelong dream of being a highway patrolman was out the window, and the active life he loved was slipping away. He was only 24 years old.

"It took me a couple years to pull myself together," he said quietly. "But, slowly, I began to eat better. I rode an exercise bike for 30 seconds at a time, it was all I could do. After a few weeks, I had worked my way up to an hour. I started losing weight, which made it easier to walk, and found I needed the cane less and less."

Less and less, but Jon's balance was still an issue. He knew he couldn't rely on this bear for support all the time, so one day, he decided to look into a different kind of service animal.

After unsuccessful inquiries with the VA and a handful of service dog programs, Jon found Service Dogs for America, and eventually, he found Elliot.

They trained together for about a month before Jon brought Elliot back to his home in Spearfish, working mostly on balance and posture, but planning for the day when Elliot will do much more for Jon to ease the symptoms of MS still to come. Though he was initially worried about the commitment, Jon admits he had nothing to fear – Elliot's great at home and in public.

They go to the local brewery, out for bike rides, and, of course...

Elliot goes with Jon to work every day. Jon's staff at the Department of Labor were immediately smitten.

More importantly, they noticed Jon's posture improve right away. He can lean on Elliot for support when he needs it, and the handle helps with balance. As for Jon's state of mind, well, take a look for yourself.

Looks like it's going well.
Just this past weekend, Jon and Elliot road-tripped through Yellowstone National Park, something he wasn't sure he'd ever do again after his diagnosis. He's finding his new normal, with Elliot by his side every step of the way.

Service dogs like Elliot – office-atmosphere-improving, confidence-boosting, life-changing superheroes – are pretty expensive, but Chive Charities is on a mission to make sure veterans have the tools they need to live happy, healthy civilian lives after service. Thanks to a $10,000 grant made possible by our equally awesome monthly donors, Jon and Elliot can explore the outdoors and office-life together. We can't wait to see where they go next.

Whether or not you need to pet all the dogs, you have to admit mobility is pretty great. Lots more humans like Jon need service dogs like Elliot, and they need YOU to be the matchmaker. Give more veterans the freedom they deserve by becoming a Chive Charities monthly donor right HERE.