After Heidi and Jose's first son Jakob was born, they were very much on the edge. He had experienced birth difficulties and was later diagnosed with autism, so when they found out they were expecting another son, they were understandably anxious.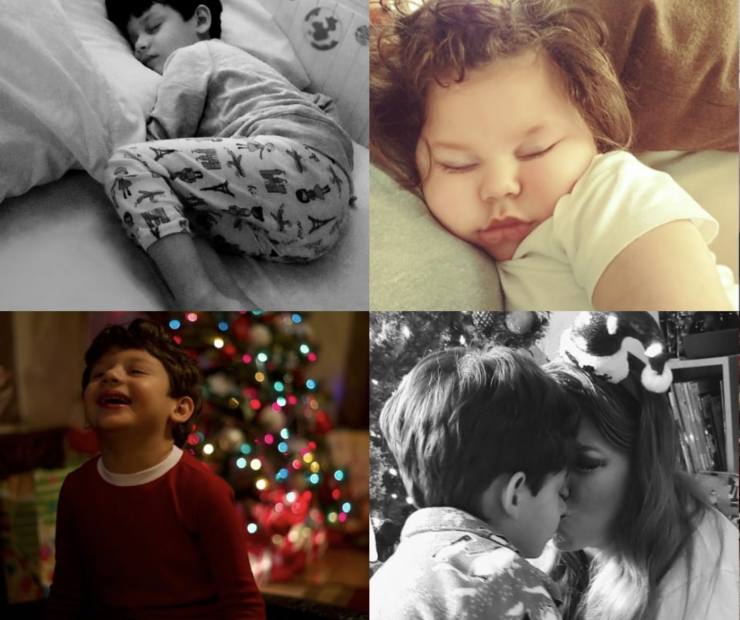 "We decided not to do genetic testing," Heidi explained, "But I still had a bad feeling."
Their baby, Danyel, was born right on time, and everything was going perfectly in the beginning. It wasn't until a routine checkup at the pediatrician that the bad feeling came back. The doctor was worried about Dany's small head size, and he later had an ultrasound and X-ray, which showed that something else was going on - they just weren't sure what.
"It was May and the hospital tried to schedule our follow-up for November," Heidi explained. "Our pediatrician heard that and said, 'November?! No way, let me talk to them.'"
Because of that advocacy, Heidi and Jose didn't lose valuable time. And that was critical, because it turned out that Danyel was experiencing seizures, about 25 or more each day. By his first birthday, he was diagnosed with Lennox-Gastaut syndrome, and while it was a piece of the puzzle, it wasn't the whole picture.
Eventually, that final piece clicked into place. Dany has a rare genetic condition known in the 12th chromosome as GRIN2B. Its main purpose is encoding a protein that forms a receptor, and that receptor is solely responsible for sending chemical messages to the brain.
For Dany, a rare mutation occurred that resulted in complex formation of his brain, causing microcephaly (small head size), pachygyria (broad and flat ridges in the brain) and polymicrogyria (too many brain folds that are too small). He also had silent aspiration, which led to g-tube feedings and both low muscle tone and muscle tightness in his entire body.
"That was a really hard time," Heidi told us quietly. "I had to get ahold of my mental health first, and trying to care for two kids with special needs was overwhelming. You're just grappling with all of this new information. You want to slow down to process it, to take it all in. But you're also managing full-time, round-the-clock care."
Then, another blow.
In June 2020, Dany developed acute pneumonia in both lungs and stopped responding. He spent two weeks in the hospital, standing on his own edge, precariously balanced between this side and the next.
"I kneeled beside him and begged him to come home, to stay with us," Heidi said. "And he did."
Dany was firmly planted back on the ground. Unshakable.
"After that, I became the most powerful woman," Heidi told us. "I knew there was nothing that I couldn't get through. My husband calls it 'poderosa' - powerful. And I am."
Heidi made it through her own valley, through the fear, doubt, and anxiety and came back out not just as a mom to two special needs sons, but as a caregiver, medical expert, advocate, and more.
"Whenever I feel a sense of doubt, I just stop and say, 'You've got this, Heidi.'"
That doesn't mean it's a walk in the park. Dany requires 24/7 care, so the family works closely with the complex care team at Christ Children's Hospital in Oaklawn, IL, and the pediatric neurology teams at Comer Children's Hospital in Chicago and Lutheran General Children's Hospital in Park Ridge.
Dany needs many medications, a specialized diet, and more equipment than we could list here. He's also part of an incredible organization called "Project Fire Buddies," a Chicago-area group of firefighters who offer support and give back to children fighting critical illnesses.
These first responder volunteers go all out to make the kids feel special, loading emergency vehicles full of donated goodies for a fire buddy like Dany and their family to enjoy. It helps, too, when a child with complex needs requires frequent medical transportation - it gives them some familiar faces to make things less scary.
Dany has been through a lot and he needs a lot. But as Heidi told us, she's gotten better at asking for help. It's part of her poderosa mentality, doing whatever she can for her sons.
"I always imagine Dany as being magical," she said. "He's like my magic. And that feel-good place you go to when things are hard - that's my Jakob and Dany."
Not long ago, Heidi was talking to Karina Villafuerte, her coordinator through the Chicago Epilepsy Foundation. "Jose and I voiced our concerns and daily obstacles we face with Dany's care, and Karina said, 'Have you heard of Chive Charities?'"
The family was in desperate need of a portable oxygen concentrator to limit Dany's hospital visits. With it, they could help manage his breathing and oxygen from home instead of taking him to the ER. And they were also hoping for a new car seat and high chair to make caring for him just a little easier.
Once Heidi found our website, she immediately applied, and through the support of Chive Charities monthly and one-time donors, we purchased all three items for the family for a total impact of $4,644. On top of that, DuroMax generously donated a new generator to Heidi and Jose to alleviate stress from power outages that could seriously impact his critical equipment.
"We are so, so grateful," Heidi told us. "I tell everyone I can about Chive Charities. I never want another parent to feel the emotional pain I went through in those early days. So if telling my story helps anyone and encourages them to reach out for help, I'm going to do it."
You've got this, Heidi. Poderosa.
We've all balanced precariously on the edge before, shouldering something that threatened to knock our feet out from under us and sending us tumbling over.
But for 10 years now, Chive Charities and our donors have been there on the other side, stretching out a hand to pull recipients back when they needed it most, just like Heidi, Jose, Dany and Jakob. The wind will continue to blow. But with your help, we'll remain unshakable. DONATE HERE.