So when I hear stories about young, perfectly healthy children getting sick…very sick, it upsets me. Because it's unfair, for the child, the family. A world of joy and discovery is suddenly replaced with despair.
Family members of the suddenly-sick sometimes describe the phenomenon as "coming to the edge of all light." Suddenly you are forced to step into the complete unknown, into the darkness, and hope there is something solid to stand on.

Dior was a healthy, growing 6-year-old. She was active in gymnastics, cheerleading, and ballet. She spent her spare time in the living room making up new cheers and dance routines.

Dior fell ill in April of 2016. After three days, doctors diagnosed her with walking pneumonia; she was prescribed antibiotics and sent home. The next day, Dior wasn't getting any better and her mother recalled waking her up for breakfast one morning. "Dior complained she couldn't feel her legs, she rolled out of bed and sort of… flopped on the floor. She was crying, 'Mommy I can't… I can't.'"
Mom called 911. Within hours her vitals were so bad she was on a CPAP machine and intubated. It happened so fast – mom was put in a waiting room while doctors scrambled to find a diagnosis.
A few of the longest hours later, doctors told mom Dior had Guillain-Barre Syndrome. It's a rare condition where the body's immune system becomes confused and attacks the central nervous system.
It had been a bad two days. Both Dior's lungs were collapsed, she was put on a breathing machine, endured blood transfusions, plasmapheresis, a tracheostomy. She would now require a wheelchair and couldn't hold her head up without assistance.
Dior spent her 6th birthday in intensive care.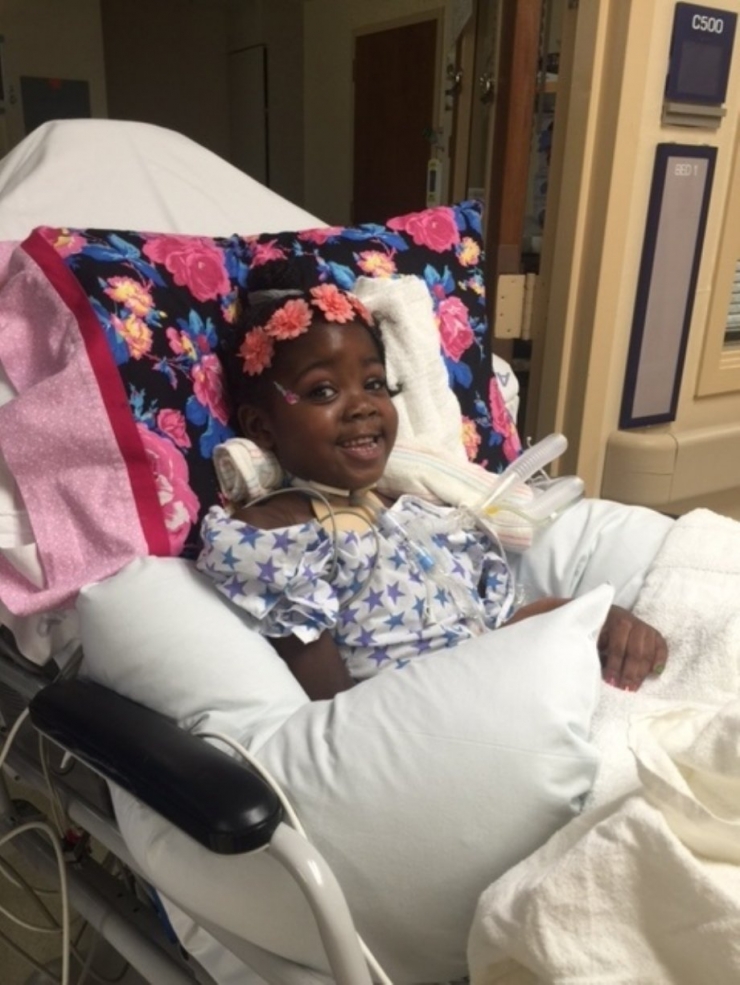 Three months later, Dior was released from the hospital. You're all probably wondering about her prognosis? The truth is, nobody really knows. There are some children with Guillain-Barre who make a full recovery, some who don't – it's a true medical conundrum. Some patients recover in two months, some two years. Dior is one year in and has made very little progress.

The "new normal" is a previously unfamiliar situation that has become the standard. For Dior, her new normal was a previously safe home that transformed into a health hazard overnight.
Last week, I traveled to Tampa to see Dior's situation for myself, see how we could help.

Ahead of my visit, Chive Charities Green Ribbon donors had given the family a brand new BraunAbility ADA-accessible van. Dior was finally able to go back to school, her most favorite place, and now she had some wheels.

Dior is a bright child. Cognitively, she's smart as a whip. Dior carries herself with the same positive energy as a growing child but also with the wisdom one inherits by having to grow up far too early.

Looking after a sick child is the Olympics of parenting. It requires round-the-clock attention and care. Dior's mother Candace makes it look effortless. She's a 3rd grade teacher and a single full-time mother of two. She lights up every time she talks about Dior and her one year old daughter Chace.

I don't wanna brag, but Chace really warmed up to me. I'm basically her favorite.

We took a tour of Dior's house to see where Chive Nation could be of assistance.
Before she got sick, Dior's carpeted home was just fine. But now, carpet poses problems for her health and mobility.
The humid Tampa summers and thick carpet create a breeding ground for mold and dust. Dior's respiratory issues are exacerbated, and it's hard for Dior to get around in her wheelchair.

Dior showed me her bedroom.

What was once a perfect kid's bedroom is now a de facto hospital room, and a very small one at that.

Dior can't navigate her room efficiently, and there are holes in the drywall scattered throughout the house.

Queen D and Princess Resig.

If the bedroom is tiny, the bathroom is a shoebox. It's so small, Dior is unable to make a u-turn inside it…

(For scale, she can make a u-turn in her new van. Being able to turn completely around in a room is the litmus test for wheelchair-bound persons.)

Tubes for her suction machine hang listlessly in the shower. Aside from the potential sanitation problems posed by this, it takes Dior over 30 minutes to bathe each day, a process that could be cut in half with an ADA-accessible shower and bath.

The health hazards at Dior's home have a cumulative effect, adding up over time and causing further complications. But we have a chance to change her narrative. A year has passed with little progress, and yet doctors remain hopeful she can make a full recovery. I believe we can influence Dior's recovery with these changes. I also believe that anybody who donates to her GoFundMe will smile with pride when they see Dior take her first steps again.
So whether or not you donate $5 or $20, thank you.

On the heat map of problems, the carpeting and bathroom of the home are a priority. We have contractors ready to roll on this as soon as we give the go-ahead. We're setting the goal at $20,000 for new wood flooring and a complete renovation of Dior's bathroom. When we told Candace about all this, she exclaimed, "That seems like too much generosity"
I looked around at theCHIVE chapter admins who joined me – they had a knowing smile on their faces. I replied, "You're about to get a front row seat to too much generosity. Just know you deserve every penny coming your way."

A special thank you to all our Green Members; with every flash campaign you lead by example. Candace and Dior wouldn't stop talking about how their new van has changed their lives. Join the small group of heroes in our Green Fund changing lives every day right here!
The day after I left, I found out the family's air conditioning unit went out. We sent a contractor out to the home today, because with the Tampa forecast predicting temperatures in the high 70s this week, we are only weeks away from the onset of another humid spring.
Donate to Dior right here and let's change a life in the nick of time!
KCCO,
John
PS – I'll be updating this post as the totals rise. Enjoy Dior's episode of 10% Happier below!
PPS – Thanks to Tampa photog Edward Linsmier for helping capture Dior's amazing spirit & BraunAbility for making the world more accessible for Dior.

PPPS – Well done, you guys. This is truly the greatest community in the world.