If you had the choice to know your future, would you want to see it? In this unpredictable whirlwind of an existence each one of us live, a hint of what's to come would be nice, right? If you're like our recipient Blain, though, there's nothing that could prepare you for this kind of happiness.
Blain is a family man - his wife and baby daughter are his whole world. But if you had shown him his future 10 years ago, he would have never believed that this could all be his. In fact, a little over a decade ago is when Blain was beginning to lose hope.
He had just graduated high school, but was dealing with something a little more intense than packing up for college: he was recovering from experimental brain surgery. Blain was desperate for answers to his mysterious diagnosis that was causing him to regress physically more and more each year since kindergarten.
It started around the time he lost his six month old little brother. Blain's kindergarten teacher noticed that he wasn't keeping up as easily as before at recess. He was stumbling often as well as stuttering when he spoke. The death of his brother had deeply affected him, but these physical symptoms weren't the result of grief.
If not grief, then what? Doctors were just as boggled as Blain and his family were. A couple different diagnoses were thrown around, and once Blain was left in a wheelchair due to his muscular deterioration, the consensus was Junior Parkinson's. By high school, though, it was clear that Parkinson's wasn't to blame here, so, as Blain began a new chapter of his life, he accepted a new diagnosis: Dystonia.
Blain had dreams when he graduated, just like any other teenager. He worked hard to make perfect grades in high school so that he could have a career, a chance at love, a family someday. We already know that he got all that and more, but as Blain was recovering from "Deep Brain Stimulation" surgery, a.k.a. a pacemaker for his brain, there was no improvement. He felt those dreams slip away.
Well, here he is at his wedding. After the surgery ended up being a flop, he was forced to pursue other options. He may have a useless hunk of metal in his brain (and be, as he calls himself, "half robot") but that failed pacemaker led him to pursue even more testing, which FINALLY got him the diagnosis that actually makes any difference: Blain has the rare
genetic disorder Neurodegeneration with Brain Iron Accumulation.
Once he knew what he was dealing with, Blain could finally begin to heal. By 2008, he was feeling well enough to pursue his dream of continuing his education. It was there, at American River College, that he would find what he had always been looking for.
Blain met the love of his life, Laura, and she asked him out before he got the chance to make a move ("or "stole his thunder" as Blain says). He graduated from college at the top of class, and earlier this year he and Laura had their daughter, Shiela. Blain's life is finally completely fulfilled.
Well, almost. We mentioned that Blain is a family man, but he aims to be super-dad. And that means he's going to need some wheels.
Blain uses a wheelchair because of the deterioration of his muscles. This same deterioration is what makes it really difficult for him to speak vocally. But Blain wants to be able to drive his family to doctor's appointments, play-dates, and snack runs. So he had to get a little creative.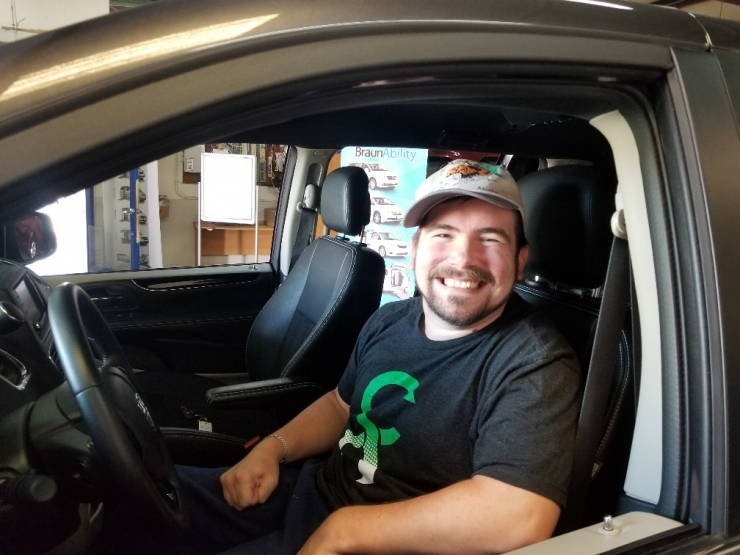 Nothing has ever stopped him before, and some pesky gas pedals weren't about to stand in his way here either. Blain reached out to Chive Charities for help, and we said,"if you've got the will, we've got the way."
Blain is now riding in style and driving himself in a $47,000 tricked-out, wheelchair-accessible van that features a push-to-start ignition. Blain is the only person with his diagnosis that he knows of who is able to drive. Not only that, he's also the only recipient we have EVER given a van to who plans to drive it for themself! And he is loving every minute of it.
To those of you who donate to Chive Charities: you are the reason that Blain is happier than he has ever been. You created part of the future that he never dared to dream of. The impossible is possible because of your donations.
To those who haven't donated yet: there are so many more incredible humans who we want to help, and your donation, no matter how big or small, is essential for making it happen.We've passed some milestones lately, but the need is still so great. The impossible is happening every day at Chive Charities, and we want you along for the ride with us (Blain's driving, there's plenty of room). Get started today right HERE!