When Raylan's mom found out at 20 weeks pregnant that her son has Alobar Holoprosencephaly, she was shocked. While most parents would be decorating a nursery and happily awaiting bringing home their baby, Raylan's parents were told by doctors to start preparing his funeral and death care plan.
The stats for children with Alobar Holoprosencephaly (HPE), a very rare brain malformation, are incredibly grim. With only 3% of diagnosed children making it to birth and 1% making it past 6 months, doctors prepared Raylan's family for the worst. But they fought for their son, choosing faith over statistics. Today at 7 years old, it's safe to say Raylan is truly a miracle.
This miracle wouldn't be possible, though, without Raylan's and his family's hard work. Everyone in this family works double-duty. Raylan's dad works part-time as a law enforcement officer, after serving a solid 10 years, but has an excavation business (his "passion project) on the side.
Raylan's mom works two jobs as well, as both a stay-at-home mom to three girls and Raylan, and as their homeschool teacher. His sisters are not just siblings; they take care of Raylan too, playing a role in his unbelievable success. But it isn't always easy.
Behind this infectious smile, a storm lurks. Raylan has Cerebral Palsy with spasticity and is nonverbal as a result of the HPE. Since he has no head, neck, or trunk control, little Raylan needs all the help he can get.Raylan's older sisters are always there for him. He loves to play with them, and they love to comfort him when he is upset and include him in all their activities like swimming. He hates to be left out! Sometimes he needs extra attention, especially when he goes through something called "storming".
Raylan is easily overstimulated. When this happens, he begins shaking all over and screaming, he gets sweaty and his blood pressure spikes. Having to see their son in such pain is terrifying for Raylan's parents, but they are always on duty, ready to step into action. By finding a quiet spot and holding him in a tight ball, Raylan's sisters or parents can embrace him in a tight hug to ease his overworked muscles and calm him down.
While it's been a tough journey, full of surgeries and worry, it is more than worth it to see this tough little guy keep on succeeding. Raylan's smile is one in a million, in the truest sense.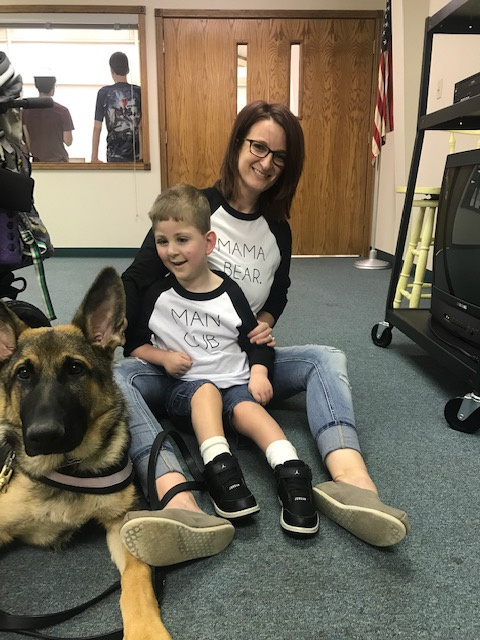 Even dogs work double duty in this family. This snuggly German Shepherd, Hulk, is more than a cuddle buddy; he is trained to let someone know when Raylan is choking or if he starts storming. They are the best of friends, and go everywhere together. Hulk is an integral part of Raylan's success in beating the odds of HPE.
Even though Raylan has to use a wheelchair, you can find him speeding by at a 5k or a marathon with his running partner on any given weekend. He's got the need for speed and has a blast running with his buddy. These two have a close bond and have been running together for years. She is just one of many people on Team Raylan, pushing him (literally) towards success and happiness.
His runner must have legs of steel, because Raylan's wheelchair weighs a hefty 72 pounds, not including his own weight. Not surprisingly, getting Raylan and his wheelchair into the family Suburban is getting to be nearly impossible!
As you can imagine, Raylan was desperately in need of some new wheels. His mom could barely get him to and from critical doctor's visits, creating anxiety and stress for the entire family. It was getting to the point that his mom would rather stay at home than go out to do anything because of the struggle to get Raylan in and out of the vehicle. Well, Raylan isn't one to stay still!
And that's why Chive Charities exists. No one should feel trapped in their home, especially a family who has fought so hard for their miracle child's life. Because of our selfless donors (which you can become by the way), we were able to provide Raylan and his family with a $46,000 Wheelchair-accessible Dodge Ram Caravan.
This van isn't just a car; it represents freedom, victory over the odds, the fruit of this family's years of labor. Chive Charities was able to give this incredibly deserving recipient an easier way to live a life that is already full of challenges. Raylan's journey may have some bumps along the way, but he is driving right past them; and now he's doing it in style.
Raylan and his family have put in the work to change their lives. If you've been inspired to put in some work, too, consider becoming a Chive Charities donor! Without our donors, Raylan wouldn't be able to get to the doctor safely. Just $10 can make a huge impact for someone in need.
Donate to make a life-changing impact on the next Raylan RIGHT HERE