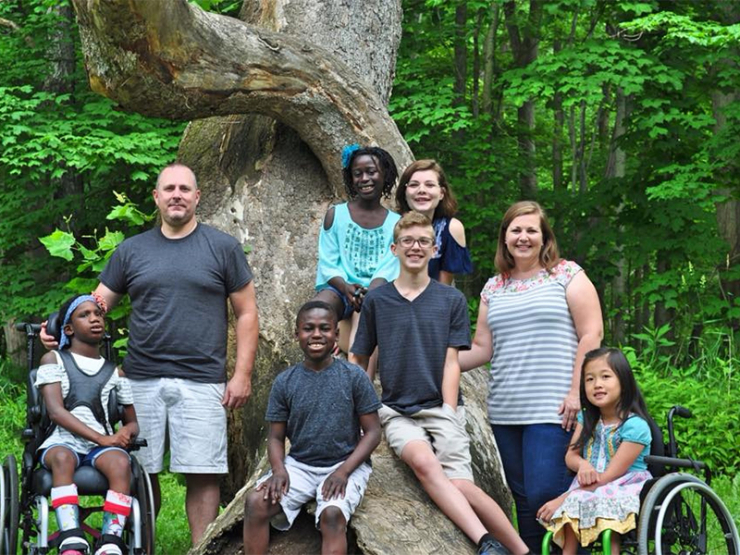 If you keep up with Chive Charities, you know that we usually choose to begin these stories at the most natural starting point: when the recipient got sick, when the Veteran lost her best friend overseas, when the First Responder received that life-changing call. The beginning. There is a sense of intrigue in a chronological narrative, a natural flow that pulls the reader forward, begging the question "what's next?" In life, though, we have no choice but to let our narratives progress chronologically (since no one has figured out time travel yet). Wouldn't it be comforting if, for once, we could see the ending of our narrative, the results of our choices, before we reach the final page?
Let's take a look at the story of our latest recipients, Eve and Josie Wolfenbarger, and begin at their happy ending. This is Eve & Josie's family after Chive Charities said "YES!" to their grant request of a full-size wheelchair-accessible van. This is also Eve and Josie's forever family after the two girls' adoptive parents said "YES!" to them.
Josie was living in an orphanage in China while also dealing with a tumor in her spinal cord and an unknown prognosis. When Josie's face came up on an adoption website on Eric and Jenni Wolfenbarger's computer screen, the couple knew they had to go to China and bring her back. Without knowing the ending, they chose to begin a new chapter of their lives.
Eve was living in Ghana in an orphanage for medically complicated children who were essentially cast to the side of society. Unlike Joy and Kofi, Eric and Jenni's other two children who were adopted from Ghana, Eve wasn't given much opportunity to be seen by potential parents. In fact, she had been mostly abandoned in a crib for two years. She showed signs of cerebral palsy, which explained her lack of speech and movement. That didn't explain her life-threatening seizures, though.
Eric and Jenni again felt called to this little girl when they learned about her situation. They hopped on a plane back to Ghana and brought her home, spending the following year working with doctors to finally discover that Eve has multiple rare genetic variances.
The future began to look darker after this reality came to light. Like so many parents of children with extremely rare medical conditions know, the road after diagnosis is turbulent. The Wolfenbarger's, though, didn't say "no, we can't do it." They said "Yes, Eve, we chose you, and we choose you every day."
Both Josie and Eve rely on wheelchairs to get around, but with the support of their parents, their adopted siblings, and Branch, the family chinchilla, the girls are thriving. Josie has learned how to dance using her chair with an awesome group of dancers:
Eve has found medication that helps with her seizures and is doing so much better physically and emotionally than she was at the orphanage. Her favorite ASL sign means "cuddle," and Branch the chinchilla is her favorite cuddle partner.
While the Wolfenbarger family is making huge strides, there was one bigger thing standing in their way: the 13-year-old van they relied on to get to doctor's appointments and dance recitals was leaking gas, losing exhaust pipes, and leaving the family stranded when it broke down. Even when the van was semi-functional, the family of 8 couldn't all fit in the car at the same time.
You know how this story ends, because we told you. But the Wolfenbarger's didn't know that Chive Charities donors would be able to make their dreams come true by purchasing them a $58,000 2019 Ford Full Sized Passenger 350 XLT from AMS Vans. Our mission is to say yes to individuals and families who have heard "no" so many times before. People with rare medical conditions have come to expect disappointment, as they don't have as many places to turn for help as someone with a more well-known condition does. Recipients tell us all the time that they didn't expect us to be able to help them. They figured the door would be shut in their face, as it was many times before.
Josie and Eve watched so many doors close before finally one was opened and they saw their new parents standing steadfast in the frame. The Wolfenbargers are the most beautiful example of the happiness, fulfillment, and love that are able to flow from the moment you say YES.
If we could all start every story at the end, we all might be more likely to say yes to risks in life. It takes a lot of strength to begin something when the end could make or break you. From Josie and Eve and all the Wolfenbarger's, we can learn that there is so much reward in the risk.
Today, we want to challenge you to say yes. Say yes to that conviction that nips at your heart each time you read a story like Eve's and Josie's. Say, even amid times of turmoil and uncertainty, that you vow to help Underdogs like these precious girls. Say yes to being a Chive Charities donor, and see for yourself what gives us and our fellow donors the fire to keep believing in, and helping to create, a better world. Say YES to 10% happier right HERE!