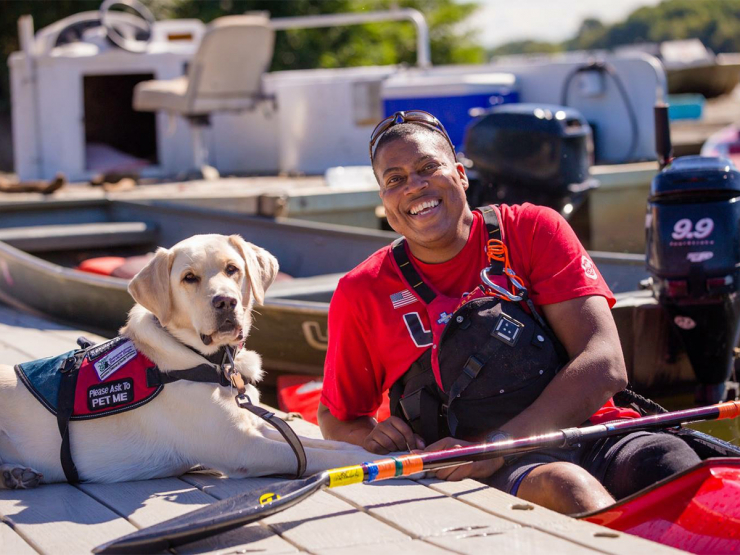 Brandon's oars slice through the water like a knife through jello. In his kayak, he glides effortlessly; on land, things are a little tougher. Brandon is an ex-police officer and amputee who lost his leg due to complications from his lifelong struggle with Systemic Lupus.
This hasn't kept him from kayaking, canoeing, running, biking, martial-artsing, rock-climbing, and general superhero-ing, of course.
When Brandon was diagnosed as a child with Systemic Lupus, he wasn't expected to ever play sports or even walk. "Fine by me," young Brandon thought, "I don't want to walk. I want to run."
So he ran in the direction of his dreams, which led him to the Army. In college, he enrolled in the school's ROTC program with the hopes of becoming an officer. His body had other plans for him, however, and he was forced to accept a medical discharge as he faced complications from Lupus along with multiple heart attacks.
But one door closing means another one is opening. Brandon has always known one thing for sure: he wants to serve his community and make an impact on the world. He wanted to make some waves. Undeterred by his conditions and struggles, he decided to join the police force. But just when everything was coming together, it fell apart again.
This time is wasn't just his body seeking to bring him down; he suffered an injury in the line of duty, which was only exacerbated by having Lupus. These two forces did everything they could to knock Brandon down, but as soon as he healed from the amputation, you can bet he got right back up!
Just like most heroes, Brandon needed support if he wanted to start making waves in his community again.
Since Brandon recognized that playing sports reminded him of how powerful and capable he truly is, he wanted to share that confidence with other athletes like himself. That's why he founded the nonprofit Athlete with disAbilities Network Northeast. As an amputee with a chronic condition, Brandon was presented with an opportunity to inspire and influence an entire demographic that he might not have had access to otherwise.
That demographic, coincidentally, includes (just to name a few insane accomplishments) former first responder, Paralympian, and Chive Charities board member Charles Swearingen.
Charles knows more than anyone that the empowerment sports and competition provides is invaluable. "As a Paralympian, or a para-athlete at any level, all you want is to go out there and compete, to feel human..." Charles told me. "For Brandon to be able to give back like he's doing..that's pretty powerful, and it speaks volumes about what he can accomplish."
While his non-profit is beneficial for others as well as himself, sometimes Brandon just needs a loving paw to hold. His previous service dog, Dyson has been more than happy to be there for Brandon all these years. In fact, Dyson saved Brandon's life not once, not twice, but three times by performing the actions he was trained for when Brandon was going through an adrenal crisis.
Can dogs be canonized? Because Dyson should be the Patron Pup of Good Boys.
All Good Boys turn into Old Boys someday, though, and Dyson is no exception. He served honorably, and now that he's slowing down and becoming startled by loud noises, it's time for Dyson to retire. And that's where we come in:
Chivers, meet Valor. The latest addition to Brandon's family is more than just an adorable dog (although he is most certainly that). Valor is being trained to save Brandon's life and support him at every turn. But that's not all. Valor will be living up to his name by taking on a second job.
Just like dad, Valor feels called to serve. He will be helping Brandon get back to work as a K9 handler while he uses his sniffer to save lives as a bomb-sniffing dog.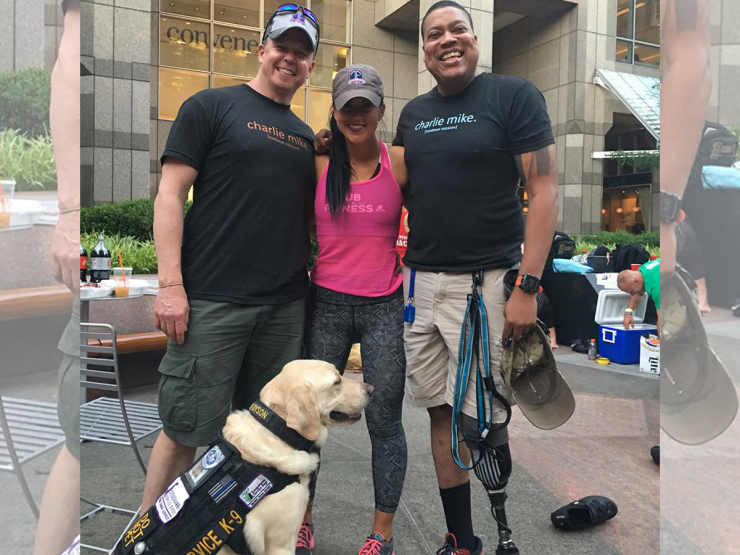 Brandon could have asked for so many things, and we probably would have gone to hell and back to make it happen for him. All he wants, though, is to be able to serve again, and he knows he needs a trusty furry friend by his side. You amazing donors funded $10,000 for an Explosive Certification SetKit, Detection Handler Course & Detection Dog Trainer Course, and an MKT Dog Vest for Valor.
This is the ripple effect in glorious action. Your donations haven't just helped Brandon; a donation with Chive Charities has the potential to change the world in ways you can't even imagine. Brandon and his dog will literally be saving lives, and YOUR DONATIONS helped make that happen!
A donation might feel like a drop in the bucket, but the ripples caused by that drop spread farther than you would guess. When a community comes together to take action, those ripples turn into waves. Start making waves with a monthly donation to Chive Charities HERE!