Joanne Williams had been an educator of special needs kids for 14 years. She'd heard it before, though she never quite understood people's compulsion to actually say it. Strong people don't put others down — they lift them up. Joanne Williams 'Miss Jo' walked away from the man. Take the high road and find a way to continue helping the kids. Find a way.
I had heard of the Tulsa Special Kids Learning Center since it moved into its current location in 2012. The specialized day care was the only of its kind in Tulsa, helping children with disabilities, both physical and mental as well as children with autism, behavioral issues, spina bifida, and more. Every morning parents from Tulsa have a place to drop their children off in a safe, nurturing environment.
Since 2012, I searched my email for "Tulsa Day Care" and the name appeared in my inbox no less than a dozen times from multiple sources. It always amazes me how theCHIVE community triangulates those most in need. It was time. Angie and I were going to Tulsa.
When you enter, a framed picture greets you. It reads, "The essence of childhood, of course, is play."
I walked in and met Miss Jo for the first time. Talking to her is a lot like talking to Cinderella's Fairy Godmother.
It was nap time for the toddlers. The teachers were changing the kids' diapers, singing lullabies as they worked. You get an immediate sense that the people who work here are personally committed to these kids.
I noticed the shelves and drawers were filled with toys, diapers, formula, books…
… and even spare shoes. Miss Jo explained they had run out of shelf space throughout the day care. There wasn't a nook or cranny that didn't serve a purpose.
When I looked out the window, I saw one of the reasons we'd come here. It had much to do with the framed photo at the entrance: the toddlers' playground.
One of the children, Chance, brought me outside to show me around.
"Mr. John, I want show you Onimus Time. He lost his wheels."
"Oh yeah?"
"Yeah, I tried to find the wheels but Onimus lost them."
For kids with autism, taking apart toys is considered play. It's natural. Many toys, like Optimus, had missing pieces. The day care was having difficulty replacing the toys at the rate they were being taken apart.
Back inside, I met Sebastian and asked him what he liked most about the day care.
"I like the iPad but we only have one and we have to share," he said. "We used to have a computer. I'll show you."
The computer was a fossil now — broken down and gathering dust.
So Sebastian and I threw it away.
This job is not always easy. Sometimes kids with autism, like Isaiah, experience sensory overload. These are stressful moments for the child but Laura has a behavior management plan to usher them through these tough times and ease their anxiety.
Laura's husband comes in to cook lunch for the kids everyday. It's really a family operation.
Also, the tacos are amazing.
After lunch, we ventured out into the main playground behind the day care. It was… sparse.
The outdoor shelving had rusted over and was no longer able to store toys.
At the swing set I met Jeremiah and his mother, Tinesha. Jeremiah had been diagnosed with Cerebral Palsy. He was not expected to live past three years old. He just turned nine, defying all the odds.
He smiled and laughed constantly.
Everyday, Jeremiah wants to be walked out to the swingset. He knows he can't swing but his mother recalled a time when he got to swing in a special ADA-accessible full-support swing. "Jeremiah was so happy that day. I think he likes to sit here and remember. There's still one working swing and he loves watching people swing, he's happy for them. Go ahead, swing and he'll show you."
So I did.
Jeremiah cheered and laughed, delighted and encouraging me to swing higher!
If we do one thing today, we must get Jeremiah his full-support swing, so that he can finally join his friends.
When your funding gets cut and cut again, you must prioritize. Sadly, it's the toys and playground equipment that often get the short end of the stick. Still, the shortage of playground equipment doesn't stop them. These kids are resourceful.
Last year, the children wanted a slide so bad they put one on a dirt mound. In the absence of necessary equipment, the kids will get creative. They will find a way to play.
The kids had even pitched in to design their dream playground.
The Oklahoma Chive Chapter arrived to say hello. After a local news station did a story on the dire situation, the OK Chivers pitched in to create an acoustic therapy addition to the playground.
The kids love interacting with the outdoor bells and chimes. But sadly, only the Oklahoma Chivers showed up after the news story. So much more work needs to be done.
We were going to need a bigger megaphone. The calvary was on the way from unexpected places.
"Right now, it's $50,000"
"And that would cover the new playground? But you said they needed updated shelving, electronics, things like that?"
"Right."
"So why don't we double the goal? I'll throw my hat in the ring. For every individual who creates an individual profile on the Kids Care page (within the main donation page) and raises more than $500, they will be entered in a pool. If the Chivers hit $100,000 on top of the $25k Chive Charities donated, we'll draw a winner and fly them out to New York with you and Bob and we'll go to the High Line Park. The winner can ask me about anything, even 'Death to Smootchy.' I'll give you guys tickets to my theatre, Signature Theatre, for a show that night."
Edward Norton is good people. You can donate any amount directly to the campaign or create your own page to raise $500 and qualify to fly with us to the Big Apple right here! (And you better believe you're going out after the show with me and Bob to McSorley's Old Ale House for many beers.)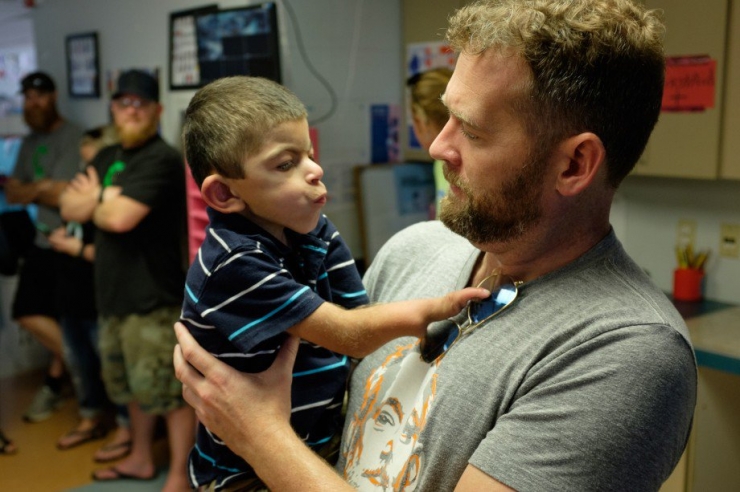 And finally, Charles.
Charles showed up later that afternoon. Immediately, he hugged me and reached out for my sunglasses. I noticed his right hand had an extreme deformity.
Charles was born with Cornelia de Lange syndrome, or CDLS. I noticed his other arm had no hand at all. "If you don't mind me asking, what happened?"
Miss Jo told me this was due to Charles' CDLS. Everyday Charles makes new advancements thanks to his mother and Miss Jo, "Charles is discovering new toys and we're seeing progress everyday. Despite his setbacks, he never stops smiling."
After that, I needed a moment to myself to collect my thoughts.
The hardest part is finding strong, capable daycare teachers. You would think it shouldn't be hard to fund a capable structure around such rare talent.
With local governments barely able to fund 'normal' day cares, special needs kids often take a back seat. It wouldn't take much more to make them better, a couple new wheels is all.
We must look at the stark reality of what might happen if we don't act. A day care no longer filled with the laughter of children and the bustle of tiny feet. An empty day care, long forgotten by time, where children once learned and played…
"Somebody said to me. "You know, your kids really aren't that important to people."
Or just maybe, these forgotten kids are the most important.
$50,000 will get these kids the playground equipment they so badly need. If that is all we raise I will be proud of that. The essence of childhood, of course, is play. But if we go bigger, we can get this special place the help it really needs. New shelving, new computers and electronics, a new sensory room, a new beginning. And collectively we would send a message that, as citizens, we believe these kids are just as important as any other child. We can begin to wake America up to that which can no longer be swept under the rug.
The goal is set at $100,000 and you can donate RIGHT HERE!
As we speak the Oklahoma Chivers have joined the children and staff at the Special Kids Day Care. The Tulsa local news is also standing by, all eager to see if the Chivers will finish a job they championed long ago.
I believe you will. Please upvote and share this story to get the word out. Chivers, let's do this.
KCCO,
John n' Leo
*If you do one thing today (besides donate to Tulsa) take a moment to explore Chive Charities and the Green Ribbon Fund. They donated the first $25,000 to lead the way. First in, always. Thank you.
Grab a box of tissues and watch today's premiere of 10% Happier: Saving the Tulsa Special Kids Day Care below!