"Are you doing anything special for the 4th?"
Isn't it funny how most Americans look at Independence Day as more of a date on the calendar than what it truly represents?
According to most sources, there are anywhere from 1.3 to 1.4 million people serving in the U.S. armed forces, with another 800,000 in reserve. That's over 2 million Americans that are working to protect the freedoms most of us take for granted. But who is protecting and looking out for the wellbeing of the families and children of the heroes that protect us every day?
Military Child Education Coalition (MCEC) is a nonprofit that seeks to do just that. MCEC works to ensure inclusive, quality educational opportunities for all military-connected children affected by mobility, transition, deployments and family separation. Their endgame is to make sure every military-connected child is college, workforce, and life-ready.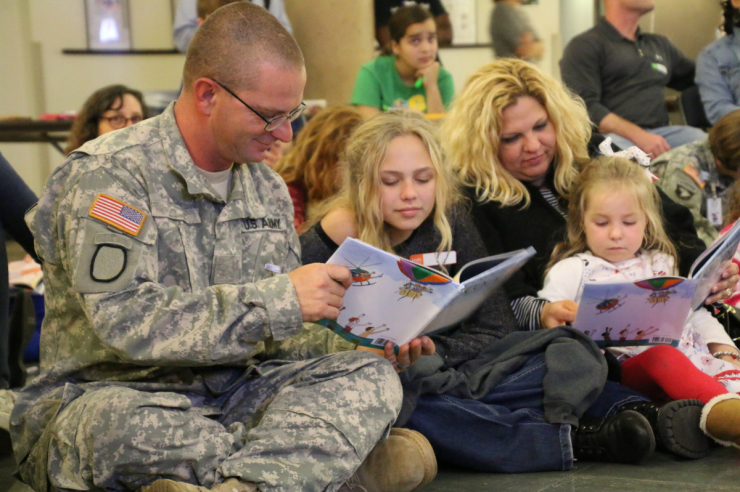 The truth is that transition can be tough for any military child. Whether it's moving from one school to another because of a transfer, having a parent gone for six months on deployment, or sometimes dealing with the grief and loss of a parent altogether, being a military child can be stressful.
Knowing there are amazing nonprofits out there like MCEC helping military-connected children reach their full potential gives me the warm fuzzies like a hug from a parent home on leave.
MCEC has a number of effective programs that have them on their way to reaching their goal of preparing all military children for life.
Their Student 2 Student® (S2S™) is a high school level student program that brings military and civilian students together to welcome new students, create a positive environment, support academic excellence, and ease transitions.
Their Tell Me A Story (TMAS) program empowers military children by using literature and their own stories in a way that fosters skills for resilience, strong peer and parent connections, a sense of pride and accomplishment, and a caring community.
Perhaps MCEC's most powerful and transformative program is its Frances Hesselbein Student Leadership Program™. The weeklong training program offered to military sophomores and juniors is truly a life-changing experience. Throughout the week, teenagers receive intensive training, interaction with positive role models, and practical applications that benefit participants throughout their lifetime.
When hearing the testimonials from students who have attended, we here at Chive Charities knew we wanted to get involved. We just had one little problem. We had to come up with a creative way to help raise the funds to support the Military Child Education Coalition and their amazing programs.
Enter theCHIVE HQ Spelling Bee…
We got all theCHIVE's employees together and pitted them against each other in a winner-takes-all winner-helps-all scenario.
There were challenges where spellers tried to correctly spell while having adorable puppies lick whipped cream off their faces.
Heckling was encouraged.
At the end of the night, Team Ben proved they could spell the least incorrectly and came away with the victory. But most importantly, Chive Nation had raised $10,000 in donations for Military Child Education Coalition!
Chive Charities is donating that $10,000 to MCEC, helping send the next group of future leaders to the transformative Frances Hesselbein Student Leadership Program.
We couldn't be more excited to see these fine young adults become future leaders and become the best versions of themselves because of your support.
If you would like to learn more about MCEC and its programs or know of someone that could benefit from applying, please visit their programs page HERE
You can help support Chive Charities and all the underdogs we support by donating right HERE