From the moment Stephon Gammage took his first breath, it was anything but easy.
While his mom, Stephanie, had a typical pregnancy, Stephon was born with an undetected rare medical condition called Pierre Robin Sequence. They just never saw it coming.
"Minutes after his birth, he required medical assistance and then later received a tracheotomy to help him breathe," Stephanie told us.
His condition is characterized by an underdeveloped jaw, backward displacement of the tongue, and upper airway obstruction. The way it was explained to Stephanie was pretty simple: "Everything about him is small."
All she knew was his condition was extremely rare and would require an extended hospital stay for treatment and monitoring.
That "extended" stay became an unfathomable five months. 152 days of visiting your child in a hospital room instead of holding them in their nursery. 3,648 minutes of checking in with the nursing staff on how your baby did through the night instead of being there with him yourself.
When it was all said and done, it was really just beginning. That's the ironic thing about life with a medically-fragile child. You dream about leaving the hospital and finding a sense of normalcy, but any parent of a child with a rare medical condition will tell you that it's anything but what you expect it to be.
Instead of worrying too much about the future, they learn to live in the here and now. They find joy in the small things.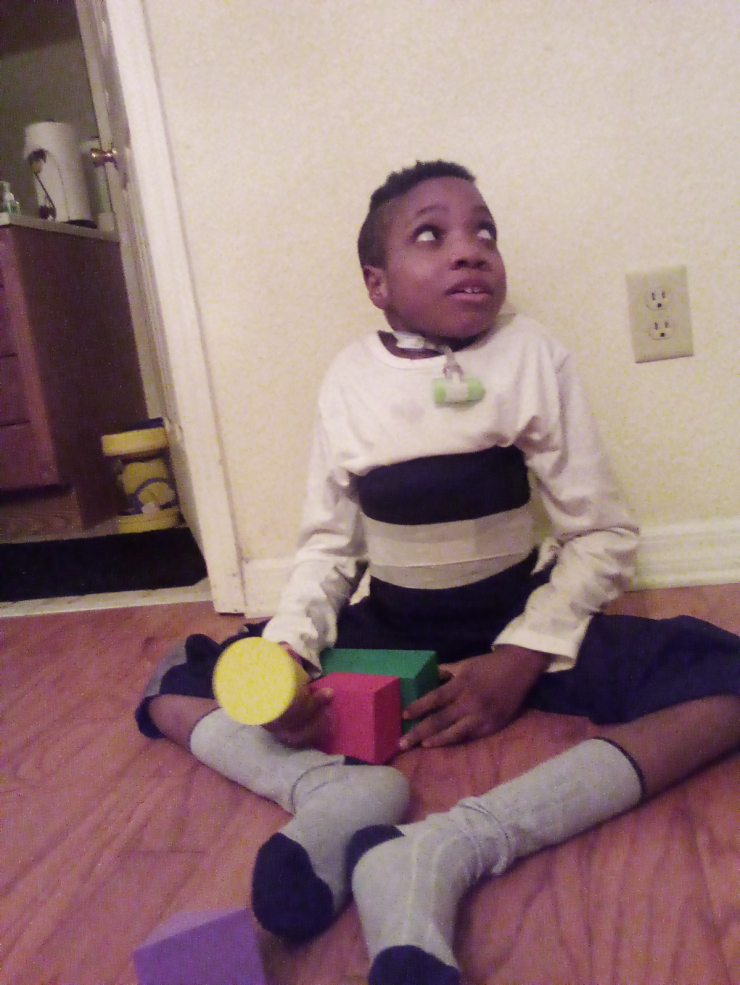 In the 11 years since his birth, Stephon has gone through a lot of change. He still requires the use of a trach and ventilator to help him breathe. He has a cough assist machine that helps him clear his airways and he also uses a respiratory vest that vibrates and shakes him to keep his chest opened up.
And, in addition to his rare medical condition, he was also diagnosed with Spastic Diplegic Cerebral Palsy, autism, and Kyphoscoliosis (two sharp curvatures of the spine). Stephon is non-verbal and unable to walk, using a wheelchair for mobility, or simply scooting around on the floor.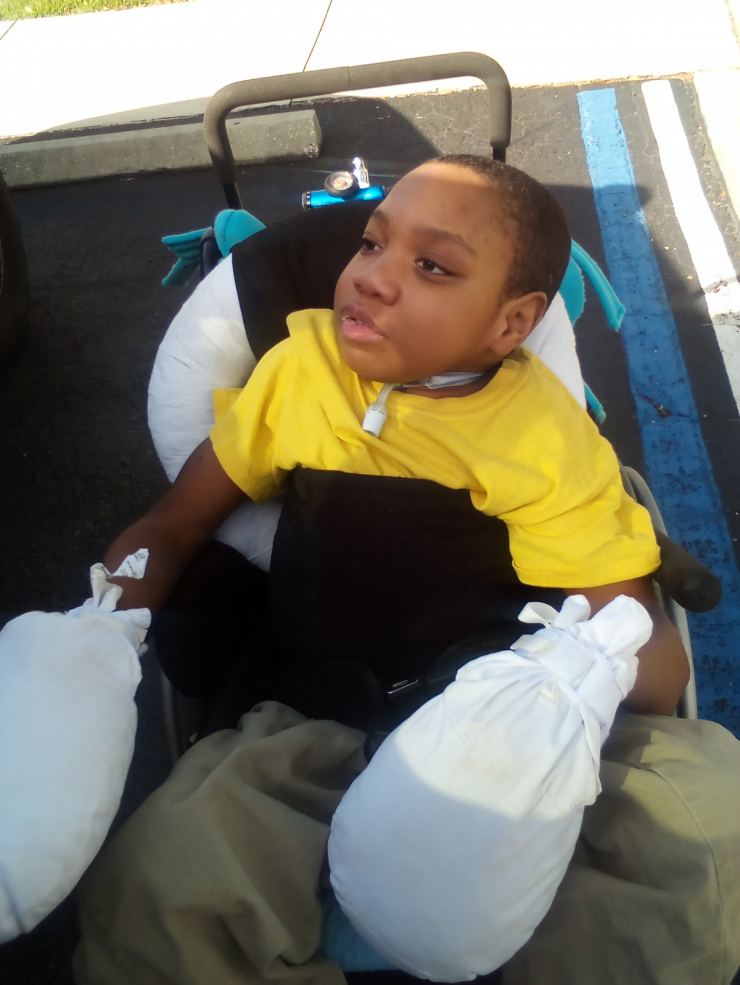 "He loves to watch Cookie Monster, even though he has a short attention span," Stephanie laughed. "He plays a lot with his 9-year-old sister, Danielle, and she helps take care of him, putting puzzles together and swinging on the front porch. We'll even catch him rocking to the beat of the music at church," she said.
But it seems like every time they start to breathe a little easier, something happens that knocks them back down.
Last August, Stephon's dad unexpectedly passed away, leaving the family in total shock and transforming Stephanie into a single parent of two kids overnight.
"Stephon has a large photo of his dad in his room," she told us. "Sometimes, he'll be laying in his room and I'll walk by and see that he's crying."
It's been a really tough adjustment and it's made the physical aspect of caring for her son that much more difficult.
Pierre Robin Sequence might have made Stephon smaller than average, but he's still a growing boy with a lot of critical medical equipment.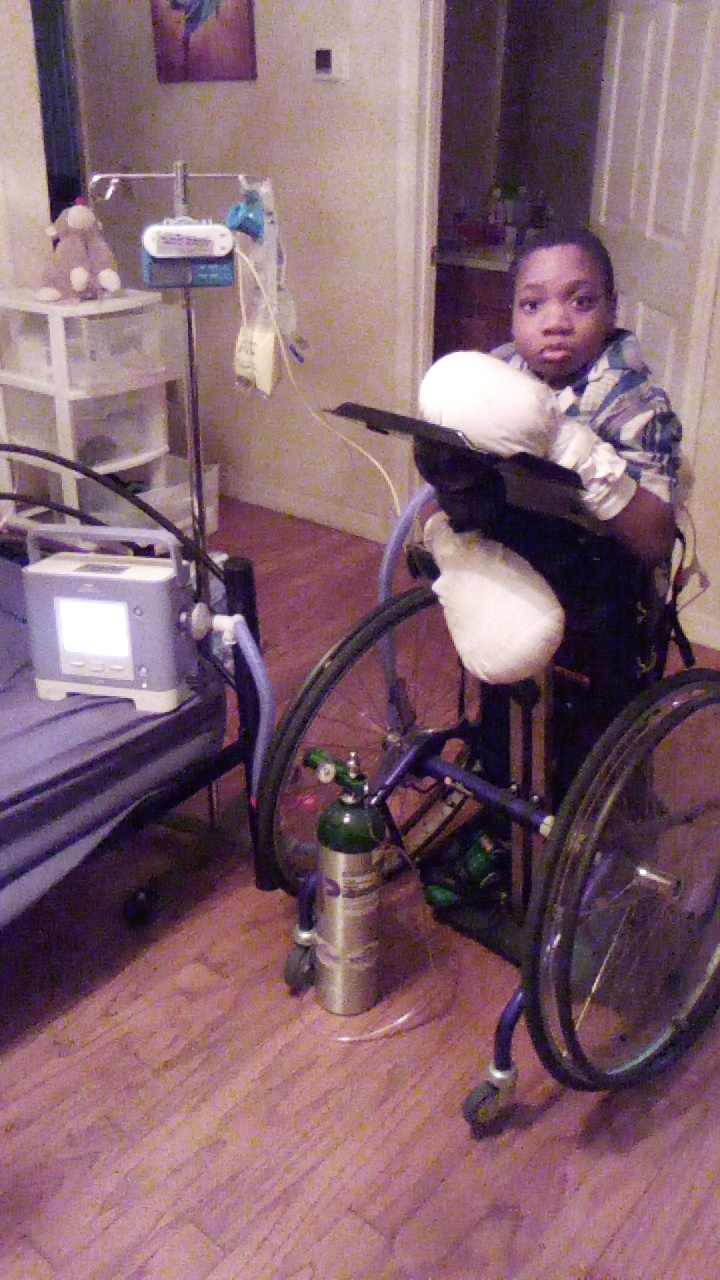 "My husband used to do all the lifting for Stephon," Stephanie explained. "I have a Hoyer lift that I use at home (transferring him from the bed to the chair and so on), but nothing to get him from his wheelchair into our car."
"If I could just wheel him into a vehicle instead of having to lift him out of his wheelchair every time he goes to school, doctor appointments, church, therapies, and anything else we need to do, it would make things so much better. We'd be able to breathe a little easier."
Breathe easy, guys. Chive Charities and our incredible community have you covered.
We partnered with our friends at AMS Vans to take some of the pressure off Stephanie's shoulders in the form of a new wheelchair-accessible van for Stephon. The total impact of the 2019 Dodge Grand Caravan was $43,357.
All of those school drop-offs, doctor appointments, therapy visits, church outings, and just getting out and doing whatever it is they want and need to do can happen much more easily.
In just 11 short years, Stephon has faced more challenges than many of us will tackle in a lifetime. He's done it all with incredible strength and determination. Everything about him is small, but not his heart. Not his perseverance.
If we've learned anything in our 9 years of existence, it's that the small things can make the biggest difference. We take your average donations of $30 and use them to change the lives of veterans, first responders, and rare medical individuals who need something no one else can provide.
Sometimes, it's an ADA van. Sometimes, it's a service dog. Sometimes, it's a piece of critical therapy equipment. But every time, it lifts a weight off their shoulders and helps them breathe a little easier. There's nothing small about that.

Keep calm. Chive on. DONATE HERE.