Well, if that were the case, you'd probably be able to empathize with Makily and her mom, Trish.
On April 1, 2005, Trish was preparing to deliver her full-term, healthy baby girl at Munroe Regional Medical Center in Ocala, Florida. Everything was going according to plan...until it wasn't. When her daughter finally arrived, she was tiny and had a head full of wispy blonde hair and the biggest, deepest blue eyes.
"Her eyes were the first thing I noticed about her," Trish explained. "Then I noticed how small she was and, soon after, how quiet the room had become. When she finally let out a cry, she sounded more like a weak kitten than a newborn. The nurse whisked her out of the room quickly after birth, stopping only for seconds at my bedside for me to kiss her."
Trish was flabbergasted. Where was her healthy baby? Why wasn't she allowed to see her, to hold her? What was going on?
It took a week to get definitive answers. The day after she was born, Makily underwent genetic testing and the results were in.
"I will never forget that moment," Trish said tearfully. "We were taken into a big conference room with a long table. My heart was pounding as I watched several medical staff walk in the door after we sat down. My stomach churned and my palms were sweating."
Doctors explained that Makily had a rare genetic disorder called partial trisomy 11;22. She would be profoundly mentally and physically delayed, and would likely never talk or walk. Trish learned that she was a carrier for Emanuel Syndrome, which Makily had inherited.
"My chest physically ached when I heard the news," said Trish.
Nothing was as it seemed.
Makily went home not long after and the family had no idea what to expect. Even the geneticist remarked that he had only seen one case like hers in his entire career. They were given very little information (and even less comfort) about her condition.
Thankfully, Trish found an online support group of families with children who have Emanuel Syndrome, including a past Chive Charities recipient named Emma. It's a little easier to comprehend the incomprehensible when you're not doing it alone.
16 years have passed now since that April day that took everyone by surprise. Needless to say, it has been the epitome of peaks and valleys.
Makily still has that pretty blonde hair and deep, soulful blue eyes. After many lengthy hospital stays and procedures, she came to love watching Finding Nemo and Spongebob Squarepants to help pass the time. ("I can recite some full episodes now," Trish joked.) She also has an affinity for the Nine Inch Nails, MMA fighting, and watching police chases. Like we said, what you see isn't always what you get.
Unfortunately, this last year was one of the worst yet, and not for any of the reasons you might think given a global pandemic.
For the average person, the common cold is just that: common. For someone like Makily, the common cold is a precursor to a thousand other things that could go wrong. For her, a cold just isn't what it seems.
She became ill in the fall, and while she tested negative for COVID-19, a chest x-ray showed pneumonia in the upper right lobe of her lung. She also tested positive for the Rhinovirus (the common cold) and rapidly began to get worse.
"She panted like she was running, yet she laid lethargic in the bed, barely moving," said Trish. "Despite being on high-flow oxygen and rigorous respiratory treatments around the clock, she was not getting better. I started to panic as I watched her decline. I'd never seen her get this bad so fast."
Makily was so weak, the medical team would cheer her on and give her encouragement when she mustered up the strength to cough. This girl with the blonde hair and deep blue eyes wasn't done yet, though.
Since the day she was born, she's had the spirit of a fighter (an MMA fighter, if she had it her way). Statistically speaking, Makily should have died. Her organs had started failing, she was in septic shock, she had a blood clot in her leg, and she suffered a Grand Mal seizure.
Life doesn't always go the way we expect it to. This time, that was for the best — and Makily survived.
She has been home for about two months now and she only recently began to act like her usual self, clapping along to Finding Nemo or smiling during an episode of Spongebob Squarepants. Maybe even nodding her head a bit to some Nine Inch Nails. Typical Makily stuff.
For most of her life, what you see isn't what you get. That is until she and Trish were introduced to Chive Charities. This time, she saw an organization committed to changing the lives of veterans, first responders, and rare medical diagnosees.
She saw what Chive Charities and our donors have done for so many others — more than 400 people now — and wondered what it would be like to receive their own answer to a prayer.
"Getting her in the car is always a chore," Trish explained. "Her wheelchair is 70 lbs. and Makily is 75 lbs. When we go anywhere, I have to lift her out of the chair and into the car by myself. In order to lift the chair into my car, I have to collapse it as small as it will go and awkwardly lift it into the back of my trunk. I've spent many a day wrestling the chair in the parking lot."
When Trish first heard about Chive Charities and the life-changing grants we provide, she wondered what it would be like for things to go exactly the way she had hoped. Now, she knows.
Last week, we delivered a new wheelchair-accessible van from our partners at AMS Vans to Makily and Trish for a total impact of $42,237. This van is an answer to a decade-worth of prayers. And it was all made possible through donors like you.
2020 reminded us that things don't always go according to plan. It's a reality that Trish and Makily face each and every day. Sometimes it's a good shift from expectations — other times, it's not. The important thing is knowing what Trish learned when she connected with that first online support group. It's a little easier to comprehend the incomprehensible when you're not doing it alone.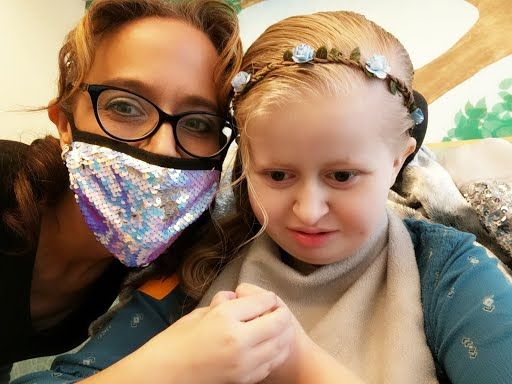 Each week, we meet rare medical diagnosees, veterans, and first responders who are looking for a support group of their own. And each week, our Chive Charities donors are there for them when they need it most. These people see an organization willing to create a real, tangible impact through life-changing grants each and every week of the year. For once, what you see is exactly what you get. Now, we're inviting you to be apart of it. Come along on the journey with us and DONATE HERE.