When Ellie Wahlert was born, neither her parents nor the doctors in her community knew much - if anything - about her condition.
She was born with a rare medical disease called diastrophic dysplasia, a hereditary genetic disorder that affects the development of the hands, face, ears, feet, hips, legs, and spine.
"It was quite scary having a newborn and not having anyone we knew who understood how to treat her condition," Ellie's mom, Christina, told us.
They were immediately transferred to doctors in Omaha, Nebraska, and began treatment there. But even then, they were unsuccessful with this medical staff, too.
"Prior to one of Ellie's surgeries, we had an anesthesiologist tell us that he didn't know anything about diastrophic dysplasia, but that he would google it and it would be fine. That was about the moment where we realized we would need to do something different for Ellie's health and treatment," Christina said.
Three weeks later, Ellie had an appointment at Shriner's Children's Hospital in Twin Cities - she was a little over one month old.
At that initial visit, Ellie's parents learned more about her diagnosis in the first 15 minutes than any other appointment to date. They could almost feel the weight being lifted from their shoulders.
If Ellie's life were a book, this chapter would be called, "Surgeries." Ellie underwent serial casting for club feet and endured numerous surgical procedures on her feet and legs. During this time, they were also referred to Gillette Children's Specialty Healthcare (and Dr. Joseph Perra, specifically) to treat her kyphosis and scoliosis. That included - you guessed it - more spine surgeries, including the placement of MAGEC rods.
These special rods help lengthen Ellie's spine and control her scoliosis without forcing her to go through even more surgeries. The only problem is that the last two times she's been assessed, the MAGEC rods have not been able to be lengthened.
If that continues, they're looking at a possible spinal fusion. Remember that chapter title? More surgery. She's had more than 15 procedures so far.
"Needless to say, we're praying for a lengthening," Christina said.
Many years have passed since those first days of uncertainty and fear, but while Ellie has grown up and is thriving, she deals with a lot more than the average 12-year-old. A lot more.
She finds ways, though, to keep smiling and spreading positivity to those around her. She has one of the most infectious laughs you'll ever hear (the proof was in the Zoom call) and a pretty incredible love for all things flowers.
"My favorite flower is the hibiscus," Ellie told us, "Because it loves the sunshine and so do I."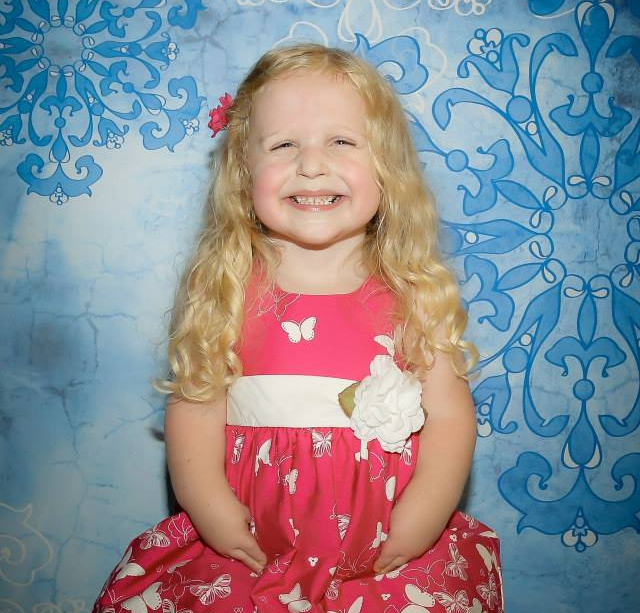 In just the last 2 to 3 years alone, Ellie has suffered eight fractures, the worst of which was an ankle break that still bothers her to this day. Because her body doesn't produce enough cartilage, her joints and bones are affected and more susceptible to injury.
When we met her over Zoom a couple of weeks ago, she had just fractured her hand in an innocent game of cards. She slapped a card onto the table in front of her and - BAM! - broken hand. That's how easy it can be. As delicate as a flower.
And that's how the family found their way to Chive Charities.
There's no doubt that while Ellie might be smaller in stature, she's still growing. And as a 7th grader with her own friends and interests, getting carried into her parents' car is just not going to work. She deserves more.
For this flower child with the sunny disposition, it seemed fitting to get her into a vehicle that keeps that big smile on her face and infectious laugh filling the room around her. So, with the help of our Chive Charities donors, that's exactly what we set out to do.
Each month, our donors contribute anywhere from $10-$200 and up into our Green Ribbon Fund. We then take those generous donations and approve weekly grants for veterans, military families, first responders, and rare medical diagnosees like Ellie.
(Fun fact: Ellie's parents are also both first responders. Her dad is the fire chief and her mom is a nurse and EMT. Double bonus!)
So, through that Green Ribbon Fund, we purchased a white 2020 Toyota Sienna for Ellie and her family from our partners at AMS Vans - the total impact was $53,915.
To say they were thrilled would be an understatement. As her mom wiped tears from her eyes, she said, "I wish there was a bigger word than 'thank you' that could express how grateful we are to the Chive Charities donors. We really don't have the words, we just have the gratitude. Truly, thank you so much for what you've done for our family."
If Ellie's life were a book, this chapter would be called, "Hope." Thanks to selfless people like you reading stories like these, Ellie and her family have a little more of that today. If you become a Chive Charities donor, you'll be creating hope-filled chapters for families just like theirs. The world could use a little more Ellie - and we could all use a little more hope. DONATE HERE.