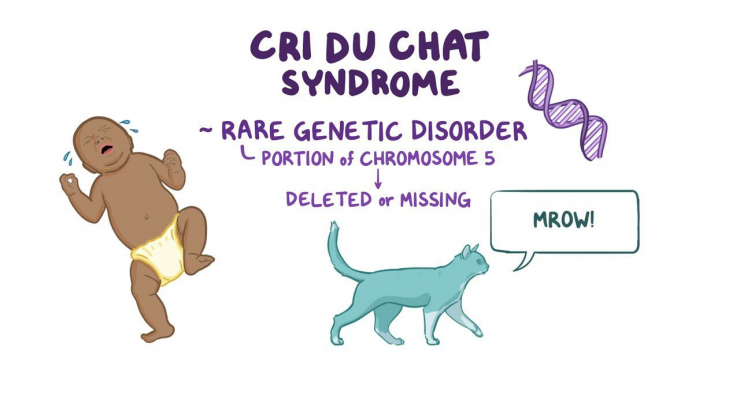 Cri-du-chat syndrome, also known as 5p minus syndrome, is a chromosomal condition that results when a piece of chromosome 5 is missing. Infants with this condition often have a high-pitched cry that sounds like that of a cat…hence the name.
That distinctive cry was one of the first things Amanda noticed about her daughter, Charlotte.
"She had the sweetest little cry, just like a kitten," Amanda told us. "Before we got her official diagnosis, another doctor offhandedly mentioned that her cry sounded similar to other patients she had met with Cri-du-chat syndrome."
But Charlotte didn't display other common signs of the syndrome, like heart and kidney issues. The cry was familiar, but that wasn't enough to be certain. It took about eight months to confirm her diagnosis, and even then, Charlotte continued to set her own path.
On paper, the challenges of her condition are numerous. It affects all aspects of her life, and Charlotte struggles with gross and fine motor skills, requires a g-tube for most of her nutritional needs, and is non-verbal.
But what you can't fit on paper is how she shines despite that.
For one thing, non-verbal does not mean she's unable to communicate. Charlotte uses a communication device or American Sign Language (ASL) to express herself – and that's only when her big smile, bubbly personality, and sense of humor aren't doing it for her.
"She is always entertaining and making us laugh," said Amanda. "One day, I told her to get ready because we were heading out for a doctor's appointment, and said she could pick something out, like her iPad, to take along. Instead, she came strolling into the living room with my bathing suit stuck on top of her head. That's just a random example, but she's always doing funny things like that. She's hilarious!"
Charlotte is also the true definition of a people person. Her friends always want her around to play, and she is an expert at getting adults wrapped around her finger. It probably has something to do with her sweet and loving nature – or that sense of humor.
Being a people person benefits her in many ways, too. As Amanda noted, she has spent the last 3-4 years in physical therapy and hasn't always been thrilled to go. But one of her biggest motivators is watching others go first and then trying it out herself. That's how she learned to walk.
"It's a big reason why she's been able to achieve so many milestones that doctors had said she never would," Amanda explained. "She rides an adaptive bicycle at therapy and will cruise up and down the hallways. Everyone is out there cheering her on, and it's a big motivator for her."
She also has her younger brother, Logan, around to push her to new limits. Sometimes, he probably just tests her patience. But more often than not, she's doing whatever she can to keep up with him.
Remember how she loves to be around people, and they love to be around her? That extends to Logan, too.
The family lives on a farm in Tennessee, not far from Vanderbilt University Medical Center, which has been really beneficial for Charlotte's care. Charlotte loves being outdoors, feeding hay to the animals, or bumping around on the tractor, but one of her all-time favorite things is riding a bike.
"She's limited in some of the physical activities she can do because of her gross and fine motor abilities, as well as her stamina," Amanda told us. "But her physical therapist introduced us to the Freedom Concepts mobility trikes, and she loves to ride!"
Logan tries to get outside with her and help push her around on their farm, but it's only getting harder now that she's nine and he's six. She deserves to be out among her people, freely riding around on her very own bike and continuing to make everyone laugh.
That's why, through the ardent support of donors like you, we happily funded the full cost of an adaptive bicycle for Charlotte for a total impact of $4,483.75.
"She can't wait to be able to ride her mobility trike next to her little brother on his bicycle," said Amanda. "She lights up anytime she can do the same activity as him and other children."
We bet when they all line up outside and begin to cheer her on, she'll do what she's always done and blow everyone's expectations out of the water. Maybe she'll even do with a bathing suit wrapped around her head, just for good measure.
At Chive Charities, we can relate a bit to Charlotte and her love of people. We are continually meeting the best of the best out there, including our incredible donors, courageous recipients, and impactful partners.
It's hard not to be called a people person when your donations have changed the lives of 600 recipients – with many more still to come. We can't all be as hilarious, charming, and loving as Charlotte. She sets a high bar!
But like her, we can use the example of the amazing people around us to motivate us to do more than we ever thought possible. Ten percent happier? Why not. Become part of our movement and DONATE HERE.