The initial signs were subtle. Aubrey was about a week old when the family took their first outing to the park and her mom, Megan, posted on social media that she was always turning her head to one side. Another friend commented that it could be Torticollis, a condition where the neck muscles contract, causing the head to twist to one side.
Megan brought it up at Aubrey's next pediatrician appointment, but the doctor dismissed the concerns and said it was nothing serious. Later, Megan took Aubrey to her chiropractor who observed the behavior herself and said, "There's more to this," and referred the family to another pediatrician.
There was more to it.
Aubrey was sent to neurology, genetics, and physical therapy, the latter of which she started at just two months old. She had a sedated MRI, a swallow study, feeding therapy, EEG, EKG, sleep study, X-rays, adenoid removal surgery, occupational therapy, hippotherapy, speech therapy, and genetic testing. She hadn't even turned three years old, yet.
After spending a few months in Birmingham with the genetics team, Aubrey underwent final genetic testing as part of the Human Genome Project at the HudsonAlpha Institute for Biotechnology in Huntsville, and on August 4, 2016, she was diagnosed with Smith-Kingsmore Syndrome.
When you think about what that must have been like for Aubrey and her family, it's almost impossible to comprehend. To hear three years after your child was born that your instinct was right - there was more to this - and try to come to terms with that is one thing.
But hearing she's one of 15 known in the world is something else entirely, especially because a diagnosis isn't the end of the journey for these families. It's an answer, a necessary checkpoint on the path to critical care, but it's not the be-all and end-all solution.
When her parents did what anyone else in their situation would do (Google it), they found one article about four sentences long. That's it. No Facebook group filled with families in similar circumstances, no pamphlets or brochures with helpful medical information, no resources of any kind to help ease their minds and provide comfort about what to expect.
But through the uncertainty, there was Aubrey with her full head of beautiful curls, her girly girl personality (she loves pink, sparkles, and bows), and enthusiastic celebration of every holiday - even the little ones other people don't seem to care about much.
"She's like sunshine when she enters the room," her mom Megan told us.
Hoping to spread some sunshine of their own and foster a sense of community after her rare diagnosis, Aubrey's inspiring family created the hashtag #smithkingsmoresyndrome and launched a dedicated Facebook page for the diagnosed and their families and caregivers. That page now has more than 200 followers, including Dr. Laurie Smith, the physician who first described the disorder.
Now, other families that receive a diagnosis like they did don't have to face it alone.
Their little girly girl has been through a lot, that much is clear. Last summer, Aubrey experienced her first seizure, a common issue for kids with Smith-Kingsmore Syndrome. "We've been told by many doctors that it's not a question of 'if' she'll have seizures, but 'when,'" Megan said. "It's terrifying, and she has not slept alone since because we are too afraid of what could happen."
She also got a new wheelchair over the holidays because of her low muscle tone and fatigue. Aubrey has difficulty regulating her energy levels, so she needs to be closely monitored for signs of exhaustion. The wheelchair helps when she's so physically spent, she needs to sit and give her a body a chance to recover.
That happens frequently, by the way, because Aubrey is one tough cookie. She's constantly working hard and pushing herself to keep doing more. It took her almost three years to learn how to walk independently, but she showed up to physical therapy every single day ready to work. What a champion.
Just like there was more to her initial symptoms than doctors first thought, there's also more to Aubrey than her rare diagnosis.
She's more than this.
She loves going to school and interacting with her classmates; she loves calling to FaceTime with her Pop Pop every morning; she loves singing happy birthday to anyone celebrating their special day; and she absolutely loves bicycles and dreams of having one of her own.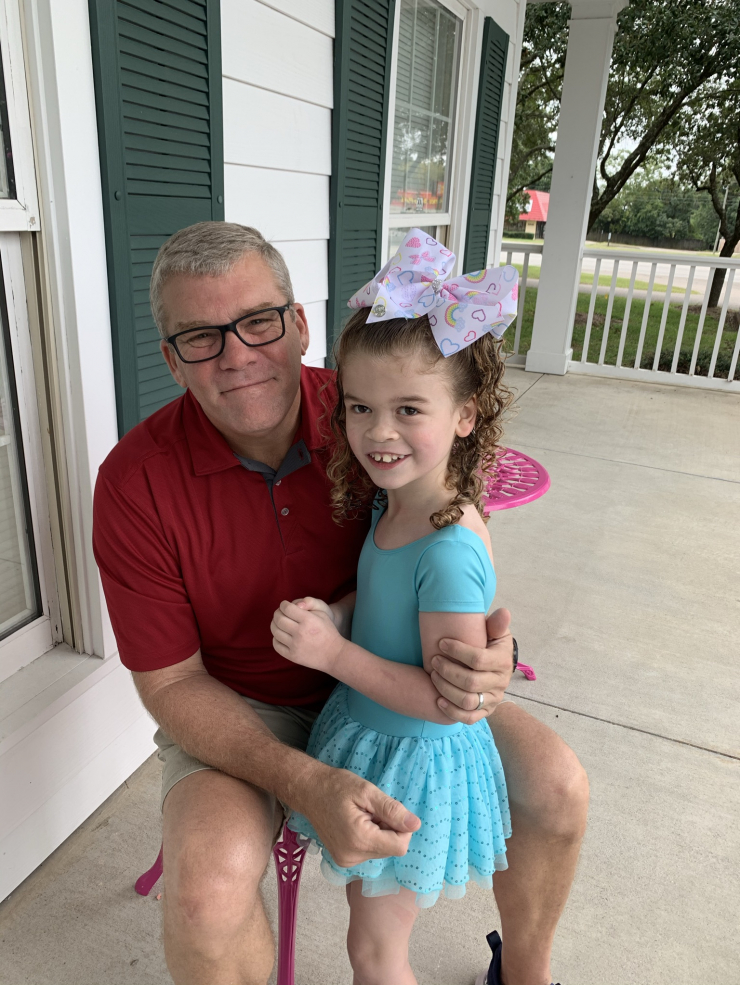 As part of her physical therapy, Aubrey was introduced to the pure joy of riding a tricycle and asked every appointment if she could use it. But with unimaginably high medical expenses and a houseful of necessary equipment, purchasing an adaptive tricycle of her own seemed beyond reality.
The family also needed hardwood flooring to accommodate Aubrey's new wheelchair and enable her to move freely around the house and were also hoping for a video monitor to help monitor any seizure activity while allowing her the independence to sleep in her own room again.
Frankly, there was more to Aubrey's needs than they could afford on their own.
So, where do you go when you feel like you've done all that you can and still need some help?
You go to an organization founded on supporting the underdogs. You go to an organization committed to serving first responders, veterans, and rare medical diagnosees. You go to an organization with a donor family so incredible, they've personally supported more than 420 recipients and counting.
You go to Chive Charities.
If you're reading this, you may have heard of Chive Charities' quarterly recipient selection process. Every 4 months we select 16-20 recipients to receive a life-changing grant on behalf of our incredible donor network. That's the fun part. What you don't see are the other 20-30 worthy applicants we have to say "no" to. At an average of $30,000 per grant, there are only so many underdogs we can help. Every once in a while, we select a few "maybe's" after the budget is exhausted, holding out hope for an opportunity to help fund at least one extra worthy recipient.
We're so lucky that one of those opportunities came up recently when David Owens from Rockstar Championships called us. "I've got a socially distanced cheerleading competition called the Goldrush Championship coming up in Fort Worth and I want to help cover one of those recipients that fell through the cracks," David told us on the phone. "If I can make kids realize that helping others is a duty, not a choice, we're that much more on our way to making the world 10% happier."
We decided to open up a mini-flash campaign for Aubrey. Incredibly, David, Rockstar Championships, and the attendees at the Goldrush event came through. In 2 days, with a $5,000 match from Rockstar, $10,000 was raised to fund Aubrey's home flooring renovation, safety monitor, and new adaptive tricycle of her own.
It just goes to show that there's always more to the story. Sometimes it's a diagnosis that helps set a path forward. Sometimes, it's a need for help outside of family and friends. Sometimes, it's a little girl with a dream of owning a bicycle.
There was more to those initial symptoms - there was Aubrey. And in eight years of helping rare medical individuals, we've learned there will be more like her. With the help of dedicated donors like you, we can say "yes" to more recipients and keep even less from falling through the cracks. Become a monthly donor and be there with us to support them. We've got dreams to make come true. DONATE HERE.