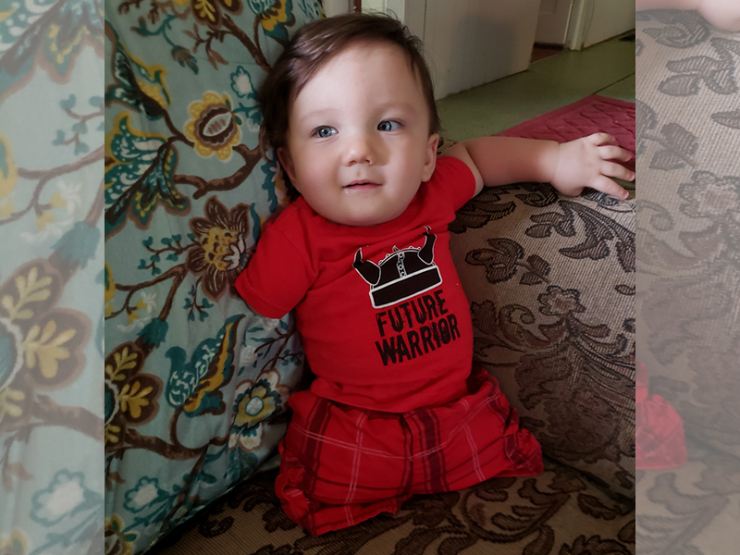 A thousand and some years ago, there lived a Scandinavian conqueror who was fierce, swift, and relentless. His name: Ivar The Boneless. In the year 2019, another ferocious Ivar has risen, and he happens to be one of our recipients.
Well, maybe ferocious isn't quite the word… Tenacious, brave, and unstoppable, though, all fit this kid perfectly.
Our modern-day Ivar is a warrior in the making. As you can see, Ivar-- who was in fact named after the Scandinavian dude we keep mentioning -- is missing his legs, as well as most of his right arm. And much like The Boneless, little Ivar's diagnosis is a mystery. Test after test has come back with no answers and no indication that his missing limbs are the result of anything genetic.
While there is no diagnosis associated with his missing limbs, Ivar does have a completely separate diagnosis that affects his life: he is missing part of chromosome 16. His speech, specifically expressive language, is affected by this. It's hard for Ivar to express his emotions, but he is not nonverbal; he knows at least 100 singular words. Always the hard worker, Ivar is working with a speech therapist to be able to communicate more easily.
Though he struggles with speech, Ivar certainly finds other ways to communicate. This kid has moves, and he will go after what he wants! He uses his left arm to get around, scooting towards what he wants. He has even tried to flip himself handstand-style into the bathtub! Ivar is determined to do everything on his own (like many toddlers), so much so that he even found his prosthetic arm to be a hindrance; it just slows him down.
To help him get around even quicker, Ivar has a badass electric wheelchair designed especially for him.
He uses a joystick to power this monster of a chair, and he loves it. It does take some practice, though, and Ivar is in physical therapy to work on navigating his body through the world in and out of the chair. An essential part of mastering the wheelchair is using it as often as possible. Unfortunately, this is where Ivar's family ran into some issues.
The family's old van had over 200,000 miles on it and was constantly in the shop. In addition to that, it was nowhere near equipped to handle Ivar's wheelchair. They tried a hitch-ramp, but as soon as they put the wheelchair on, it was shaking and about to fall off. So Ivar has been stuck using the chair either in his house or the yard, because the family car was nowhere near equipped to take this bad boy on the road.
If you know anything about Chive Charities, you'll probably know what comes next:
That's right, thanks to a $39,000 grant courtesy of our AMAZING donors, we were able to get Ivar and his family a brand new BraunAbility Dodge SE fully-accessible van, and now Ivar is unstoppable!
Trips to the park are so much easier for the family now, and as you can see, Ivar is thriving! He is continuing his practices on his own while also getting to play. Even though he doesn't show a lot of expression in his face, it is clear to Ivar's family that he is so much happier using his chair at the park. He loves his independence.
Ivar may not be pillaging villages or sacking cities, but he is most definitely a warrior. He has brought so much joy and meaning to his family's lives, and I know the same is true for his Chive family as well. Ivar is proof that determination will get you anywhere you want to go. Ivar's struggles aren't over, but neither is his will to fight. Now that he has his van as a constant reminder that the amazing Chive Charities donors, who made this donation possible, have his back, we know that Ivar's life will be 10% happier!
You can change a life today by becoming a Chive Charities donor. It can be a lot or a little; everyone's contributions matter and directly help our underdogs. To get started, just click HERE!