Still, for those who've been following along with Chive Charities over the years, it created some more empathy for what so many of our rare medical families endure on a daily basis: feeling stuck.
5-year-old Willow is a big part of one of those families.
She spent the better part of her first three years of life at home. Another year of that was in the hospital. When other kids her age were playing at the park or going to the zoo, Willow dealt with more than most of us could imagine.
When she was born, they knew pretty immediately that she would have some physical challenges. In utero, Willow had been measuring a full 10 weeks ahead. She came out exceptionally long, and doctors were initially considering a diagnosis of Marfan Syndrome. It's a genetic condition with many complications, but the most notable is that it causes unusually long arms, legs, and fingers.
Even on her knees, Willow is taller than the average 5-year-old child.
Willow came home from the hospital in a hip-to-toe cast for six weeks to correct her club feet. Every joint was completely contracted, but her family thought it was all physical.
It wasn't until she was one month old that they found two dilations in her heart and saw a physical curvature of her spine, and realized it might be something more.
Then, she started having these episodes where she turned blue and stopped breathing. From that point on (about four months to nine months), Willow was in the hospital.
"It took them forever to figure out what was going on," said her mom, Chanel. "Eventually, they did a CT scan and realized that her curved spine was crushing her lung and restricting her breathing."
She also underwent genetic testing that revealed their answer: Beals Syndrome. Beals and Marfan syndrome are similar in many ways, but people with Beals syndrome cannot fully extend joints like their fingers, elbows, knees, toes, and hips.
That causes the joints to remain bent and deformed, and when they remain contracted for long periods of time, the muscles can become tight and short, restricting movement.
Besides Willow, the family only knows of one other child in the world with Beals who has a trach and is not walking. She is beyond special.
It's been complicated for her, though, because her spine curves in and out. That makes treatment more challenging. Willow was placed in Halo traction for five weeks, then got her first spinal rod placed at just two years old.
"Her pain tolerance is extraordinary," said Chanel. "But with the first surgery, the recovery was tough – like months of pain and tenderness. It's gotten a little easier over time."
That pain tolerance has come with repetition. Willow has had spinal surgery every six months since she was two years old. But even despite the pain and invasive surgery, of all things, the part she dislikes the most is the IV.
Recently, Willow had new rods surgically placed in her back called MAGEC growing rods. These have changed the game for her because instead of requiring intense surgery bi-annually, MAGEC rods are lengthened with magnets every three to six months in a short, 15-minute procedure that takes place in a doctor's office. Sayonara, surgery! So long, IVs!
And for Willow, a social butterfly, that means less time spent recovering and more time spent socializing. She's an exceptionally bright light, very active, and, as her mom lovingly told us, "loud."
Willow loves to go to school and is so excited to move up to kindergarten this fall. For a kid who spent the better part of her life at home or at the hospital, there's a whole world out there waiting for her to experience.
One of her biggest goals, besides conquering elementary school, is to walk independently. She started attending intensive therapy and saw tremendous progress with a particular system.
Essentially, she uses a bungee system to take the weight off her legs and allow her to practice the mechanics of walking. In just one week, she made astounding progress – so much so that her family immediately started researching ways to increase her therapy time.
Through the help of their caseworker, they eventually found Chive Charities, and a glimmer of hope came with it.
When they applied, the case manager included a note that said, "Most of my patients have a high medical need, and we provide services to keep them safely maintained at home. I'm looking for funding for intensive physical therapy to help with Willow's pain management and mobility, as the cost of her therapy is almost $12,000 per year. The family is financially strapped, and Willow's mom had to leave her job to care for her daughter. I'm hoping your organization might be able to help."
We've seen the incredible impact of physical therapy before – most recently with our recipient, Penelope, who began taking steps on the treadmill after we funded a full year of sessions at Breakthrough Intensive Physical Therapy.
Coincidentally, it was the same organization that Willow was hoping to work with.
A year from now, what update video could we get from her? Given all that Willow has accomplished and overcome, we have no doubt it'll be something special.
Thanks to the generous and selfless contributions of donors like you, we were able to lift that financial burden from Chanel's shoulders and fully fund the cost of a year of therapy for Willow for a grand total of $11,700. Your support has given her the opportunity to continue to defy expectations. It's hard to find a better gift than that.
So to all of you who made this possible, thank you. To the case manager who went the extra mile for a special family, we see you, too. It's people like you watching out for the underdogs who make all the difference.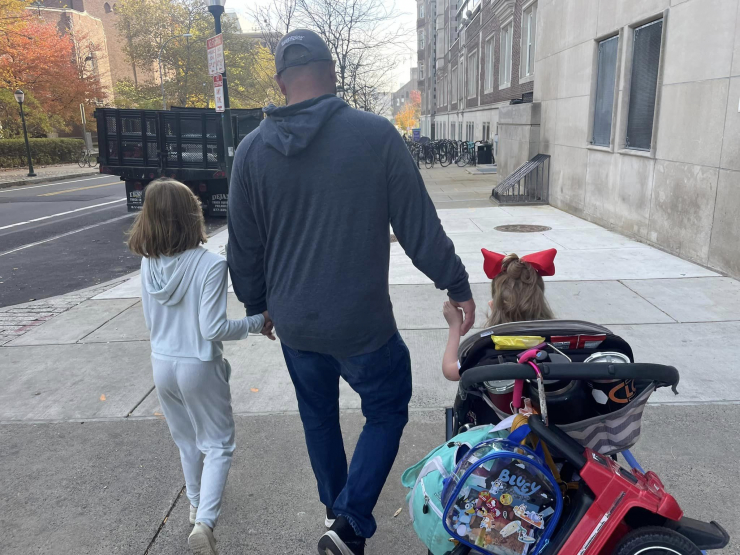 "Willow is amazing," said Chanel. "None of us really know how strong we are until we're put in a predicament, but she will blow you away. She's unstoppable."
In stature alone, Willow stands tall. But it's her heart and determination that truly set her above the rest. From three-plus years at home to a whole world at her fingertips, we can't wait to see what Willow takes on next. After all, there's no one else in this country like her – maybe even the world.
When we talk about making the world 10% happier, this is exactly what we mean. You've given Willow the one thing she needed most: a chance. If you're not part of it already, join our life-changing movement today and help us impact more lives. DONATE HERE.