The girl's name was Audrina, and she had a genetic disorder called Maffucci syndrome. It's very rare, and it affects the bones and the skin. All over her body, there were growths accumulating, enchondromas and hemangioma – dark red twisted blood vessels, masses of thin tubes carrying lymph fluid. To the layperson: benign tumors. But, these tumors carry a high risk of turning cancerous later in life. And she had hundreds of them.
Additionally, complications with surgeries, infections, and amputations can cause death. Few have ever heard of Maffucci Syndrome. There are under 200 cases worldwide. That's .0000002% of the population.
It was like there was this perfectly formed child in the middle part, but her extremities were turning into tree branches.
We continued scrolling. Your heart soared for Audrina when she smiled but, in other photos, her pain was visible. I thought to myself, 'She's not just sad there. This girl is hurting, physically, in that photo.'
The family needed an ADA accessible minivan. The once-energetic child was regressing now. Walking was a fleeting privilege. At 3 years old Audrina could walk up the stairs. Now 5, with Maffucci's deeply entrenched in her bones, she was relegated to a wheelchair most of the day. The van was badly needed, so Chive Charities came through with a $57,000 grant that purchased the van and an ADA door for her home.
But, we were still missing something. Medical needs? Probably for life, that's always the case in these situations. Home modifications maybe? I signed off on the van but I couldn't silence a nagging feeling; I wouldn't sleep for two days.
April 20, 2015 – There are two versions of me you'll find at Shiner's Saloon in Austin, TX. A lively, convivial John and or a troubled, melancholy John. Middle-ground John frequents Pirana Killer Sushi on 2nd St. Both places have baseball on at the bar, and I love baseball. I was at Shiner's in the latter of the two conditions. Cupcake, the cheery co-owner of Shiner's is the best kind of barkeep – half mixologist, half therapist. I told him the whole story.
"Where does the girl live?"
"Outside Rochester, NY, I think."
"Home of the Redwings."
"That's Detroit, Cupcake."
"No, the Rochester Redwings. That's their Triple-A baseball team. They're 2nd place in the international division, behind the Pawtucket Red Socks."
"How do you know all these random facts, Cupcake?"
"The mascot's name is Spikes."
"Please stop."
"You should go there, to Rochester. Visit the girl. Maybe you'll see something there you're not seeing in the photos. . . Or you can sit on your ass and do nothing. We have the most comfortable bar seats in Austin."
I called Brian Mercedes (Chive Charities) and his brother, Javier (photographer).
"We're going to Rochester. There's something there, but I have no idea what…."
Because of her incredibly rare disease, Audrina's health is always in a fragile state. Since the age of 1, she has endured seven surgeries including growth plate arrests, pin insertions, hand reconstructions, and osteo-scaffolding.
When Audrina was 4, she underwent surgery to have her right arm lengthened. This meant the surgeon would break Audrina's elbow and insert the screws. Then every day following surgery, Todd and Eileen were to turn the screws exactly 1 millimeter. Unfortunately, a mistake caused Audrina's parents to unknowingly turn the screws the wrong way for the next 4 weeks, shorteningtheir daughter's bones.
The surgeon had to re-separate her bones and set the radial head not one more time, but two. What was supposed to be a simple surgery spiraled into a 9-month nightmare.
The adventure begins...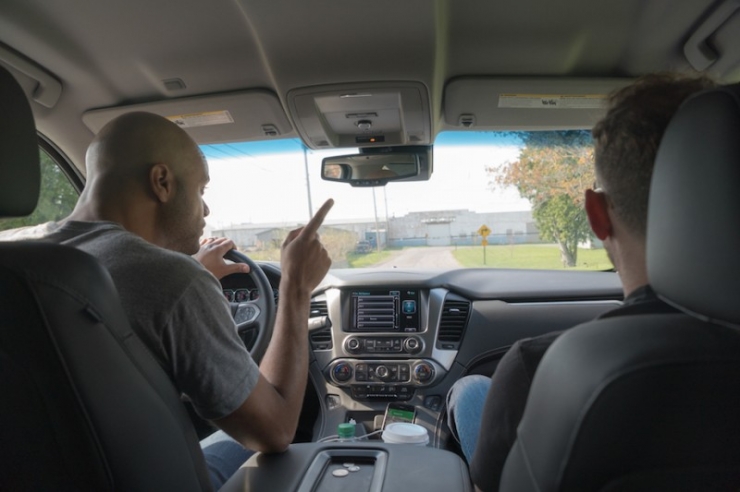 We're close. Directions said take a right at the local concrete plant.
We drove up to find the family playing baseball. It's not their yard but the neighbor keeps it mowed so the girls can play. Two of Audrina's sisters play in a girl's softball league.
I finally saw Audrina. She wanted to play too. When we met, she said "Nice to meet you, mister. I'm Audrina, but my sisters call me Peanut."
This is the first time Audrina got into her brand new van. The back-entry ramp feature makes it easy for Audrina to safely get in and out. She has plenty of space in the back without sacrificing room for her entire family.
Here are Audrina's sisters. 11 year-old Payton (left) and 9 year-old Olivia, (right.)
\
Audrina's parents are amazing. Todd is a physical therapy assistant and Eileen is a special education teacher.
Audrina showed us to her bathroom and bedroom. It was there I noticed something. Audrina's new chair could not complete the 90 degree turn from the living room hallway to her room without multiple maneuvers. Her wheels often snag the doorframe. 'Audrina's 5 years old and growing,' I thought to myself. 'If that chair were even three inches more in width, she couldn't make the turn at all.'
Audrina invited me into her room and graciously gave me her Princess Chair for our interview. She can be shy so I asked if her stuffed animals could interview her instead of me? She said that would be just fine and opened up immediately. Audrina is amazingly well-spoken. I asked her if she liked her room.
She shakes her head. "I love my room but my new chair doesn't fit. I can get it in but dad has to carry me out. I'm getting too heavy." She smiles, "I like hamburgers."
But first, we knew Audrina had been wanting an iPad mini, so we made that happen.
I asked Todd if there was any way would could, like, blow up the back wall and expand the room?
Todd thought for a moment, "There's a septic tank out back. We can't get a permit for outer expansion. But when you can't build out – build up. A couple years ago, Home Depot had this charity campaign few people knew about where they would help underprivileged families draft blueprints for home expansion projects for families with disabled children."
The design would add a second story to the home, as well as two new bedrooms for Payton and Olivia above Audrina's room.
The north-facing wall in Payton's room would come down, making room for a roll in shower, roll-up sink vanity, accessible toilet, custom storage and an Overhead Patient Lift System to assist in her movements. Mom and Dad wouldn't have to strain themselves constantly lifting Audrina as she grows up.
One of Audrina's arms and legs are shorter than her other two. Even with her custom footwear, walking more than a few steps leaves her exhausted. In the near future, a leg-lengthening procedure is scheduled for this tiny fighter.
High Fives are Free.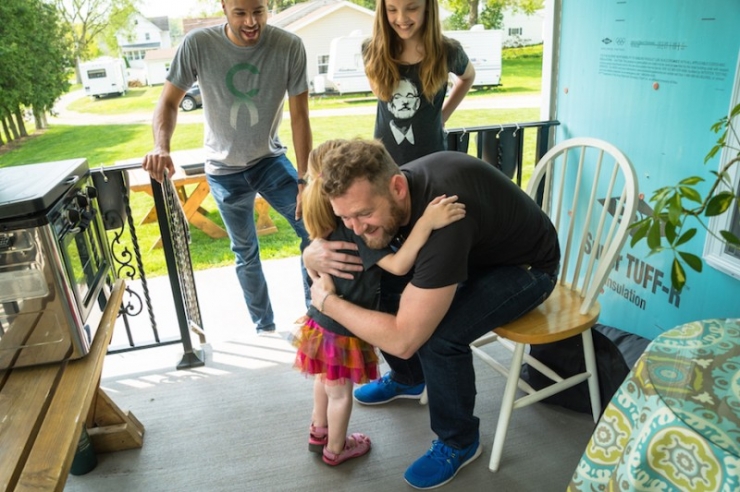 Let's do this, Chivers.
You build a solid baseball team on singles and doubles; the fundamentals of hitting, a balanced stance, level stride, hip rotation, swing through the ball. Get the batting average up. Similarly, Chive Charities takes the same approach, every week we launch an amazing new charity story, a new van here, $15,000 for wheelchair ramp there. This year we aim to double the amount of recipients we can help, a solid team. I'm extremely proud of that and the Chive Fund Donors should sleep well at night knowing you're making the world a better place.
But once in a blue moon, 1 in every 250 at-bats on average, the bases are loaded. Swinging for the fence will cut your probability of success down to 5%. A single is the safe bet, like signing off on that van. I can't help but think maybe this is not the time to swing for a single. Maybe your eye catches the left field bleachers and you lower your stance, weight back during the stride, bat level upward…
Because somewhere in New York there's a girl with a disease nobody has ever heard of trapped in a tiny house next to a concrete plant, and there's an online community I believe will rise to meet the gravity of the moment. But we all know what the score is here. Together, we can put this in the upper deck.
We want to pay for at least the down payment on the new home modifications, $50,000 of the $100,000 projected cost. There is no more deserving person or family for this. I'll bring you updates as they arrive. Let's do this.